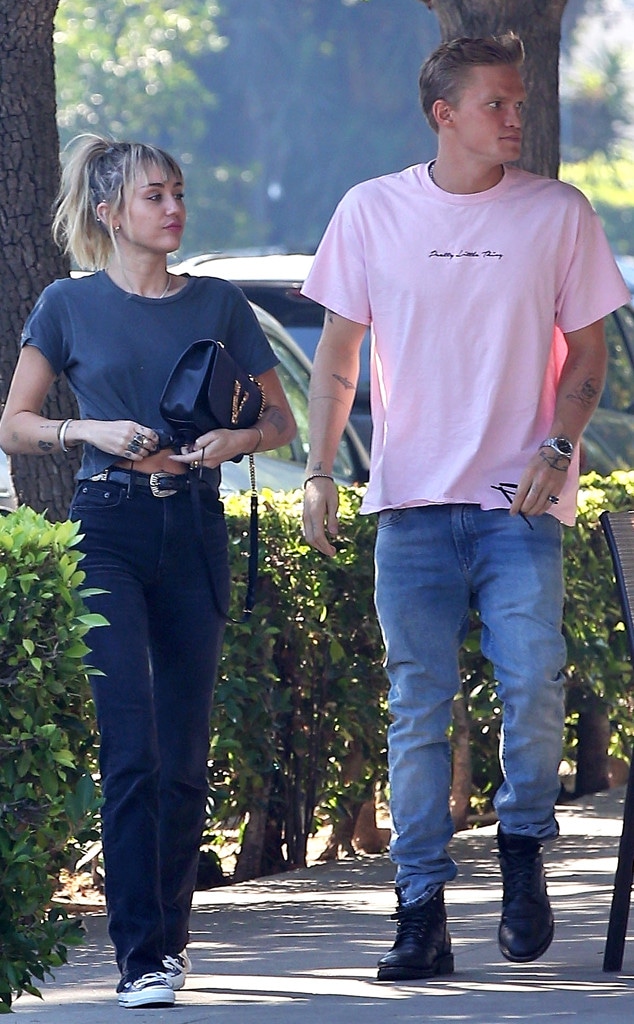 BACKGRID
Breakfast for champions!
Miley Cyrus looks like she's in better spirits after being hospitalized earlier this week to treat her tonsillitis. On Saturday afternoon, the "Slide Away" singer enjoyed a lovely afternoon outing in Los Angeles with her beau, Cody Simpson, and mother, Tish Cyrus.
"Miley and Cody went to Aeirloom Bakery for breakfast," an eyewitness shared with E! News about the pair's hangout. According to the insider, the two met up with the 26-year-old star's mother, who was already at the brunch hot-spot.
"They seemed really at ease," the source added. "Miley and Cody seem like old time friends, very comfortable." In fact, they all appeared to have a good ole time, because the eyewitness pointed out that the trio left "around noon."
While the Australian singer and the "Mother's Daughter" star have been inseparable the last few weeks, the insider explained they went their separate ways after brunch. However, the two have certainly gotten cozy recently.
Just this week, the 26-year-old singer called Cody as her BF, after he visited her in the hospital.
Of their quickly blossoming romance, a source previously told E! News that Miley is simply enjoying this time with the 22-year-old star, especially after getting out of two relationships this past summer: one with her longtime partner, Liam Hemsworth, and the other with, Kaitlynn Carter.
Watch:
Cody Simpson Is Nursing Miley Cyrus Back to Health After Surgery
"Miley is being Miley," the insider shared on Wednesday about their romance. "She is having fun and that's all. She is not looking for anything serious. She has known Cody for a long time and is very comfortable with him. There's no strings attached and she is just going to see where each day takes her."
The source added, "She doesn't take anything too seriously or think too much about what she's doing. She was in a relationship with Liam for a very long time and now is her time to do what she wants to do. She doesn't have to answer to anyone and is happy about that."
With everything feeling fun and fresh, the pair is keeping things light and getting ready to celebrate Halloween together.
"We're trying to think about costumes right now," Cody told E! News while at the Tiffany & Co. launch of the new Tiffany Men's Collections. "I have no idea. I really want to go see the new Joker movie because I'm a really big fan of the Heath [Ledger] version. I've done that for Halloween a couple of times, so I was thinking of going and seeing that and maybe doing...I don't know. I have no plans."