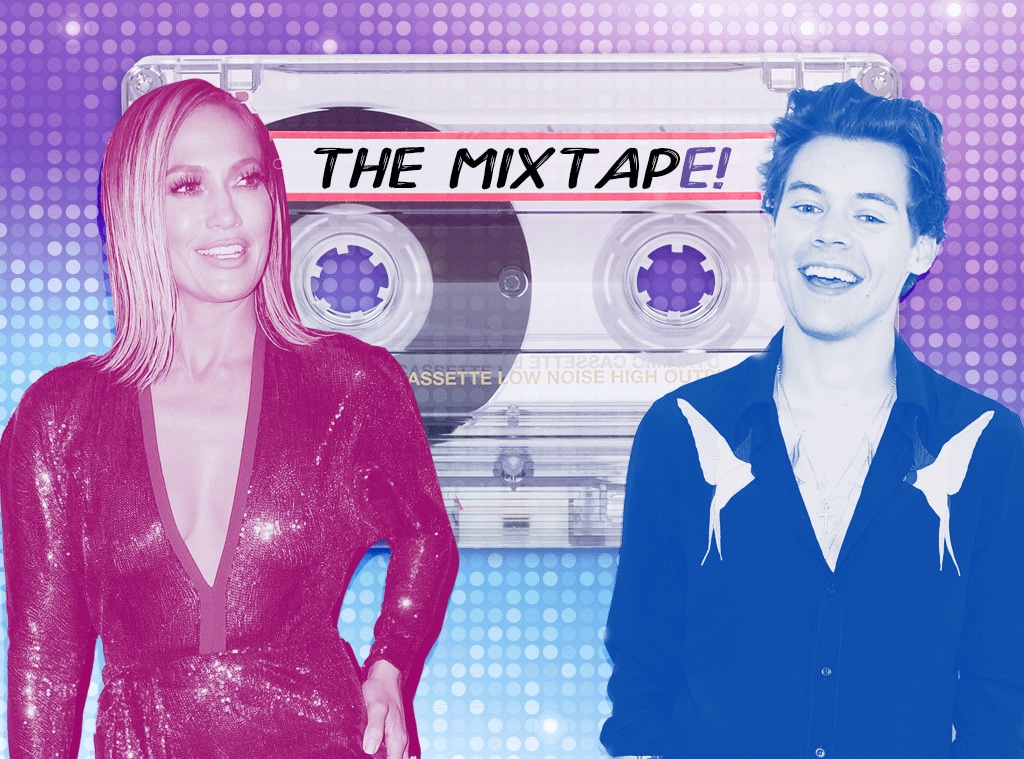 Getty Images/E! Illustration
New music Fridays are a thrilling, yet daunting prospect for any music lover. 
It's essentially a weekly holiday where fan-favorite artists and fresh faces alike drop their latest offerings for all the world to hear, flooding streaming services and digital retailers with an onslaught of aural goodies. But who has the time to sit there and listen to everything before updating their playlists? There's just too much good stuff! (And, if we're being honest, usually a few stinkers, too.)
As it turns out, we do. Welcome to The MixtapE!
Boy, was this week an embarrassment of riches. By now, you've probably given "Lights Up," Harry Styles' return to music after two years a listen or two—and if you're like us, replayed the stunning music video so many times that the people at YouTube must be wondering if something's wrong—and possibly given the latest releases from Jennifer Lopez and Camila Cabello a spin, but there's so much more out there, just waiting to be discovered. These are our picks for the best of the best. You're welcome.
Harry Styles — "Lights Up"
After a two year wait, Harry is finally back with the first taste of his highly-anticipated sophomore solo album. And on "Lights Up," which the former One Direction star co-wrote with previous collaborators Tyler Johnson and Kid Harpoon, he proves the wait was more than worth it. "Shine. Step into the light. Shine," he sings on the soaring, anthemic bridge. "So bright sometimes. Shine. I'm not ever going back." And that music video? Don't even get us started. We're still recovering from the beauty. Welcome back, Harry. We can't wait to see what else you have in store.
Jennifer Lopez — "Baila Conmigo"
When Jennifer Lopez tells you to dance with her, you listen. It certainly helps when she's dropping tracks that slap as hard as this one, a high-energy moment en Español. Between Hustlers, a world tour, her engagement to ARod and her just-announced co-headlining gig at the 2020 Super Bowl, is there anyone having a better year than JLo? That's a trick question. The answer is no.
Camila Cabello — "Easy"
Could we be any more excited for Camila's forthcoming second solo album, Romance? We didn't think so, but then she went and dropped this track, easily the most romantic song so far.  "I wrote this song about the kind of love that makes you love yourself more," she explained in an Instagram post after the song dropped. "I think before you open up to someone you always feel scared that once they see all the stuff you don't like about yourself, all the things you're insecure about, that they won't like you anymore - and when someone sees those things and loves you not only in spite of them, but because of them, it makes you feel truly seen for who you are, and loved for who you are too." This album is easily going to be one of 2019's best, you guys. Now if only it had a release date...
Fantasia — "Bad Girl"
The American Idol dropped her seventh studio album, Sketchbook, today, and the standout track on the LP is this one. "I'm just a confident, independent, getting it, intelligent woman/And if my confident, independence, go and get it, intelligence scares ya," she tells a man who might not even deserve her before heading into the chorus. "Then I'll be the bad girl/The one that you really want/The one that won't settle for nothing/And make you show just what you're made of." It's cinematic, sultry, and features a vocal performance from Fantasia that'll take you all the way to church.
Lali — "LALIGERA"
Argentinian pop star Lali Esposito recently earned a place on our list of the 15 female Latin pop stars you need to be listening to, and on her latest release, she proves why. The first single from her forthcoming fourth album, due in 2020, finds Lali letting everyone know there's no stopping her over a slick beat. She's the whole package and the time to get obsessed is now.
Hayley Kiyoko — "Demons"
Days after announcing new project I'm Too Sensitive for This S--t—and after it was revealed that she'd be receiving the Youth Innovator Award at this year's Trevor Project Gala in November—Lesbian Jesus has gifted the world with the first taste of her new era in the form of "Demons," which crouches a serious exploration of mental health in slick, utterly danceable packaging. Hayley opened up about the single in a press release, saying, "'Demons' is really personal to me. I had the chorus lyrics written in my notes 'please forgive me I've got demons in my head, trying to feed me lies until I'm dead'. There was something so haunting about it I wanted to try to turn it into something positive. I wanted to sing about mental health and battling the inner 'demons' many of us struggle with. But with a heavy upbeat track that everyone can sing and support you with. It's so important for people struggling to realize that they're not alone and I hope this song can play a part in sparking that realization."
The Black Eyed Peas & J Balvin — "RITMO (Bad Boys For Life)"
Will.i.am, apl.de.ap, and Taboo, the three founding members of BEP, join forces with the irrepressible prince of reggeaton for this bilingual banger. Making expert use of a sample from Corona's classic "Rhythm of the Night," the song will also appear on the soundtrack for Bad Boys for Life, which reunites Will Smith and Martin Lawrence in theaters this January. 
Tiana Major9 & EARTHGANG — "Collide"
One of the UK's most exciting alt-R&B voices teams up with the American hip-hop duo comprised of Olu and WowGr8 for this gorgeous neo-soul track, the lead single from the soundtrack for Queen and Slim, the upcoming romantic thriller written by Lena Waithe and starring Daniel Kaluuya and Jodie Turner-Smith, due in theaters this November. The song is dreamy as hell and works as the perfect theme for Lena's modern-day take on the Bonnie and Clyde trope. 
POLIÇA — "Driving"
The American synth-pop band with the Polish-sounding name is gearing up for the early 2020 arrival of their fifth studio album, When We Stay Alive, with the release of this lead single, which finds lead vocalist Channy Leaneagh returning to music after suffering traumatic injuries from a fall off her roof while clearing ice early last year. The track is a woozy little slice of trip hop, perfect for getting lost in on late nights.
Michael Kiwanuka — "Hero"
If Michael's name or voice sound familiar, that's because he's the British folk rocker behind "Cold Little Heart," the iconic track used as the Big Little Lies theme song for two seasons on HBO. As he prepares for the October 25 release of his third studio album, Kiwanuka, he's released this second single, a lo-fi track that wouldn't be out of place in an episode of BLL itself.
Bonus Tracks:
Sam Hunt — "Kinfolks": The wait for Sam's second full-length album has been a long one, but hopefully the release of this infectiously romantic piece of country-pop, his first song of 2019, means the wait might soon be over.
Pusha T and Nicholas Britell — "Puppets": Ahead of Succession's second season finale this Sunday, Nicholas' Emmy-winning theme song gets the full-length treatment with an assist from Pusha. It's no Kendall Roy original—"L to the OG!"—but it'll do.
Umi — "Love Affair": On the smooth lead single off her upcoming visual album, Love Language, the Japanese-African-American R&B up-and-comer proves she's one to watch.
MEDUZA x Becky Hill x Goodboys — "Lose Control": For the second-ever single, the Italian production trio enlist the Voice UK singer and the British production trio for this killer dance track that announces there's a new force in EDM to be reckoned with. 
BENEE — "Find an Island": New Zealand indie pop upstart Stella Bennett delivers our favorite new kiss-off track. "Find an island far away from me," she sings in the killer chorus. "A shipwreck lost at sea, where nobody goes. No search party. Nobody knows but me." Brutal. We love it.