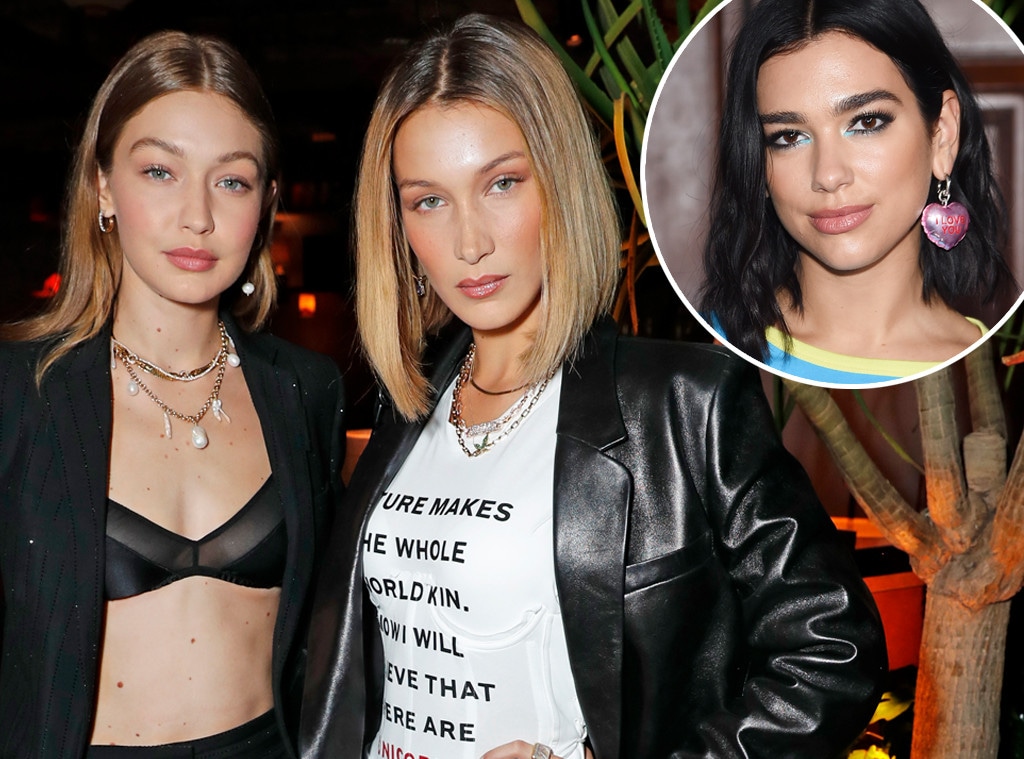 David M. Benett/Dave Benett/Getty Images for LOVE Magazine, Jamie McCarthy/Getty Images for Marc Jacobs
Welcome to the family, Dua Lipa!
As the "New Rules" singer continues her romance with Anwar Hadid, pop culture fans have noticed the entire Hadid family embracing the 24-year-old.
In fact, when Bella Hadid celebrated her 23rd birthday this week in New York City, Dua couldn't help but join in on the festivities. But how friendly is this crew?
"Dua is very close with the whole Hadid family. She has spent a lot of time with them over the last few months and they have really welcomed her with open arms," a source shared with E! News. "Yolanda Hadid loves her and is happy to see Anwar so happy."
Our insider added, "Bella and Gigi Hadid always invite her to stuff too. They are very friendly with her and love when they can all get together."
It certainly was the case Wednesday night when Dua was able to visit Color Me Mine for Bella's birthday celebration. The group also enjoyed a meal at Sadelle's before continuing the fun at Miss Lily's.
Jamie McCarthy/Getty Images
"The Hadid's are super close and love spending time as a family. They go to each other's houses and travel together," a source shared. "Dua fits in and they love having her around. They all talk and text all the time."
Back in July, Dua and Anwar sparked romance rumors after getting cozy at the British Summer Time Hyde Park music festival in London.
And just last month, the pair made their debut as a couple at New York Fashion Week. In fact, they were the perfect match in Marc Jacobs designs before attending the designer's show.
Gigi later featured the duo on her Instagram Story and wrote, "KK Love these 2 so much."
As for the sweetest birthday message award, it may just be from Yolanda who showered her daughter Bella with love through Instagram.
"I am so proud of all that you have accomplished in this early stage of life but more so of the resilient young woman you've become while navigating this life with kindness and grace!! I love your beautiful compassionate heart and the extraordinary ability to see good in everything and everyone no matter what the circumstances....." she wrote online. "Your greatest strength is not the exterior beauty people see and judge out in the world but your inner beauty and magnetic force you carry within your heart, the magic we all feel when you touch our lives........"