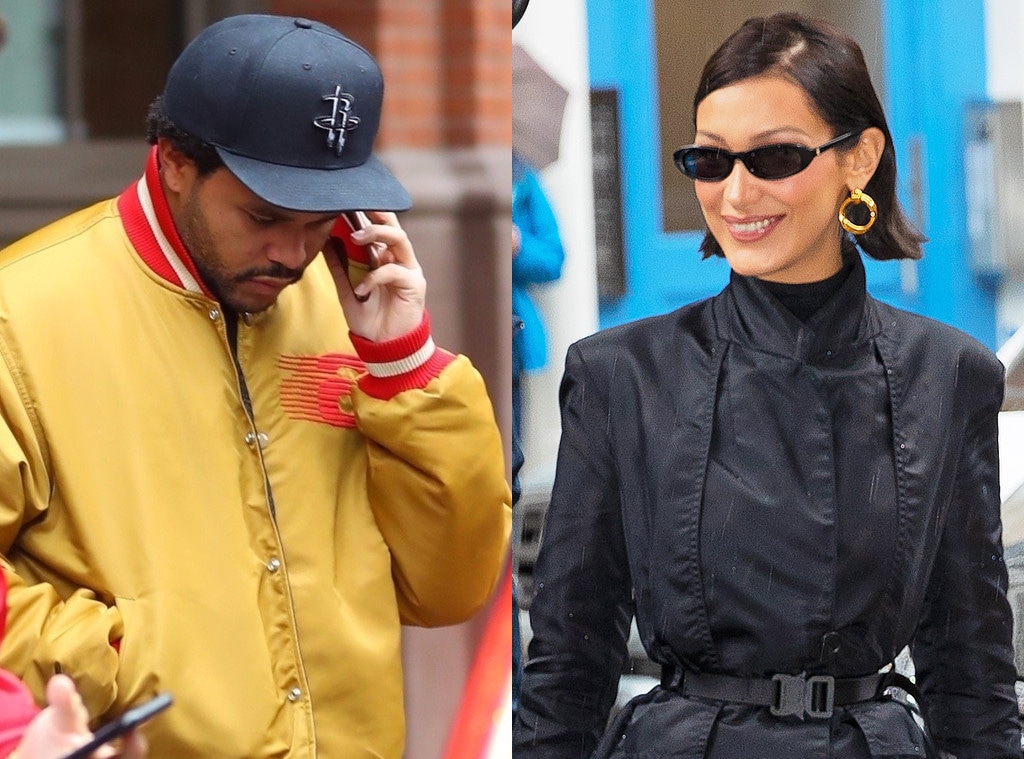 BlayzenPhotos / BACKGRID, Jackson Lee / SplashNews.com
Bella Hadid and The Weeknd might be broken up, but that didn't stop him from sending her some birthday love.
The supermodel rang in her 23rd birthday on Wednesday in New York City. For her special day, Bella had her closest friends and family by her side, including sister Gigi Hadid, mom Yolanda Hadid and brother Anwar Hadid. Anwar's girlfriend, Dua Lipa, was also there for Bella's birthday festivities. Early in the day, the group enjoyed a meal at Sadelle's before heading to Color Me Mine to paint some pottery. On Wednesday night, Bella and her loved ones went to Miss Lily's to continue the celebrations.
"Bella had a low-key night out celebrating her birthday at Miss Lily's in NYC," a source tells E! News. "She was with Gigi, Anwar, Dua Lipa, a few people from her glam team and a handful of her model friends. It was a small group and mainly consisted of her closest girlfriends."
The insider shares that the birthday squad had a "private section" in the back of the restaurant where they celebrated Bella.
"The restaurant's specialty Caribbean cocktails were brought out immediately and the group was drinking for several hours," the source shares. "Bella was in an amazing mood. She looked so happy. Her and Gigi were attached at the hip the entire night and were taking many photos together while smiling and laughing."
The insider adds that the night was definitely not "wild" and was more of a low-key get together that was "still a lot of fun."
According to the source, "Bella and Gigi were dancing to the funky music that was playing throughout the restaurant and their friends were videoing them and taking photos."
While Bella's ex, The Weeknd, did not appear to be at the celebrations, the source tells E! News that the Grammy winner did reach out to the birthday girl on her special day.
"The Weeknd did reach out to Bella during the day to wish her a 'Happy Birthday' and they have been in touch," the insider shares. "There is no bad blood between the two and they are on good terms right now. There isn't any chance of them getting back together right now but Bella never wants to have any anger or resentment towards anyone."
In addition to the birthday message, a second source also tells E! News that Bella left Miss Lily's "by herself" and  "got into the The Weeknd's car."
Watch:
The Weeknd Reaches IG Boyfriend Status
E! News exclusively revealed in August that Bella and The Weeknd (née Abel Tesfaye) had called it quits once again.
According to the source, "distance" played a factor in their decision to go their separate ways. "They are in different places right now, physically and mentally," the source explained over the summer. "Bella is prepping for her fashion week commitments and Abel is working on his music and his upcoming acting debut."