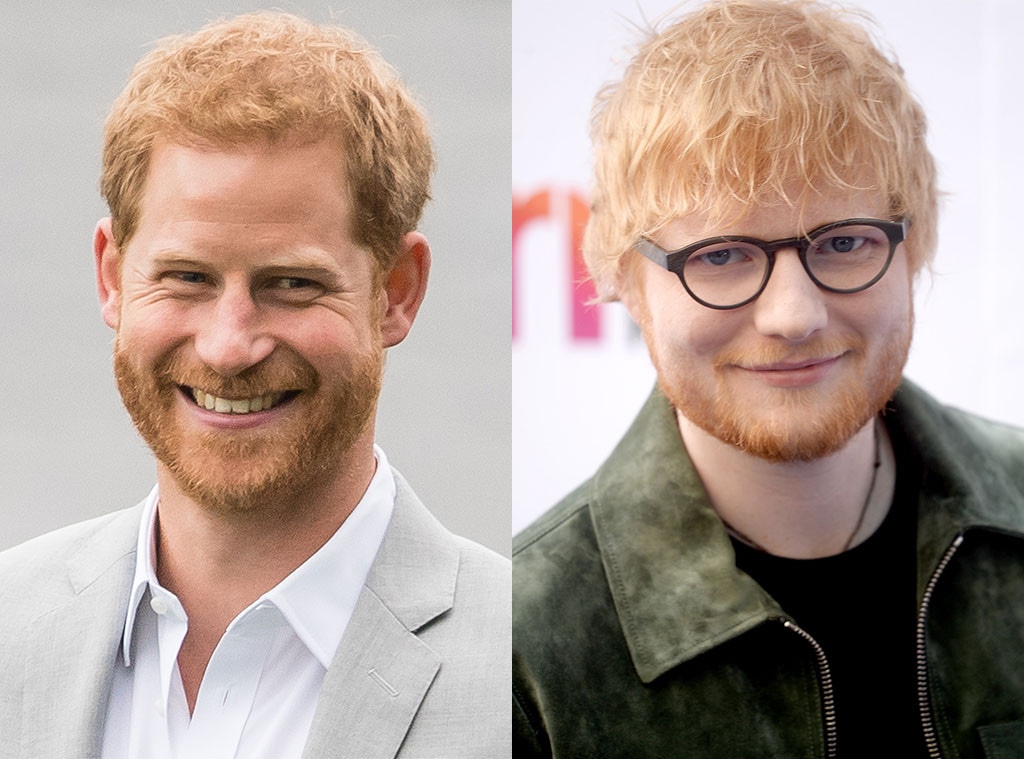 Samir Hussein/Samir Hussein/WireImage, Dave J Hogan/Getty Images
Prince Harry and Ed Sheeran are teaming up for a good cause.
The dynamic duo posted a video to Instagram on Thursday to call attention to World Mental Health Day.
The clip opened with the 28-year-old singer getting ready to visit the 35-year-old royal.
"I'm really excited today. I'm going to go and film a thing with Prince Harry," the Grammy winner said while getting a shave. "He contacted me about doing a charity video with him, which, you know, is going to be good. I've long admired him from afar." 
Once Ed arrived, the two got down to business. Ed then told the Duke of Sussex he was "quite passionate" about this cause.
"This, for me, is a subject and a conversation that's just not talked about enough," Harry said. "I think people all over the world are really suffering." 
The crooner said he was even "trying to write a song about this."
"People just don't understand what it's like for people like us," Ed said.
That's when Harry realized the two weren't on the same page. 
"Well, you know, with like the jokes and the snide comments," Ed continued. "I just feel like it's time that we stood up and said, you know, 'We're not going to take this anymore. We are ginger and we're going to fight.'"
Once he understood where the artist was coming from, Harry was able to set the record straight.
"Um, OK. Um, slightly awkward," he said. "Um, this may be a miscommunication, but this is about World Mental Health Day."
While Ed said he "definitely knew that," he then proceeded to delete a presentation on his laptop that included the words "Gingers Unite" and his agenda for how they can "change the perception of people with Moroccan sunset hair."
Putting the jokes aside, Harry then encouraged the public to "look out for anybody who might be struggling in silence."
"Both Prince Harry and Ed Sheeran want to ensure that not just today but every day, you look after yourself, your friends and those around you," part of the video's caption read. "There's no need to suffer in silence—share how you're feeling, ask how someone is doing and listen for the answer, be willing to ask for help when you need it, and know that we are all in this together."
The two also provided a list of resources their followers can consult.
This wasn't the only way the royal had raised awareness for mental health initiatives. The duke also teamed up with Meghan Markle, Prince William, and Kate Middleton for a video promoting the program Every Mind Matters. Of course, this should come as no surprise to their fans. After all, the royals have championed mental health initiatives for years through their Heads Together campaign. Harry is also working on a new mental health documentary series with Oprah Winfrey.
Still, it's hard not to notice a resemblance between Harry and Ed. Even the duke admitted it was "like looking in the mirror." 
Watch the video to learn more about World Mental Health Day.