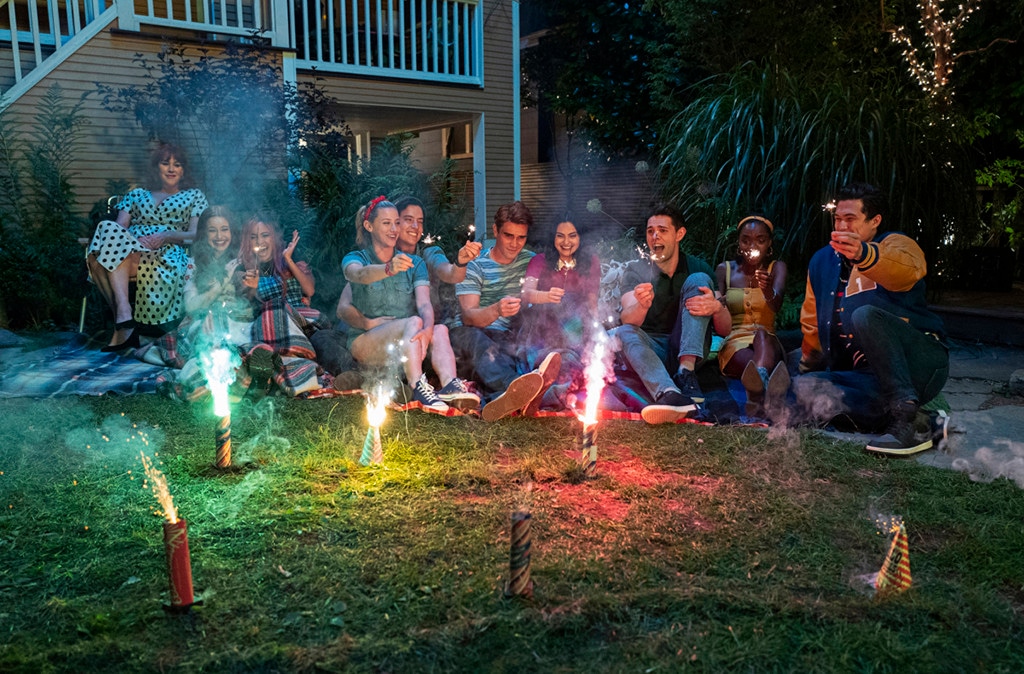 The CW
Well that was about as devastating as we imagined it would be. 
Riverdale took a break from the serial killers and cults and said goodbye to Luke Perry and Fred Andrews in its season four premiere, and there were tears flowing on both sides of the screen. 
After we got an update on how summer had been going for the residents of Riverdale, we learned that Veronica and Pop's were sponsoring the 4th of July parade, and she and her friends were working on a giant milkshake float.
They took a break for breakfast at Pop's, and that's when Archie got the phone call that his dad had died. We later learned that Fred had been on his way back to Riverdale when he saw a woman (Shannen Doherty) stranded by the side of the road with a stalled car. He stopped to help, then pushed her out of the way as another car sped down the road, hitting Fred. 
His body was taken care of by a funeral home in another town, and was going to be stuck there until after the 4th of July until Archie realized he had to go pick his dad up.
He got a hearse from Reggie's family's car lot and headed to Cherry Creek with Jughead, Betty, and Veronica to pick Fred up. While he was there, he learned that a man had confessed to the hit and run, and immediately made the very Archie decision to go to the guy's house to confront him. 
But then he learned that it was actually the man's son, who didn't even have a license, who had been driving the car, and his dad had taken the blame. 
The group picked up Fred's truck, where it was still parked, and while they were there, they met Shannen Doherty, who explained what had happened and asked the kids to pray with her.
That was, for us at least, where the tears really hit, and then they never let up. 
As the hearse, driven by Archie and Veronica, and the truck, driven by Betty and Jughead, made their way back into town, Sheriff FP met them in his cop car, offering a police escort. 
In town, they discovered that parade-hating Cheryl had reorganized the parade into a welcome home for Fred. 
We then saw Fred's funeral—sort of, through our tears—where Archie stood and told a story about how he can't wait to show his children all the parts of the town his dad built, and how he remembered one 4th of July when the fireworks show got rained out, so Fred bought a bunch of fireworks to set off in the backyard. So of course that's what the whole group did later on, in the backyard. 
We also saw Jughead writing Fred's eulogy, which was read and cried over by Hermione, Hiram, Pop, and even Alice, wherever she may be. 
After a screening of the episode, showrunner Roberto Aguirre-Sacasa explained some of the decision-making behind the tribute. 
How they decided how to deal with the death: 
"Very early on, we landed on the idea that Fred should have a heroic death, and that that would be impactful for Archie. And it felt like that's a way that Fred could have gone. After that we really said that this episode really isn't going to launch any huge stories for the season; it was really going to be kind of focused on that, and the kind of emotional effects of that passing for everyone. 
As we were working on the episode, [we] talked about putting in some other storylines, but as we were working on it, we just kind of kept focusing it on our characters, and focusing it truly on Archie. There have been, sadly, a lot of tribute episodes on television, and one of my favorites is the Friday Night Lights episode where the football player's father dies. It's called "The Son." And we kind of wanted to just tell a very grounded, truthful story." 
How Shannen Doherty fit in: 
"Over the seasons, Luke and I had talked a lot about trying to get Shannen on the show. And you know, the timing never worked out, or the part was never quite right. She was doing this, or unavailable, or it didn't feel right. And when we were working on the episode, we know that there would be some characters outside of our cast of characters that would be involved. We thought that rather than have another actor play that, we thought it would be nice if it was someone he really cared for in real life. And he cared so deeply about Shannen. That's how we got to that...it resonates for Fred, it also resonates for Luke, and Shannen kind of speaks to that. And I thinks he really wanted to be a part of it, from when we first talked to her about it." 
How Archie will try to live up to Fred's legacy: 
"Fred casts a long shadow. He's always been our kind of moral center. We frequently describe him as the one good parent in Riverdale, and the best influence on Archie. In a noir, crime-ridden world, which is what Riverdale is, he's got dignity and honor and really good values. And Archie does too. But we've seen Archie for three years looking to see what kind of man he's going to be and what he's going to do, and I think that in the end, it's trying to do what his father did, which was help his community, help his town, help his friends make the right choices. And Archie wants to live up to that. I think he's always wanted to follow in Fred's footsteps, but now feels that burden even more. But Archie's still going to be Archie, and I think he's going to struggle with grief and struggle with how to live up to Fred's memory." 
On a season four without Fred's death: 
"At a certain point kind of towards the end of the season, you start talking about laying the groundwork for the next season, and I think when Luke passed, it was still before we'd really gotten into deep brainstorming about what season four would look like. I do feel like when this happened, it did suggest a path for Archie which is about growing up a little more quickly than he would have, and giving senior year this almost like a melancholy feel. 
Although I think the idea of Archie—I think he says at the end of season three when he's telling Monroe, 'I think we should turn this place [the prison] into a community center,' I think that was something we talked about early on, as well." 
On the flashbacks of Fred: 
"It so happened that those two flashbacks were in the garage where Archie would go. I will say that I remember vividly from season one that it's in the third episode of season one where Fred soundproofs the garage. And it's a really simple story, right? Dad says you're making too much noise, son says, I want to play my music, loving father soundproofs the garage. And I remember when we did that episode, Luke called me and said, I love that Fred's doing this for Archie. Something I would have done for my son. 
And it's like, there's so much baroque storytelling on Riverdale and there was such a truth and simplicity to that story that it was nice that that was a thing we could go back to." 
Other tidbits: 
We'll see Betty exploring her grief more as well, though the death of Hal/the Black Hood is worlds away from the death of Fred. Her loss, however, will play out as a "soft echo" to what Archie is dealing with. 
Molly Ringwald is sticking around and has some storylines of her own, though she's "not quite aware of what a rough town Riverdale is," so the show is having fun with her naïveté. There's a Thanksgiving episode coming up that gives mother and son a chance to grieve together. 
"There's typical craziness that happens, but I think there's a real, true emotional core there as well," Aguirre-Sacasa said. 
We'll see Cheryl be there for Archie in an unexpected way, because she's "uniquely equipped" to help Archie through his grief, even if she's dealing with her own by talking to her brother's corpse. 
Episode three is "as crazy as we've gotten" and involves the resolution of the Farm. Though we have at least seen that Alice is alive and well, which was included because it felt "so important" to make sure Madchen Amick got a moment in Luke's tribute episode. We'll see more of her in episode two, which picks up in September, next week. 
Riverdale airs Wednesdays at 8 p.m. on The CW.