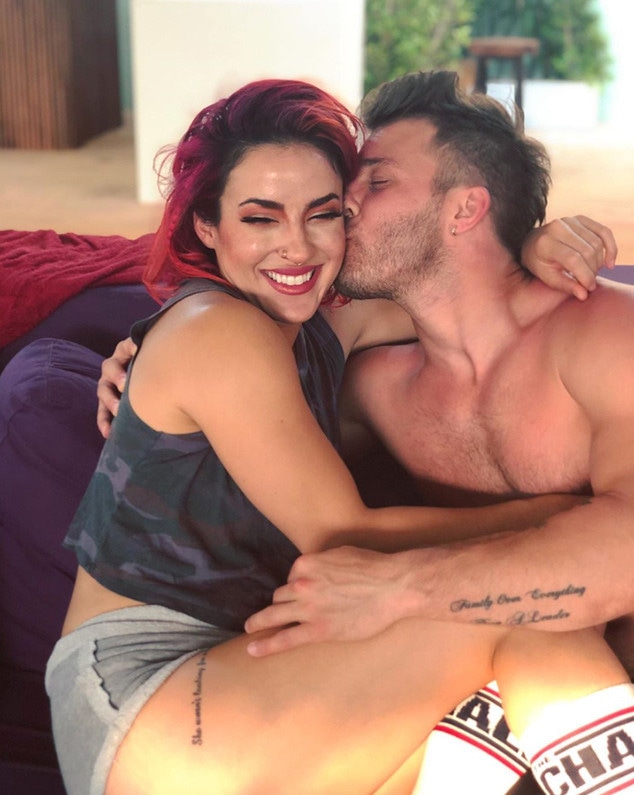 Instagram
UPDATE: Paulie Calafiore and Cara Maria Sorbello would like to retract previous statements made about their relationship status, all in the name of a... social experiment? 
The MTV stars set the record straight during an Instagram Live posted Wednesday morning. According to Paulie and Cara, they are still very much together and we're just conducting what they called a "social experiment" to take on their haters. 
"We had to troll the trolls a little bit," Paulie explained, adding, "We just really wanted to bring light to the cancel culture that exists nowadays. We just want to make steps in the right direction of being more positive online.
He concluded, "The only thing we want to say moving forward is... Nobody will know except us." Noted!
______
It's not a fairytale ending for Paulie Calafiore and Cara Maria Sorbello.
The reality stars appear to have called it quits almost one year after hooking up on The Challenge: Final Reckoning.
"My heart's racing a little bit. I just got to be honest. It's been a long time coming but Cara and I have decided that it's probably best that we go our separate ways and that we are friends," Paulie shared in an Instagram Live video posted Monday night. "We have the utmost respect for one another and wish her all the best."
He continued, "I hope that you guys can be mindful that these are two people going through real emotions right now."
And while their romantic relationship may be over, Paulie expressed hope that the twosome can remain friends going forward.
"It's not easy but sometimes people are better off as friends and that's just how it is," he added. "We will be okay. We still have each other's backs so it's no big deal. That's all I have to say. See you guys."
Last summer, rumors started flying that Paulie was cheating on Bachelor in Paradise star Danielle Maltby with Cara Maria. The former Big Brother star admitted he was "not proud of my actions."
Ultimately, Danielle would break up with Paulie and he would move on with Cara Maria.
"We just clicked. He's just easy to talk to and he made me laugh. Everything that I threw at him, like everything that I would do to make him feel uncomfortable and weird, he would literally take it and one up me and throw it over in left field," Cara Maria previously gushed to E! News about her man. "He just understood my humor, he made me laugh and it was just an easy connection and I felt really comfortable being around him."
But as followers of this couple know, these two always have ups and downs in their relationship. Could a reconciliation be in the future? Never say never!
The Challenge: War of the Worlds 2 airs Wednesdays at 9 p.m. ET on MTV.
(This story was originally published Wednesday, Oct. 9, 2019 at 3:06 p.m. PST)