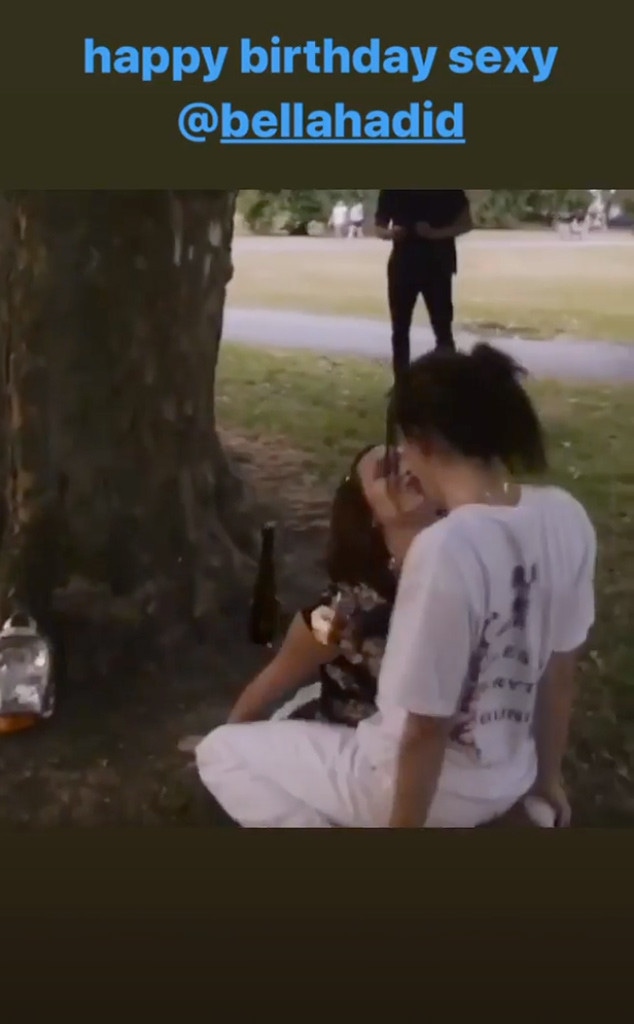 Instagram / Kendall Jenner
Sealed with a kiss!
Bella Hadid celebrated her 23rd birthday on Wednesday. Her friend and fellow model Kendall Jenner paid tribute to her on her Instagram Story with a montage made up of photos of the two on vacation together and a video of the two sharing a playful kiss on the lips while hanging out with friends in a park.
"Happy birthday sexy @bellahadid," Kendall wrote.
Bella reposted Kendall and other birthday tributes to her on her own Instagram Story.
"Aaaannnnaaaa ooop kageeeee I love you," she replied to her friend.
Bella kicked off her actual birthday celebrations at a casual brunch at Sadelle's restaurant in New York City with her family and a few friends. Guests included her sister and fellow model Gigi Hadid, their mom Yolanda Hadid, and their brother Anwar Hadid and his girlfriend and singer Dua Lipa. 
The group sat in a private section. Yolanda had a cake brought out for Bella and everyone sang "Happy Birthday," E! News has learned.
"It was very casual get together and Bella wanted it to be small," a source said.
Bella posted a few pics from the brunch on her Instagram Story.
She also spent time with her friends painting pottery at a Color Me Mine Ceramic Studio.
Yolanda posted on her Instagram a photo of her kissing the birthday girl by a lake.
"❤️Happy 23rd birthday my love," she wrote. "Celebrating you today and everyday my forever baby girl..... May this coming year be filled with all the love, health and happiness you deserve.  I am so proud of all that you have accomplished in this early stage of life but more so of the resilient young woman you've become while navigating it with kindness and grace!! I love your beautiful compassionate heart and the extraordinary ability to see good in everything and everyone no matter what the circumstances..... Your greatest strength is not the exterior beauty people see and judge out in the world but your inner beauty and magnetic force you carry within your heart, the magic we all feel when you touch our lives........"
"Thank you giving me the greatest gift of motherhood and allowing me to guide you while teaching me so much about myself..." she continued. "May this day of your birth forever remind you of how much you are loved, respected and needed by me and everyone that loves you."
#HappyBirthdayBella #MyLove #ProudMommy
Gigi, 24, shared on her Instagram on Wednesday a throwback pic of her as a child hugging baby Bella on a beach.
"INTL. @bellahadid DAY," she wrote. "MY VERY OWN CUSTOM CABBAGE PATCH KID I RAISED RIGHT FROM THE SEEDLING ! THNX @yolanda.hadid."
"Wishing the HAPPIEST 23rd year around the sun to my custom bestie sweet sissy @bellahadid," Gigi added, alongside a photo of the two as adults. "Your big heart and contagious light bless every life you touch. I'm lucky and grateful to do it all with you. I LOVE YOU MORE THAN WORDS B. DAY celebrations continue !!!"