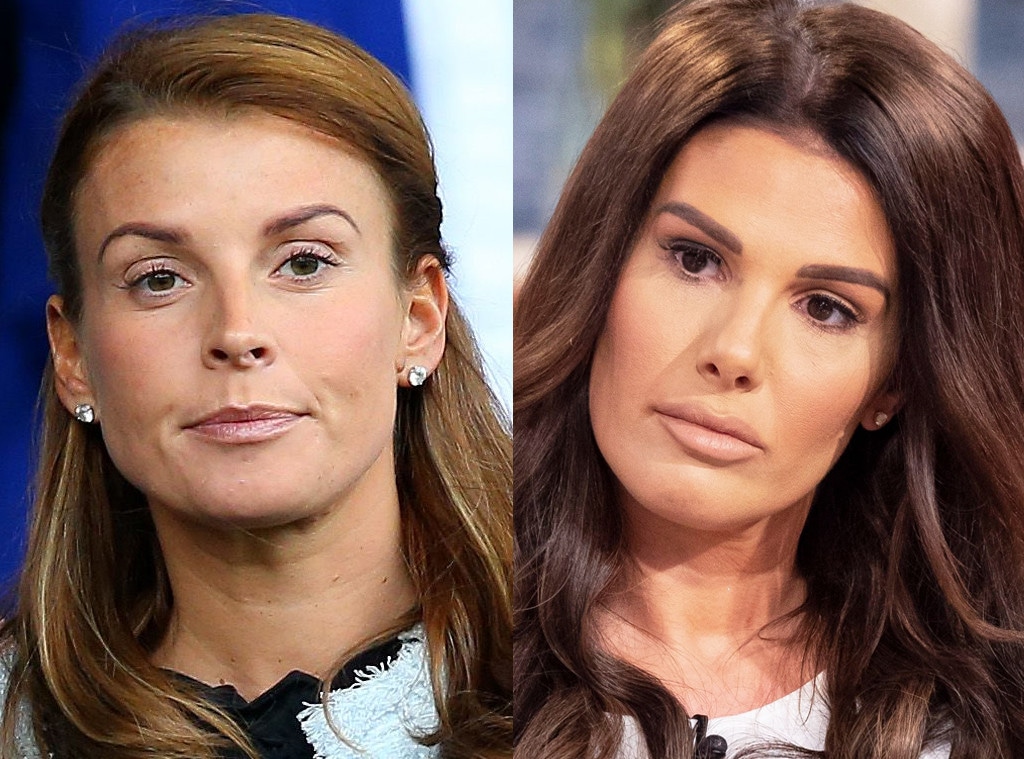 Paul Greenwood/BPI/Shutterstock, Ken McKay/ITV/Shutterstock
Coleen Rooney and Rebekah Vardy are giving the Real Housewives franchise a run for their money.
Before today, these two women were otherwise entirely unknown in the realm of American pop culture. Some soccer fans might recognize them as the wives or girlfriends, aka WAGS, of football players Wayne Rooney and Jamie Vardy, who play on the England national team. Or, maybe, social media users came across their Instagram profiles.
Regardless, Coleen and Rebekah are now on everyone's radar thanks to Coleen's expert sleuthing skills. 
This story begins on a Wednesday morning, when Coleen publicized accusations against Rebekah. Coleen's followers woke up to find a lengthy note on her social media profiles, detailing how she found out Rebekah was selling stories about her life to The Sun newspaper. In the ominous and downright salacious statement she explains, "For a few years now someone who I trusted to follow me on my personal Instagram account has been consistently informing The Sun newspaper of my private posts and stories."
She adds, " There has been so much information given to them about me, my friends and my family—all without my permission or knowledge."
Eventually, for reasons undisclosed, Coleen found a suspect to pursue. In January of this year, she devised a plan, with the help of a Twitter user, to catch Rebekah in the act. "I blocked everyone from viewing my Isntagram stories, except ONE account," she shares. "Over the past five months I have posted a series of false stories to see if they made their way into The Sun newspaper."
These stories detailed her fake plans to choose the gender of future children in Mexico, a potential casting in the reality series Strictly Come Dancing and a story about her home's basement being flooded.
So when these stories were published it was pretty clear who had spilled the tea, even though Coleen found it "tough keeping it to myself." 
"I have saved and screenshotted all the original stories which clearly show just one person has viewed them." She continues, ending her paragraph to achieve a dramatic reveal of the culprit: "It's... Rebekah Vardy's account." Dun dun DUN!
Of course, Rebekah vehemently denies these accusations. In a statement she posted 25-minutes after Coleen shared her truth, the mum insists that she is innocent. "As I have just said to you on the phone, I wish you had called me if you thought this. I never speak to anyone about you as various journalists can vouch for," Rebekah states. 
Rebekah also says that they could've stopped the tabloid leaks by changing her account password. She reveals, "Over the years various people have had access to my insta and just this week I found I was following people I didn't know and have never followed myself."
Moreover, the star points out that she's pretty well-off and questions, "what would I gain from selling stories on you?"
"I liked you a lot Coleen and I'm so upset that you have chosen to do this, especially when I'm heavily pregnant. I'm disgusted that I'm even having to deny this. You should have called me the first time this happened," Rebekah concludes, adding a broken-heart emoji at the end. 
And on Instagram, the mum said that she is "having to take legal advice" on how to approach the situation. 
Now that the cat is out of the bag, The Sun has since amended their stories to reflect that they are indeed false, but would not reveal whether or not Rebekah was their source. 
Of course, people on social media are having a field day, but it's all predictably British. Nonetheless, it was trending on Twitter under the hashtag "WAGatha Christie."