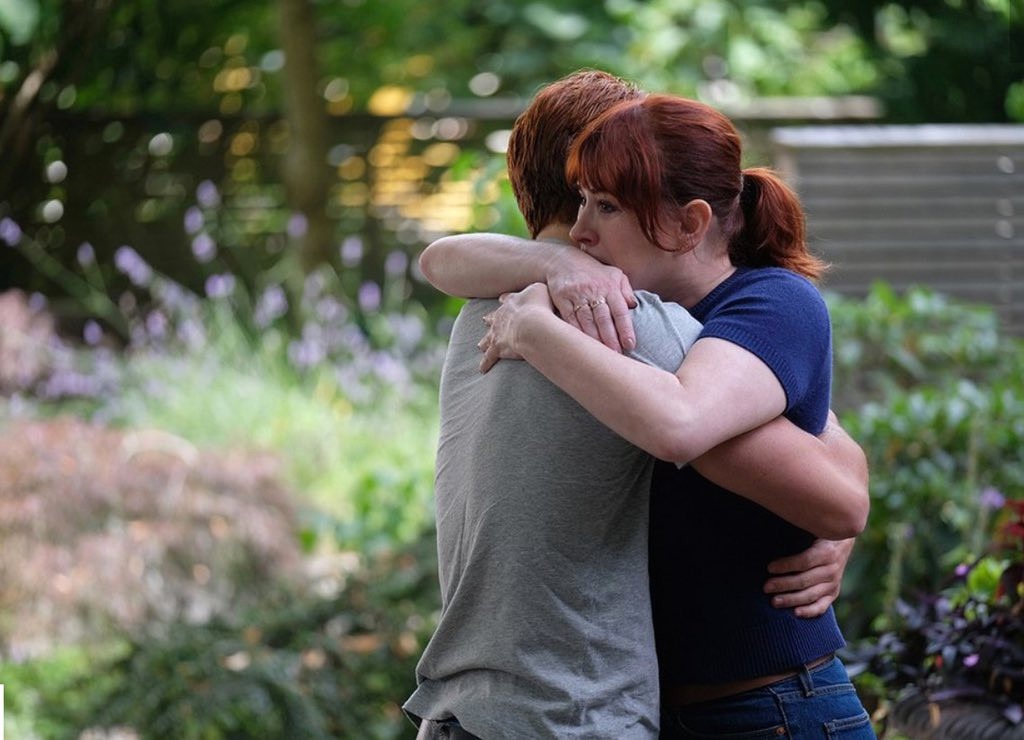 The CW
Tonight's Riverdale premiere is unlike any episode the show has done before. 
In March, Luke Perry passed away after a stroke, with three episodes left to film in last season of the CW drama, in which he starred as Fred Andrews. Instead of rushing to address the loss at the end of last season, showrunner Roberto Aguirre-Sacasa and the producers decided to wait for season four, resulting in tonight's heartbreaking tribute, "In Memoriam." 
The episode is entirely dedicated to Luke and to Archie and his friends and family dealing with the loss of his dad, putting aside Riverdale's typical craziness for an hour that's absolutely devastating, for the characters, for the viewers, and for the actors. 
"We kind of knew this was going to be brutal on the cast, especially [KJ Apa], who was Luke's main scene partner," Aguirre-Sacasa told reporters after a special screening of the episode. "Almost every episode they had a scene in the kitchen, and no matter what was going on, you'd find them at the kitchen island and Fred would be giving Archie advice, which he would or would not have listened to, and that was a real touchstone for KJ I think, so I talked to KJ about it. I think everyone was really proud to gather to tell this tribute to Fred and to Luke, and I think everyone was...I don't want to say happy to have a catharsis, but I think when it happened, we were kind of all scattered, so there was something really special when we gathered to do the table read that was cathartic. And you know, shows are families. We knew it was going to be hard, and it was." 
Aguirre-Sacasa says the episode was written as a tribute to Fred, "knowing that most of our viewers, or a lot of our viewers, have a real, deep personal connection to Luke." 
"The truth is, everyone knew Luke. I mean, everyone knows Luke, knew Luke, and loved him," he said. "So I think that was sort of baked into the episode. I don't think we wrote it one way or another...We told the story about this man and this town." 
Tonight's episode is entirely the story of Archie learning that his dad has died and dealing with that grief, and feels like an episode that's very separate from the rest of the show, especially as episode two will pick up a couple of months later. But that doesn't mean this death won't continue to impact the show, especially for Archie. 
"The shadow Fred's death casts is on episode two, and honestly, we're about 10 episodes into the season, and we're still feeling that," Aguirre-Sacasa said. "And the truth is, something like that, Archie will be wrestling with for the rest of his life, other characters less so." 
"I think one of the things that's been interesting is when a tragedy like that happens, everyone grieves and then people move on at different points, but for the person who's at the core of it, they live with it every day. So we don't pretend it didn't happen. It's still very much permeating Archie's story." 
Episode two will start on a lighter note, though, and will put the show back into the high school realm. 
Aguirre-Sacasa also opened up about Perry's impact on set, as a father figure to Apa and to much of the cast. 
"I think he has been through it. He would also say things like, '22 episodes? I was on a show that was 36 episodes a year!' And he said 'Popular? You want to talk popular? Imagine 16 million people cheering...'" 
He also saw what was coming before the show even premiered. 
"We went to the first Comic-Con, and it was before the show aired, and I remember again vividly hearing Luke say to KJ, 'after the show comes out, it will not be like this again,'" he said. "And you know, we weren't in that headspace. We were still filming, the show hadn't premiered. We were months from premiering. But Luke...he could see it kind of coming." 
Fred's death is one of the realest problems the kids of Riverdale have faced in their years of chasing down serial killers and evil cults and shady board games, and it starts a season that's more grounded than the show has been in a while. 
"A lot of people said, oh, season one was much more grounded, so we've used season one a little bit as a template. We definitely still have crazy stories, but instead of, let's say, four crazy stories per episode, we have two crazy stories per episode, and two that are a little more emotional, or psychological, or real." 
Season four will see the kids in their senior year, contemplating their futures and the end of their childhoods. There is still an evil cult to deal with, but the show is focusing a lot more on actual high school stories. 
"I think we're finding our way back to some of the stuff in season one. The truth is, you kind of can never go back, but there were things that I know the fans missed and that we missed and are trying to write to." 
Shannen Doherty guest stars in the premiere, which airs tonight at 8 p.m. on The CW.