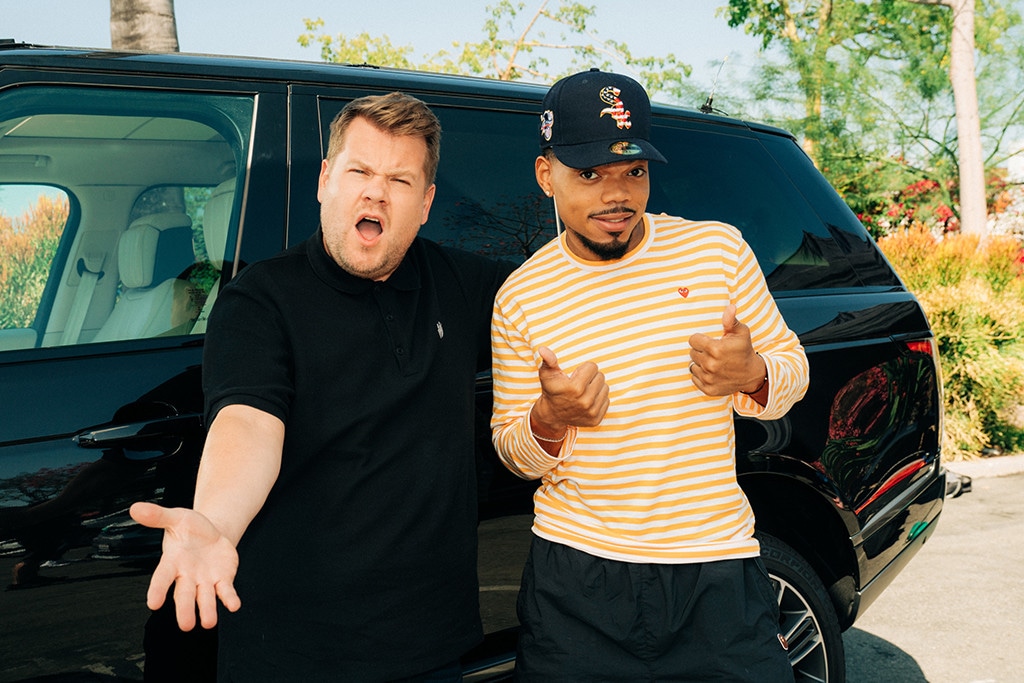 Terence Patrick/CBS ©2019 CBS Broadcasting, Inc. All Rights Reserved
Buckle up, Chance the Rapper fans! 
The 26-year-old artist was the latest guest on "Carpool Karaoke." The three-time Grammy winner cruised around Los Angeles with James Corden for Tuesday's episode of The Late Late Show.
During the drive, the two rocked out to a few of the rapper's hits, including "All Day Long," "No Problem" and "Hot Shower." Chance also dished on his famous friendships with Barack Obama and Jay-Z.
"I don't have a number for him, but I have a number for him," he said when asked if he has the former president's digits. "I have a person that I could call that will say, 'Ok, I'll have him call you.' That's the same way with Jay-Z. Jay-Z and Barack Obama are very, very similar. Both of them have, like, an assistant that you have to call and then you get a call from a private number and it's either Jay-Z or Barack Obama on the phone."
He did, however, say he has Kanye West's direct line. He also suggested the 42-year-old rapper keeps him on his toes.
"Kanye is definitely the kind of dude that will be like—you'll meet up with him to do one thing and then he'll be 'Oh, I got to go to Milan right now. Let's get on this jet,'" Chance said. "You gotta make a decision right there like, 'Am I about to follow Kanye to Milan, or am I going to go on this date that I have planned?' You really, like, have, like, a whole spiritual battle for a second. Like, 'What's more important?'"
They also pulled over for a little roadside snack. After learning that Chance is not a fan of vegetables, Corden decided to give the star a blind veggie taste test.
"It's so f--king gross," Chance said after nibbling a carrot.
Watch the video to see the two drive around town.