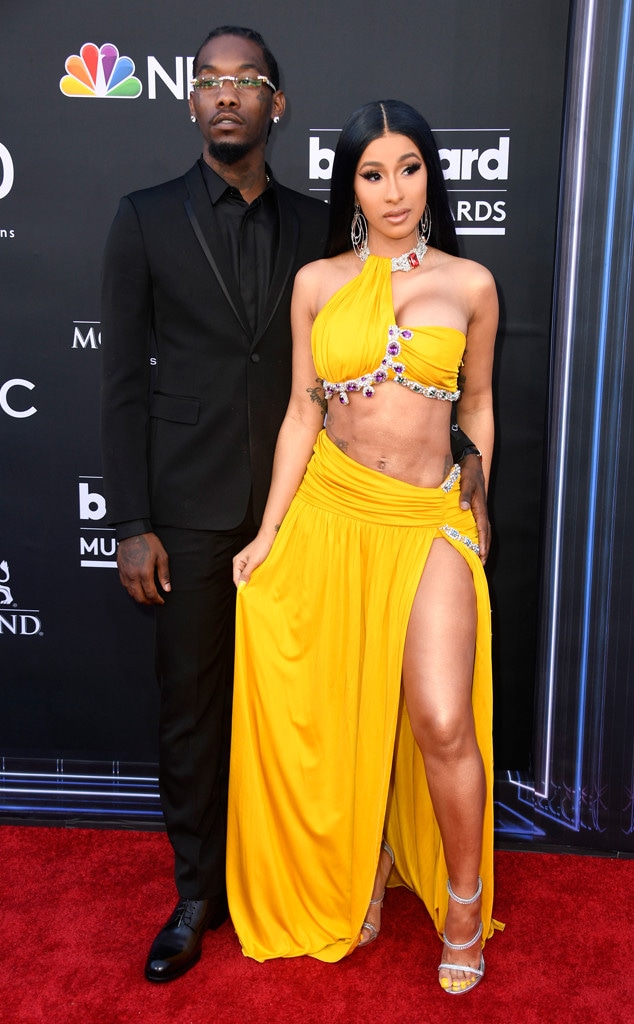 Frazer Harrison/Getty Images
Breakups don't have to be forever. Even when the going gets real rough.
"I would love, you know, work things out, everything," Cardi B admitted into her phone's camera a few days into 2019, barely a month after she and her husband, Offset, called it quits after a year of marriage. "Motherf--ker's still my best friend."
And true best friends don't grow on trees.
It was both not surprising and yet also a little heartbreaking when Cardi announced their separation last December—the former merely because, hey, celebrities, and the latter because they have a daughter together and seemed like a particularly well-suited, affectionate, mutually adoring couple.
Plus, they were on the same crafty page.
A pregnant Cardi (real name Belcalis Marlenis Almánzar) revealed in June 2018 that she and Offset (real name Kiari Kendrell Cephus) had actually been married for nine months, a heck of a long time to successfully sit on a secret like that, especially when your tune "Bodak Yellow" had become the song of summer 2017.
But apparently she and the Migos rapper got their I-dos in just before the deadline was up for Cardi to be able to pull off such a big life move entirely under the radar.
When her marital status finally got out there, she confirmed it on Twitter, writing, "There are so many moments that I share with the world and there are moments that I want to keep for myself! Getting married was one of those moments! Our relationship was so new breaking up and making up and we had a lot of growing to do but we was so in love we didn't want to lose each other."
Their daughter Kulture Kiari Cephus was born that July 10, immediately becoming the apple of her mom and dad's eye.
Sadly, Kulture's arrival didn't mark the beginning of an unadulterated stretch of drama-free bliss. Offset was charged with felony weapon possession 10 days after Kulture's birth when Atlanta cops allegedly found a gun (which, as a convicted felon, he's not supposed to have; he was convicted in 2012 for possessing stolen property) and a small amount of marijuana in his car during a traffic stop. Then that September, Cardi got into a heated public feud with Nicki Minaj that started at New York Fashion Week. 
Unfortunately, all that coincided with an unraveling at home, too.
In her Dec. 4. video message revealing she and Offset had split up, Cardi said, "I guess we grew out of love, but we're not together anymore. I don't know. It might take time to get a divorce and I'm gonna always have a lot of love for him because he is my daughter's father and yah."
"Cardi will always love Offset, but ultimately lost trust in their relationship," a source told E! News at the time.
And it apparently was for the reason you might guess, rumors of Offset's not-great behavior as a married man having preceded the split news.
"I was partaking in activity that I shouldn't have been partaking in, and I apologize," he said in a video confession on Dec. 14, his 27th birthday. "You know what I'm saying? For breaking your heart, for breaking our promise, for breaking God's promise and being a selfish, messed up husband."
Offset, who also has three other children from previous relationships, added, "I want to be able to spend the rest of my life with you. I apologize. I am sorry for what I have done to you. I didn't f--k that girl, but I was entertaining her, you know what I'm saying? I apologize, and I love you, and I hope you forgive me. My birthday wish is just to have you back."
Kevork Djansezian/Getty Images For dcp
Just a few weeks later, they jetted off to Puerto Rico on vacation. But only because, as Cardi would later share with her Instagram followers in a live chat, "I just had to get f--ked. That's all."
Also something that doesn't grow on trees. Apparently she wasn't as pissed off at Offset daring to crash her concert with a "TAKE ME BACK CARDI" cake and flowers as her fans were, the internet ablaze that night with naysayers dissing Offset for basically showing up at his wife's place of business to suit himself.
Offset had, apparently, really tried to ward off Cardi leaving him in the first place, even asking if she'd go to counseling. 
"I didn't want to go to marriage counseling," she told Harper's Bazaar after the breakup. "He suggested it, but it's like, I don't want to go.' There's no counselor or nothing that could make me change my mind." (At the same time, Cardi told the interviewer they weren't talking but had a photo of him on her phone timestamped from that day. Could've been a pic he sent her, though.)
Asked if she thought they'd get back together, she said, "I don't think so." But also, "Who knows? You never know, you can never tell."
So, multiple signs pointed to these two wanting to repair their relationship and stay married, of course for Kulture's sake, but also because they really did love each other and didn't want to give up. 
It's unclear whether Cardi ever changed her mind about counseling, but by the 2019 Grammys on Feb. 10, they were back together. And a year after she performed at the show for the first time, she took home the Grammy for Best Rap Album for Invasion of Privacy.
"You husband, thank you," Cardi said onstage, Offset by her side. She recalled racing to finish the album in 2018 so she could make all the videos before her pregnancy became evident. "Seriously, he was like, 'You want to do this album, girl. You're going to have this baby and we're going to make this album."
Rob Latour/REX/Shutterstock
"You gotta go through steps and different things so that we can grow," Offset reflected later that month on The Breakfast Club. "Not on the TV though, real behind the scenes, getting to know each other, getting to know who you're with and appreciate them all the way around. Because that one mistake made me appreciate her."
Cardi agreed about the importance of connecting behind the scenes, telling People over Super Bowl weekend, before the Grammys, "It's a personal thing."
She knows her fans are disproportionately invested in her personal life, or at least a lot of people act like they are, but, she acknowledged, "My relationship—my marriage—is not for them. It's not for them."
But despite the bling and the fame, the 51.7 million Instagram followers and the very public breakup and reconciliation, "I feel like we just really are a very regular couple," Cardi said.
"We just do regular things," she continued. "I just feel like: We're famous … we're really popular right now—I just don't know the obsession, like I feel like everything we do is a big deal. Even before the bad scandals, just from the first time they seen us together, it was just like this big crazy deal."
Cardi added, "My story with him, I hear so many people that it's the same [as theirs]. I don't understand why mine is just such a big deal."
In Atlanta to perform during the Super Bowl LIII festivities, Offset, a Georgia native, was with her.
"This is his city," Cardi said. "And I don't really know much about this city. I know that this city's almost like the Wild Wild West, so it's just like I know that he protect me the most. He knows everything."
Another relatable aspect of her story: all the friends (and presumably, in her case, strangers) telling her to move on, she could do better, he wasn't worth another chance.
Thaddaeus McAdams/Getty Images
"It's like everybody is coming down my neck like, 'Why are you not leaving him? You have low self-esteem.' I don't have low self-esteem," Cardi told Cosmopolitan. "I know I look good. I know I'm rich, I know I'm talented. I know I could get any man I want—any basketball player, football player. But I want to work out my s--t with my man, and I don't got to explain why. I'm not your property. This is my life... I'm going to take my time, and I'm going to decide on my decision … It's not right, what he f--king did—but people don't know what I did, 'cause I ain't no angel."
She also told People, "People are so quick to be like, 'You should just date somebody else.' It's like, 'Honey, I'm not like you—I'm famous. I gotta consider who I'm dating, I gotta make sure people will have me for me. And I have a kid'... We are a package. It's not just Cardi, it's Cardi and Kulture."
Offset went all out on Valentine's Day, gifting his wife diamond jewelry and drawing her a flower petal-filled bath.
And gestures like that don't grow on trees.
Johnny Nunez/VMN19/Getty Images for BET
"I'm not just all diamonds, pearls, and fancy big houses," Offset assured Esquire, back when he was still trying to reconcile with Cardi. "I have flaws like everybody else. I'm a human being, too, and I want to open that up." Estranged from his own father, who he hardly saw growing up, he's intent on being a better dad for his four kids. (Offset did say his father refused his offer of financial help when the rapper, money at the ready, called him up to offer assistance—but the refusal was actually very hurtful to him. "You're still running and you don't have to," is how he interpreted it. He told Esquire that if his dad called, he'd set him up with a house and a million dollars and then "I won't talk to him for another 10 years.")
After the Grammys, Offset updated the magazine via text, writing, "It's been good. We're being more open to each other, raising our baby and taking things slowly."
Fast-forward seven months, past the whiplash from their ultimately temporary breakup, and they made it to their second wedding anniversary on Sept. 20.
"Happy marriage anniversary hubby...We keep learning and growing. Thats what marriage about," Cardi, who had "Offset" tattooed on the back of her thigh in July, wrote on Instagram.
Offset commemorated the day with a video montage highlighting his bride and some of their sweetest moments, with the caption, "Today is our anniversary nobody believed it was real. We got married without nobody knowing because it was only between us and God! Now we have beautiful Kulture and a big family. I love you 4ever and after life."
Friday is Cardi's 27th birthday and we're guessing Offset isn't going to let the occasion go un-gifted. But the rapper and style muse has been counting her blessings all year. 
In addition to making her feature acting debut and stealing all her scenes in Hustlers, which has made $112 million worldwide, she's a coach on the new Netflix competition series Rhythm and Flow, where she and fellow judges T.I. and Chance the Rapper are out to find America's next great hip-hop artist. And, she was a one-woman runway show at Paris Fashion Week last month, and she joined "The Icon, Explained" panel at Vogue's annual Forces of Fashion Summit back in New York yesterday.
"God said do the work and I'll give you the blessings. Im thankful for these opportunities God has given me," she shared before takeoff. And that could apply both professionally and personally.
Also this week, the video for "Yes," her new tune with Fat Joe and Anuel AA premiered, prompting Offset to share a clip that fully showed off his wife's assets, writing, "EVERYTIME I GET BRAGGING RIGHT TO HAVE THE BADDEST ON MY HIP."
They may be a regular couple in that they have their ups and downs and are just trying to figure it out—but some ups reach loftier heights than others.