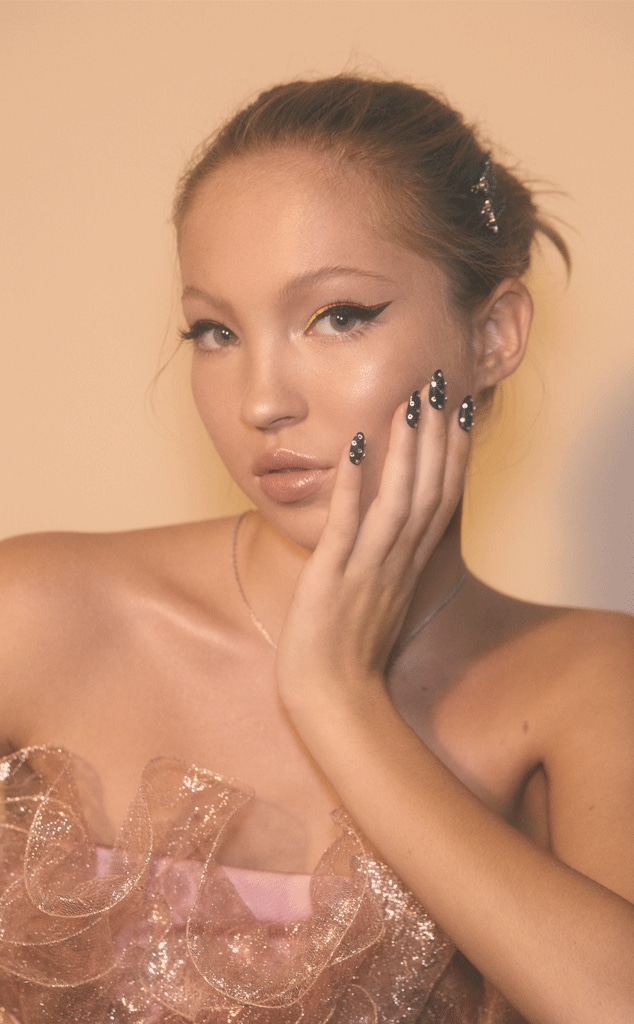 Zoey Grossman
The apple doesn't fall too far from the tree!
It's clear good looks and modeling skills run in Kate Moss' family. Case in point? 17-year-old Lila Moss is following in her famous mother's footsteps with her latest gig. If anything, the rising model is more than ready to step into the spotlight, especially after seeing her mother hit the catwalk and land countless fashion and beauty campaigns.
On Tuesday, Lila shared the exciting news that she's the 2019 face of Marc Jacobs Beauty.
As if that weren't glorious enough, the teenage star has already nabbed her first campaign with the fan-favorite brand. "Excited to share the new @marcjacobsbeauty Highliner Liquid-Gel Eyeliner launching today," she captioned her Instagram post, alongside a dreamy photo showing off the newest products.
Additionally, Nikki de Jager—who is the brand's Global Artistry Advisor and also known as Nikki Tutorials on YouTube—created Lila's whimsical makeup lewk that consisted of three colorful liners and a classic black shade from the brand's latest collection.
"I'm so excited to show you the look I did on @lilamoss," the beauty guru shared on Instagram. Nikki later explained that the new goodies are "the liquid version of their original Highliner–it's the shiniest liquid liner I've ever used, and lasts all day."
Watch:
Kate Moss Has "No Advice" For Kendall Jenner at NYFW
While this isn't Lila's first time working with the cosmetics company, she told InStyle she feels "honored" to have this opportunity.
"I did my first-ever campaign with Marc Jacobs Beauty in 2018, so it just feels like a big family now," the teenage model told the publication. "I have known some of these people, like Katie Grand and Marc Jacobs, for years and still feel so honored to be the face of Marc's new launches."
She admitted that while she hasn't "mastered eyeliner application" just yet, she's taught her famous mother a thing or two about makeup.
Dimitrios Kambouris/Getty Images for Longchamp
"I've taught her how apply highlighter in the right places," she shared. "Once, I noticed she did it completely wrong, so I had to correct it. She's shown me the best way to curl my eyelashes. She's always used an eyelash curler, and I used to be so scared to do it."
Kate's trick? According to her daughter, you need to "start right at the bottom rather than in the middle so that the whole lash gets curled."
However, when the mother-daughter duo aren't giving each other makeup advice, the '90s fashion icon is passing down her modelling wisdom to her mini-me.
"I think the best lesson she has taught me is to 'work hard, be polite to everyone I meet, and to always make sure you're comfortable with whatever you're doing,'" Lila said.
The 17-year-old also knows her last name holds a lot of weight in the fashion industry, and she plans on making her parents proud.
"Girls like Kaia Gerber, or Gigi [Hadid] and Bella Hadid are great examples," Lila said of today's generation of models who have famous supermodel mothers. "They are inspired by their mom's legacies, but have shown that they each have different and separate paths from their parents. Even though we might carry the same last name, we have to work hard to gain trust and respect in the industry. In the end, we just want to make our parents proud."
It seems like Lila already has, as her mom proudly shared her new campaign.