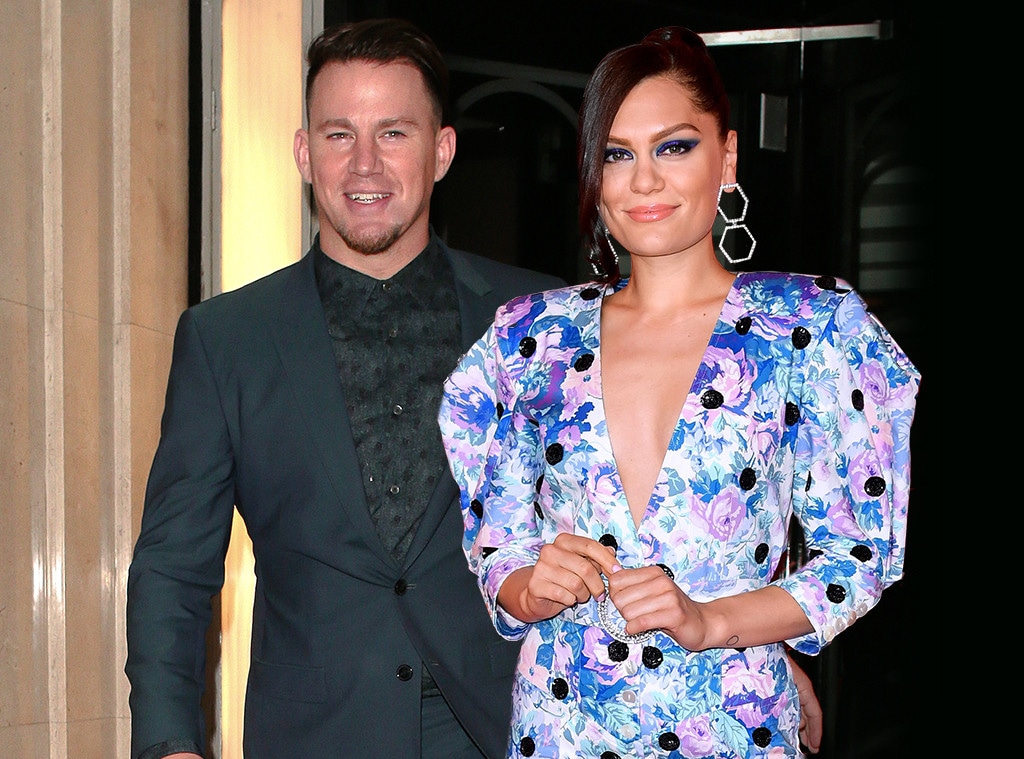 Getty/Shutterstock/E! Illustration
No extra steps are needed when you're comfortable exactly where you are.
Channing Tatum has been seeing Jessie J for a year now and we're told they are in no rush to reach any next level beyond "very happy together."
They're "happy with where things are," a source tells E! News about the private pair, who have kept their public appearances to a minimum since acknowledging that they were a couple.  
"Chan and I got photographed before our relationship was even a thing and that created such pressure," Jessie told The Times of London in June. "We've needed time to get to know each other. We've just had our first holiday together, which was wonderful, but that's all I'm saying."
Their first vacation after more than six months of hanging out? That's certainly a switch from famous people who jet across the world together a week after meeting and end up seeming much more serious than they are because they're photographed in Hawaii or Paris.
About a month after we first confirmed they were casually dating, Tatum made his first public more-than-a-friend move, applauding the "Price Tag" singer after a concert in November with the caption, "This woman just poured her heart out on stage at the Royal Albert Hall. Whoever was there got to witness something special. Wow."
He wasn't just talking about her music, either. It was at that show that Jessie opened up about her fertility struggles, unexpectedly telling the audience that she had found out four years prior that she probably wouldn't be able to conceive, and her song "Four Letter Word" was inspired by her own journey.
David Fisher/REX/Shutterstock
"I don't tell you guys for sympathy because I'm one of millions of women and men that have gone through this and will go through this," the British artist said. "It can't be something that defines us but I wanted to write this song for myself in my moment of pain and sadness but also to give myself joy, to give other people something that they can listen to in that moment when it gets really hard."
Meanwhile, that was Channing Tatum's second Jessie J show in two weeks.
He had been on an intentional break from work for months, explaining to Variety at the September 2018 premiere of his only movie last year, the animated Smallfoot, that he had been busy just being a father, "the biggest job I have."
The newly single dad and Jenna Dewan had announced their separation after almost nine years of marriage that April, stating that their "magical journey" had come to an end but they remained best friends and dedicated co-parents. Dewan revealed last week that she's expecting a baby with boyfriend Steve Kazee.
"I'm sort of ready to go back to work," Tatum told Variety. "I don't know what I'm ready to go do yet, as far as, is it acting, is it directing, is it producing, writing…Maybe I'll come and start interviewing people, I don't know," he added with a laugh. "I have no clue what I'm going to do, but I'm having fun though."
What he did first was start following Jessie J on the road as if she were the Grateful Dead, first showing up in Houston, then taking daughter Everly to her concert at the Wiltern Theater in Los Angeles, and then catching her big London engagement—a couple nights after she attended opening night of Magic Mike Live at the Hippodrome Casino.
"She's on the road, but he is very interested in getting to know her and doesn't mind tagging along," a source told E! News at the time. "He's making a lot of effort and wants to spend as much time with her as he can. He's having fun with it and seeing where it goes."
It's gone to a number of different cities, that's for sure, but while there was no doubt they were in each other's orbit, it wasn't until March that they were photographed holding hands in London. 
Then for her 31st birthday that month, Tatum gushed a bit on Instagram for the occasion, writing, "Wishing you the happiest day filled with all the love and all the light. You came into this world on this day and lit it on fire. You have blessed our eyes, our ears, our hearts and our lives. So thank you for just being you. You are so very special. Happy birthday Baby."
Jessie returned the favor in April, posting a video of her singing to Tatum for his 39th birthday.
But they continued to be a largely off-the-radar couple, successfully ducking photographers most everywhere, except for places like Disneyland, where the cameras found them in May having a grand time just the two of them.
"The reason we kept it a secret for as long as we could was because we wanted to really enjoy it without it being magnified into something that it wasn't yet," Jessie shared on The Dan Wootton Interview podcast in June. "You don't go on a date with a guy twice for a dinner then fall in love—well maybe you can, but that's not me. That's not who I am. I need time."
"I decide when I want to talk about it and when I don't," she also said. "I decide when I want to post about him on Instagram and I don't. If I do it's often a naked picture of him because that's what people want to see."
Jessie (whose full name is Jessica Ellen Cornish) did indicate to the Times this summer that Tatum met certain key standards, saying, "I always look for a guy with a good sense of humor and good morals. And hygiene. A man who showers is very important." So apparently that was a cheeky reference to the nude photo of Tatum mid-shower, taken by his girlfriend, that he posted on Instagram in May.
"I lost a game of Jenga to Jessica Cornish," he explained. "The loser (me) had to post a picture the other person (Jessica Cornish) picked... Smh and fml... I'm never playing Jenga with her ever again.."
"Yeah, that Jenga game was fun," she told Wootton playfully. "It was very fun...How good is his picture? I was so proud of that. Sharing is caring, babes. He looks great."
Jessie also apparently got a cute text from Tatum while talking to the Times, prompting her to joke, "I'm thinking about calling my next tour 'Magic Mike and I' and having Chan open for me as a stripper. He'd do it too! That would sell some tickets, eh?"
So they obviously make the most of the time they do spend together—which isn't all of it, due to busy schedules, but no one is looking to rock this love boat.
"As much as they love being together, they aren't thinking too much about making a major commitment," the first source tells E! News. "They aren't there yet, but they love their life together and what they have. He loves seeing her perform and traveling with her. They have a good thing going."
And when they are in the same town, they're together all the time. Tatum and Jessie "don't like to be apart," the insider added. They maintain separate houses, but "he spends most of his time at her place."
Understandably, they've kept any time spent with Tatum's daughter entirely to themselves. Jessie told the Times that meeting Everly wasn't at all difficult, that the 6-year-old was "absolutely lovely."
As for Everly's pregnant mom, our source says Jessie and Tatum, who was given a heads-up to make sure he was comfortable with his ex's announcement, are "both happy for Jenna and know that this is what she wanted." Moreover, they're happy Evie is getting a sibling.
On the U.K.'s Heart Breakfast podcast in June, Jessie said she hadn't given up on the idea of having children and had made some lifestyle changes that she hoped might help her chances.
"I've always been someone that's open and honest," she said. "Four, four-and-a-half, five years ago, I was diagnosed with this disease, which is making it harder. I was told I can't have children, but I don't believe it. I believe in miracles. I haven't given up."
That being said, we're told that's not something she and Tatum are planning on at this stage of the game. "They are in a different place right now and aren't thinking too far into the future," the source says.
Jessie said as much on the Heart Breakfast podcast.
"No! Just because he's Channing Tatum, everyone has kind of like sped this up into, 'Are you getting married?'" she said. "I mean I have been in relationships with people longer than Chan, but they're not famous so no one really cares."
Jessie pushed back a bit in July when an interview about The Voice Kids, which she joined as a coach for the first time this last season, started to veer into a conversation about Magic Mike Live.
Recalling how they were treated to a live performance in studio, a host of ITV's This Morning noted, "You obviously got to see it recently with Mike himself." "I did," Jessie replied. But when the host continued, "I mean, that's a performance that seems to be, sort of, quite..." Jessie interjected, "The opposite of The Voice Kids. Let's stay focused on The Voice Kids."
In August, Tatum and Jessie both announced social media breaks, the actor (who went viral this summer with two lengthy videos featuring him trying to figure out The Pattern) explaining on Aug. 7 that he hadn't felt "very creative on social in the last couple years now" and was "gonna go and just be in the real world for awhile."
He concluded, "I'll probably come back at some point. But if i do i want to have a direction or a clear point of view of why I'm on here and what I'm putting out there. Love ya! See ya after awhile!"
Jessie joined him on Aug. 24.
"For the record I'm OK," she added in her caption. "Happy, healthy and sane. People often presume to come off Instagram you are going through some shit. Lol. Actually it's the opposite. Im in such a good place that I want to respect and nurture that looking up and not looking down."
Jessie returned to Instagram after a couple of weeks, having an exciting performance to promote, but Tatum has stayed away.
The real world has been good to him, though, in the meantime. 
Before heading with Jessie down to Brazil, where she performed at Rock in Rio last month, Tatum was in the audience at the Troubador in L.A. when his girlfriend debuted a new song that contained some very meaningful-sounding lyrics:
"Where you go I know I want to follow / Let's make a promise on today / Take it slow, baby steps so we don't know when what comes next / Let's be still, just stay calm, so we're not rushing what we are / Pressure on, just have fun / It's not a race, no need to run / If it's forever / Let's just simply be in love."
Call us romantics, but that sounds awfully familiar.