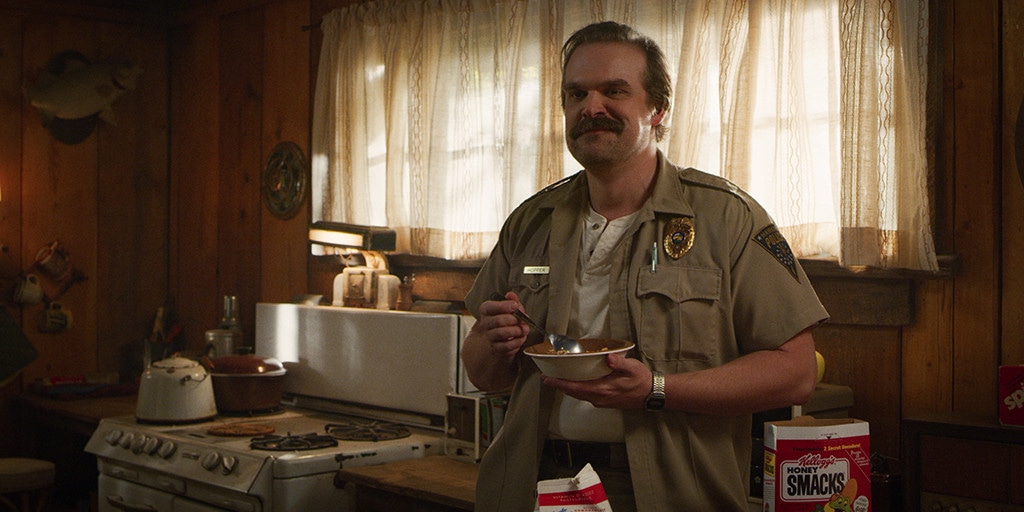 Netflix
David Harbour is just like you. Warning, Stranger Things spoilers follow!
Harbour, who plays Hopper on Stranger Things, appeared on Late Night with Seth Meyers and was asked about the ending of season three. You know the ending we're talking about: Joyce (Winona Ryder) closed to door to the Upside Down and in the process, Hopper died. Or did he? Viewers never saw his body, nor did they see it toasted by the energy involved in opening and closing the portal like they saw happen to the Russians trying to stop them.
So, what's the deal? The end credits featured Russians talking about an American prisoner (and also unleashing a Demogorgon).
"Well, here's the thing. I always knew that Hopper had to make a sacrifice. Like, he's a jerk, and he also needs to pay for that in some way…So I thought he'd make the sacrifice," Harbour said. He got the script, saw the post-credits scene and assumed all was well.
"And I was like, 'Oh, clearly I'm the American.' And then I haven't gotten many phone calls," Harbour said.
Host Seth Meyers pointed out the series creators Matt and Ross Duffer, known professionally as the Duffer Brothers, know the truth about Hopper. "Yeah, I mean I think they're actually the only people that do know," Harbour said.
Harbour did what any actor in his position would do—he FaceTimed the Duffer Brothers while on Late Night. "Am I dead? Is Hopper dead" he asked them.
"I mean, we're still figuring it out, David," Ross said.
"You guys are a ton of help. Really wonderful work. Good luck with season four," Harbour told them.
Netflix officially ordered a fourth season of Stranger Things and signed the brothers to a production deal.
"We are absolutely thrilled to continue our relationship with Netflix. Ted Sarandos, Cindy Holland, Brian Wright, and Matt Thunell took a huge chance on us and our show—and forever changed our lives. From our first pitch meeting to the release of Stranger Things 3, the entire team at Netflix has been nothing short of sensational, providing us with the kind of support, guidance, and creative freedom we always dreamed about," the brothers said in a joint statement. "We can't wait to tell many more stories together—beginning, of course, with a return trip to Hawkins!"
Click play on the video above to hear more from Harbour.
Late Night with Seth Meyers airs weeknights on NBC.
(E! and NBC are both part of the NBCUniversal family.)