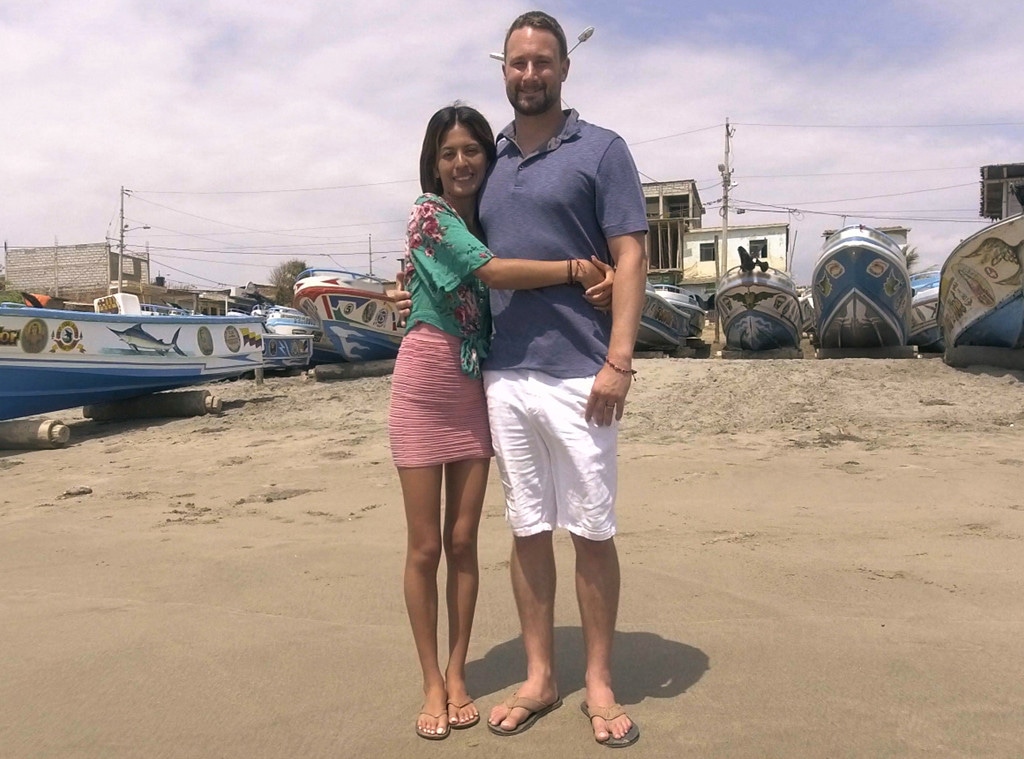 TLC
This is it. This is the last regular episode of 90 Day Fiancé: The Other Way. What joy and tragedy did the couples end up with? Well, Laura and Aladin's story wrapped up with their three-day traditional wedding last week, Paul and Karine had their story wrap up with Paul's mother visiting, so this week viewers got Jihoon and Deavan's traditional Korean wedding ceremony, Jenny leaving India (and Sumit), Corey proposing to Evelin and Tiffany leaving South Africa (and Ronald).
Let's break it down.
Corey pulled out all the stops for his big proposal to Evelin. In addition to asking her father for permission with his broken Spanish, Corey blindfolded Evelin and took her to a hot air balloon.
The plan was to have the balloon go high enough so she'd see the sign he put out in the field. It didn't work and Evelin was terrified to go in it, saying that they're in Ecuador, it might not be the safest thing to do.
Back on the ground, he walked her over to his poorly laid out sign and proposed. She hesitated before saying yes. "I'm definitely ready to spend the rest of my life with Corey," she said. "But just because I said yes to the engagement doesn't mean I said yes to a wedding right away." Evelin said she knows she's lucky to have Corey in her life and acknowledged she's harder and mean than most, but it doesn't mean she doesn't love him.
The night ended with a private chef and fireworks on the beach.
Jenny and Sumit
In India, the couple had what seemed like the longest goodbye. Sumit was allowed to visit Jenny and say farewell, but he was not able to go with her to the airport (his brother dropped him off and was supposed to make sure he returned). "I feel so, so bad," Sumit said about the whole being married to another woman and keeping it from Jenny thing.
"I wish you had told me baby," Jenny said.
What happens now? She goes back to America and he has to face the repercussions of his actions and try and get a divorce. Sumit said he knows he was wrong. There's nothing to defend, he was wrong. Jenny said she doesn't blame him and that their time together was the best six months of her life.
"Try to do something for us," Jenny urge. "Broken hearts kill people, you know that?"
Later, Jenny said, "Please, everyone know it's not his fault. He's a good guy."
"I want Jenny back in my life," Sumit said.
Jihoon and Deavan
Already married on paper, the two had a traditional ceremony with Jihoon's family.
"This is not the wedding of my dreams," Deavan complained, making sure people knew she was hot and sweaty and didn't feel like a traditional bride. Still, she went on with it and the two lived happily ever after? Not quite. If Jihoon doesn't step up, Deavan says she'll probably leave him.
Ronald and Tiffany
Ahead of her return to America, Tiffany consulted with Ronald's wellness center guru who told her she needed to have trust and faith that her husband wouldn't relapse in her absence. At the airport, it was a scene of tears and hugs. Tiffany's son Daniel grew attached to Ronald and said he didn't want to leave his dad, but Tiffany said she knew this was best for her young song and unborn baby. Daniel wasn't happy in South Africa and needed to go back home.
"It's just hard seeing your family go. no man wants that," Ronald said.
The 90 Day Fiancé: The Other Way two-part "Tell All" starts Monday, Oct. 14 at 9 p.m. on TLC.