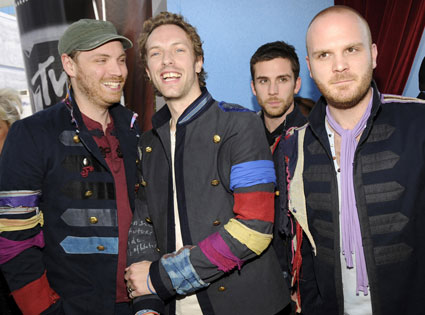 Kevin Mazur/WireImage.com
"Viva La Vida" is turning even more loco for Coldplay.
Having already denied in public the plagiarism claim and declared that the perceived similarities between their hit song and Joe Satriani's 2004 track "If I Could Fly" should be chalked up to nothing more than coincidence, Chris Martin and the boys have now taken their denial to federal court.
In court papers filed in Los Angeles Monday, Coldplay responded to Satriani's copyright-infringement claim, saying the 52-year-old guitarist's song "lacks originality" and therefore was in no position to receive copyright protection.
Furthermore, the British rockers' attorneys claimed that any similarity was so minimal that it did not warrant the legal action.
Back in December, Satriani claimed the group, who incidentally won the Grammy for Song of the Year for the in-question tune, had repurposed "substantial" portions of his song for their hit.
At the time of the original filing, Coldplay issued a statement on their website refuting the rocker's claims, saying he "did not write or have any influence on the song."
"If there are any similarities between our two pieces of music, they are entirely coincidental and just as surprising to us as to him."
The band is currently in the midst of a world tour in support of the album Viva La Vida or Death and All His Friends.