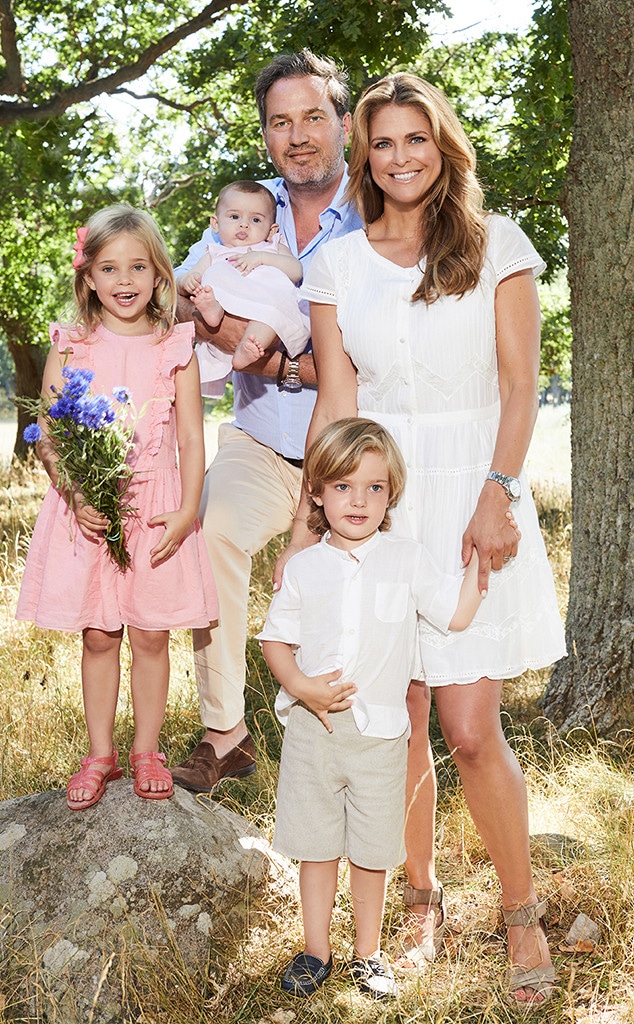 Anna-Lena Ahlström/Royal Court, Sweden
The royal family is making a few new changes. 
On Monday, the Swedish royal palace announced that all five grandchildren of King Carl XVI Gustaf and Queen Silvia will no longer be official members of the royal house. In other words, Princess Madeleine and Chris O'Neill's three kids—Princess Adrienne, 5, Prince Nicolas, 4 and Princess Leonore, 19 months—have lost their HRH titles. However, prince and princess now become their personal titles and no future spouses will be able to use them. The change also affects the kids of Madeleine's brother Prince Carl Philip and his wife Princess Sofia. 
"His Majesty The King has decided on changes to The Royal House," the statement read. "The purpose of these changes is to establish which members of The Royal Family may be expected to perform official duties incumbent on the Head of State or related to the function of the Head of State. His Majesty The King has decided that the children of Their Royal Highness's Prince Carl Philip and Princess Sofia, and the children of Her Royal Highness Princess Madeleine and Mr Christopher O'Neill will no longer be members of The Royal House."
Princess Madeleine is in agreement with the move and chose this path so her children will have more autonomy in the direction of their life. She released her sentiments on Instagram after the official announcement was made.
"This change has been planned for a long time," Princess Madeleine captioned a photo of her family. "Chris and I think it is good that our children now have a greater opportunity to shape their own lives as individuals in the future." 
Things move fast in the royal family and the change was already documented on the Swedish royal family's official website. The photo that was previously there of the entire royal family has now been replaced by a new photo of King Gustaf and his heir, Crown Princess Victoria, whose family was not impacted by the change.  Victoria's daughter Princess Estelle, who remains in line to the throne, is also pictured.