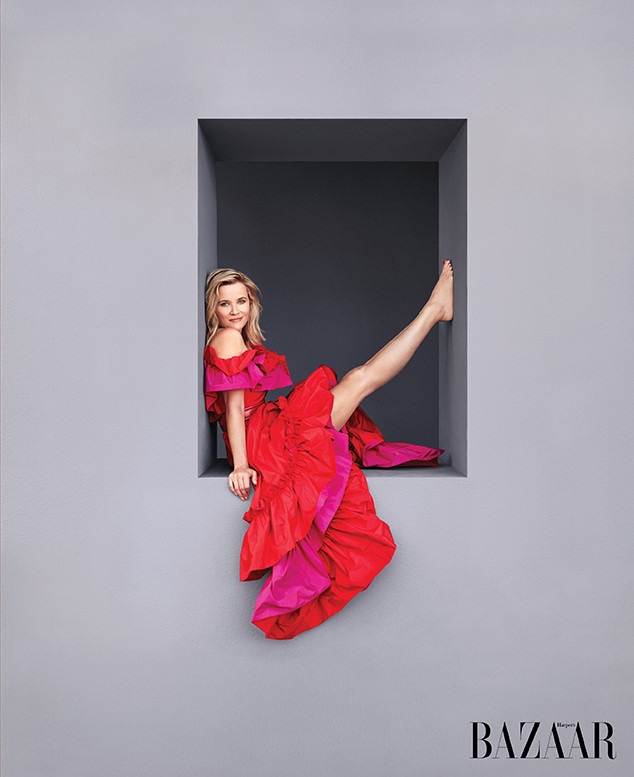 Camilla Akrans for <i>Harper's Bazaar</i>
Reese Witherspoon and Jennifer Aniston were pals long before they starred alongside each other on The Morning Show.
The 43-year-old actress took a trip down memory lane for the November issue of Harper's Bazaar and recalled meeting the 50-year-old star on the set of Friends. 
The encounter happened two decades ago. Witherspoon had been hired to play the sister of Aniston's character Rachel Green. 
"I was 23 years old and had just had a baby," the Oscar winner recalled. "I was nursing Ava [Phillippe] on set, and Jen just kept going, 'You have a baby?' I was like, 'I know, it's weird.' And I remember her being like, 'Where are you going?' And I was like, 'I'm pumping!'"
Even though Witherspoon felt uneasy, Aniston made her feel right at home.
"She was so sweet to me," the Legally Blonde star continued. "I was really nervous, and she was like, 'Oh, my gosh—don't worry about it!' I marveled at her ability to perform in front of a live audience like that with no nerves. They would change all the lines, and she was just so effortlessly affable, bubbly, and sunny. We've been friends ever since."
Aniston isn't the only celebrity pal Witherspoon is teaming up with these days. She's also working with Kerry Washington and turning the novel Little Fires Everywhere into a Hulu miniseries. She also finds time to run her media empire, Hello Sunshine, lead her clothing company, Draper James, and raise three kids.
"Let's be real. Every working mother is still figuring these things out," she said when asked how she juggles it all. "But, honestly, I think women who are incredibly busy are the most productive people in the world. If I ever needed something done, I would ask the busiest woman I know."
Camilla Akrans for <i>Harper's Bazaar</i>
Witherspoon typically begins her day by conducting morning meetings while getting her hair and makeup done. She then passes the baton to her team so she can focus on acting.
"Acting is still my core competency. It fills my tank," she said. "But my biggest priority is to take care of my kids. They're getting older now—my daughter is in college, my older son is in high school, and my youngest is in first grade—so I have more free time than I used to. I try to get home for dinner at least four nights a week."
 So, what is Witherspoon like as a parent?
"As a mom, I'm kind of goofy," she said. "I like to dance around and tell jokes. But I'm pretty strict about bedtimes and making sure everybody brushes their teeth twice a day and that kind of stuff. When you have kids, it's like a whole other list of things you have in your mind that you have to get done once you've left your job. When they're little, it's like, 'Are their bodies taken care of?' But as they get older, you're like, 'What are your dreams and goals?' My son is very into music. So now we're trying to figure out what kind of a job he wants. Does he want to be on the business side? Or the creative side? Of course, it's ultimately up to them to make the right decision. But I try to give them the best advice. I'm like their manager."