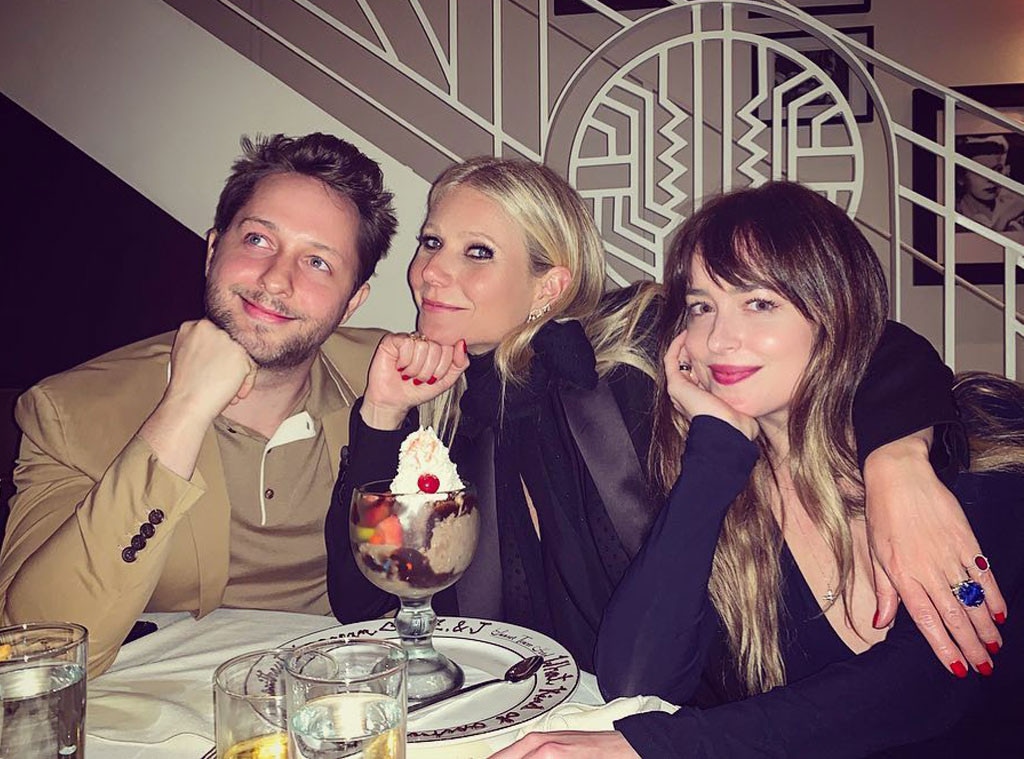 Instagram
We're loving Gwyneth Paltrow and Dakota Johnson's friendship. 
The now 30-year-old Fifty Shades of Grey actress just celebrated another trip around the sun and she received the sweetest birthday message from boyfriend Chris Martin's ex-wife. 
On Friday, the Goop founder shared a black-and-white photo of Johnson calling her an "absolute gem" and wishing her a "happy 30th birthday."
The 47-year-old actress, who was married to Martin for 11 years before uncoupling in 2014, has continuously made an effort to bond with Johnson—who will soon be celebrating her two-year anniversary with the Coldplay singer.
Last year, Johnson and Martin spent Thanksgiving on the East Coast with Paltrow, her hubby Brad Falchuk, and her and Martin's children, Apple Martin and Moses Martin. 
The occasion marked the first major holiday Johnson spent with Martin since they began dating. And just as Martin welcomed Falchuk into the family, Paltrow did the same with Johnson.
"Gwyneth thinks she is lovely. She gets on very well with her and is happy for her," a source told E! News. "They've spent a good amount of time together and have a very nice friendship." 
However, Paltrow wasn't in attendance at Johnson's birthday party celebration—but we're sure she was there in spirit. 
Johnson celebrated her 30th at Martin's Malibu home with a "small party for family and friends." 
According to an E! News source, "they had some neighbors come by, close friends, some of the Coldplay guys" and "people were dressed for an elegant dinner party." Johnson's parents, actors Don Johnson and Melanie Griffith, were also in attendance. 
Tables were set up outdoors Martin's home in Malibu and in the hours leading up to the celebration, our source says "she took her new classic car for a spin with Chris in the passenger seat." 
Aside from birthdays—the actress recently celebrated her 47th birthday in September—Paltrow has had other milestones to celebrate this year as well. 
Last month, she and her husband celebrated their one-year anniversary in the most low-key and chill way; with an afternoon trip to the beach. 
All in all, it's great to see Paltrow and her husband, as well as Martin and Johnson, coexist as one big happy family. 
"Gwyneth and Chris have the modern family thing down pat and continue to vacation and spend family time together. Especially on holidays, Gwyneth wants nothing more than to be one big happy family and for her kids to be able to celebrate with both of their parents," an insider told E! News last December. "She is very happy…she and Chris have been able to make this work so well for their kids. Brad and Chris also have a nice relationship....It's very special that they're all able to come together like this and make it work."