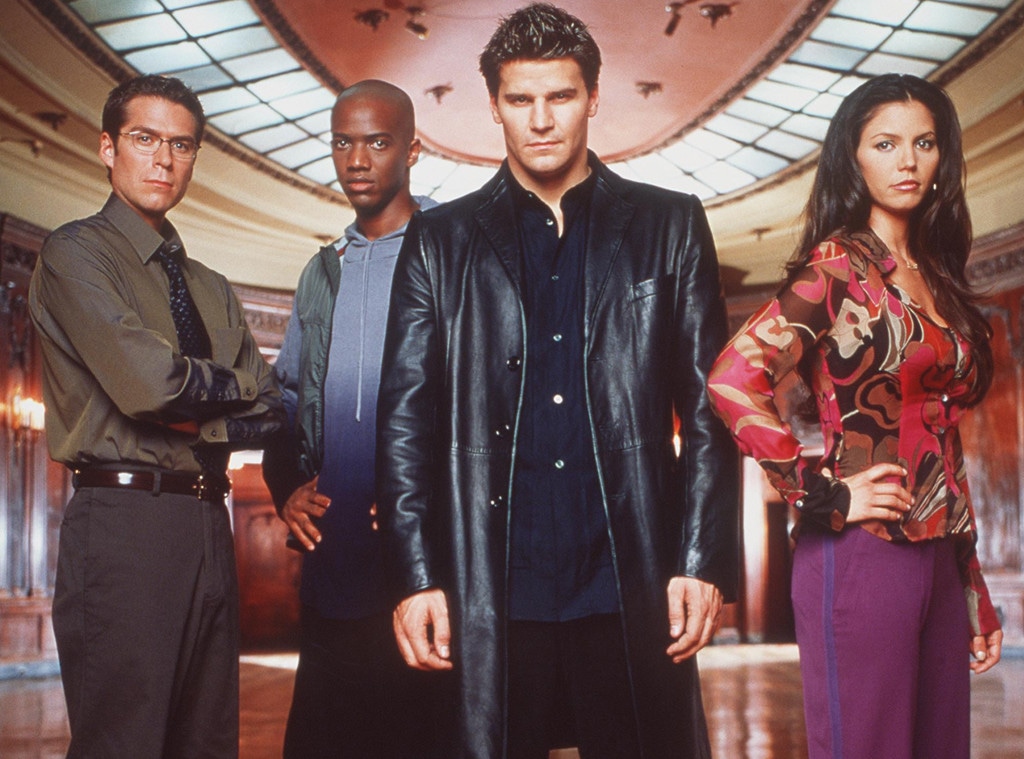 Frank Ockenfels/Online USA
What to do when the love is eternal but doomed, and one half of TV's hottest couple will literally burst into flames if he steps into the sunlight?
You give that guy a spin-off.
Angel picked up where David Boreanaz's heartbreaking exit from Buffy the Vampire Slayer left off, the 270-year-old vampire walking off into the night after Buffy Summers' high school graduation turned into a hell of a time.
The titular brooding vamp, cursed with a soul that he'll lose if he experiences true happiness, emerged as a private investigator in Los Angeles for the supernaturally downtrodden. At first he's aided in his cause by fellow Buffy alums, aspiring actress Cordelia Chase (Charisma Carpenter) and Watcher turned rogue demon hunter Wesley Wyndam-Price (Alexis Denisof), as well as prophetic-half-demon Allen Doyle, played by Glenn Quinn.
And does solving cases and saving lives finally make Angel happy?
No, it does not, but that's beside the point.
Only fleeting moments of joy aside, however, Angel's connection to the dark side made him the savior the City of Angels (get it?!) needed, and the show's arc proved the grown-up complement to Buffy's intense but largely teenage miseries.
Angel is turning 21 today (though that may only be 5 in vampire years) and we thought you should know these essential things about it:
Alas, Boreanaz, who after 12 years on Bones now stars on CBS' SEAL Team, was not scheduled to join Alexis Denisof, James Marsters, Charisma Carpenter, J. August Richards and Amy Acker for an Angel panel at New York Comic-Con when they reunited for their big 2-0 last year.
But the titular immortal hero has defended the Angel finale, which may have felt abrupt to some—but what ending wouldn't have felt premature, really?
"I've always thought it ended great," he told The Wrap in 2014. "I mean, even when it was written and we shot it, I had no problems with it. I think that's great. I mean, I think that that's a world that had opened up to a lot of people—the way our show, the way Angel ended was I think right.
"You kind of go out continuously fighting, you know? And I think that the message of the show was always about the fight and that was a special moment."
(Originally published Oct. 5, 2019, at 3 a.m. PT)