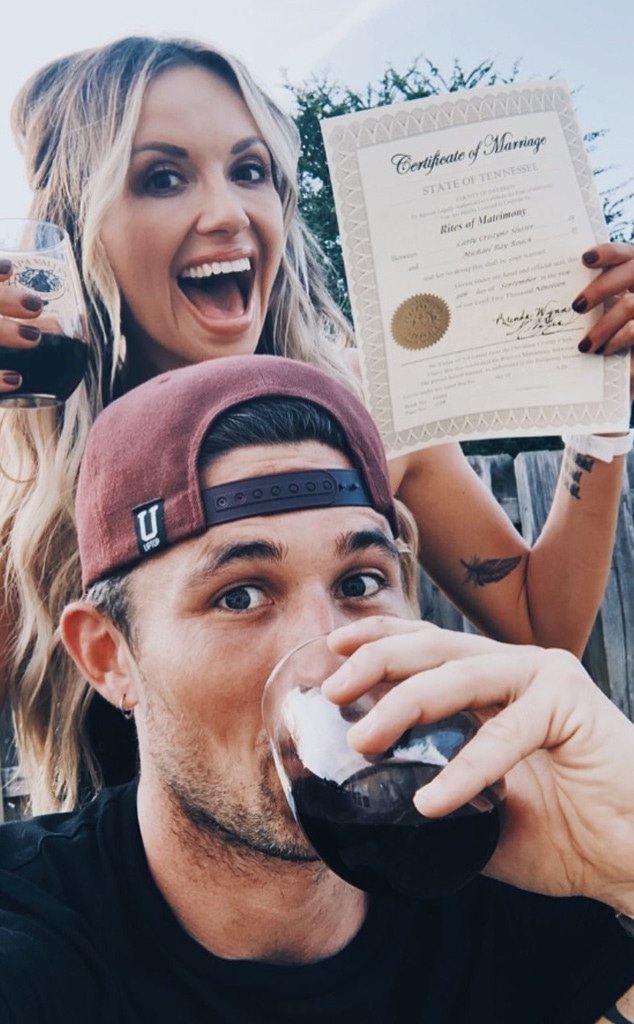 Instagram
One of country music's cutest couples is officially married!
Carly Pearce and Michael Ray exchanged vows Sunday evening in a romantic ceremony right outside of Nashville, a source confirms to E! News.
Family, close friends and even a few country music stars watched the Grand Ole Opry's Bill Cody perform the ceremony. And now, it's officially time to party!
"Michael and I were together last night and we were like, 'This is really crazy because it snuck up on us so fast.' We have been engaged for nine months and we are like, 'Oh my gosh, it's here,'" Carly previously shared with Taste of Country when discussing her special day. "Our wedding is very much going to be for immediate friends and family only. It's going to be awesome."
In the days leading up to the ceremony, the couple celebrated by attending a Trisha Yearwood concert.
And while Carly recently collaborated with Lee Brice on the new track "I Hope You're Happy Now," her bridesmaids still managed to throw an unforgettable bachelorette party at Dollywood before summer ended.
Back in December 2018, Carly and Michael traveled to Maria Del Mar Tulum where a romantic proposal occurred.
"The man of my dreams got down on one knee and asked me to be his wife. All in one simple 'yes', I said 'yes' to love, 'yes' to peace, 'yes' to faithfulness, 'yes' to respect, 'yes' to kindness, 'yes' to trust, 'yes' to patience and 'yes' to never settling," Carly wrote on Instagram. "Michael, I would've married you the first night we hung out because I knew then you were the one. You will always be my most precious example of God's timing and His love for me."
Michael also celebrated the moment with a heartfelt post on social media.
"Carly, you make it all make sense, every step of my life good and bad was leading me to you. You are the biggest blessing I have and will ever receive," the "One That Got Away" singer shared on Instagram. "You are my best friend, my partner in crime, my workout, grilled chicken, wine drinking classic country Opry loving, Nashville palace hanging, Publix grocery shopping, this is us watching, living room late night dancing, laugh until we cry soul mate. I'm glad we have forever together my love cause it is gonna take every second of it for you to understand how much I truly adore, respect, honor and love you!"
While their honeymoon details remain top-secret for now, the country music artists are both busy working across the country.
Carly's fall tour continues October 17 in Bakersfield, Calif. As for Michael, he's still celebrating his new single "Her World or Mine" and also resumes a tour October 9.
Congratulations you two on your special day! People was first to report the news.