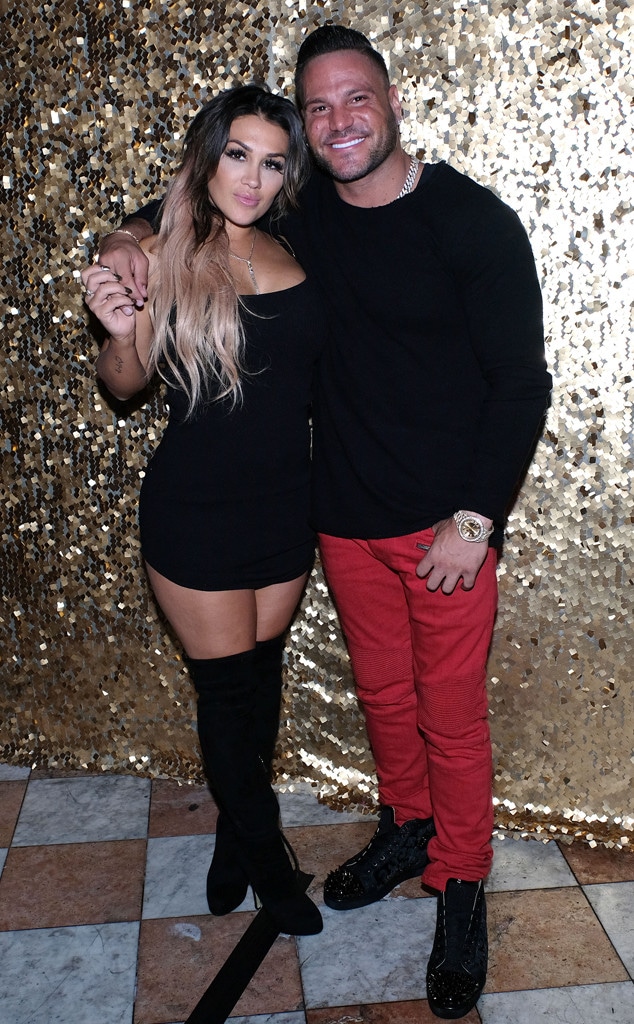 Jen Lowery / MEGA
Ronnie Ortiz-Magro is opening up about his relationship with Jen Harley. 
The Jersey Shore star dished on their status at the West Hollywood launch for his Verge Products CBD line on Thursday.
The two attended the big event together and weren't afraid to pack on the PDA. The joint appearance came about a month after reports spread that the on-again, off again-couple had called it quits once more.
While fans have watched their drama play out both on-screen and off-screen, Ronnie suggested their true relationship isn't caught on-camera.
"Me and Jen have a strong love for each other," he exclusively told E! News. "What the show portrays and what we really have for each other are two completely different things. They ask why do we stay with each other? And it's because we know what we have is real. And at the end of the day, people don't see what we have, they see what MTV wants you guys to see."
In fact, the reality TV star said they're "good now" and agreed that their dynamic might be one of the biggest misconceptions on the show so far. However, Ronnie knows that not everything makes it to air.
"They're going to show what they want to show, and they're going to portray you the way that they want to portray you. But at the end of the day you've got to realize it's a show, its television, it's for ratings and it's a job," he said when asked if there was anything, in general, that didn't air this season that he wished had made the show. "I do it because I do love entertaining people, and I love the fact that people love the show, but I do it for other people. I do it to make television and that's what we all do. And we know what we're doing at the end of the day, and we're still being real, and it's not produced. But we know at this point what to do and what people like."
Watch:
"Jersey Shore" Cast Reveals How Long Show Will Go On
In addition to talking about Jen, Ronnie spoke about their 1-year-old daughter Ariana Sky. It looks like the little lady is already reaching some major milestones, too. 
"She's talking, she's walking, she climbed out of her crib the other day," he said. "She says, 'Thank you.' She says, 'I love you.' She says, 'Bye dada.' She says, 'Dada goes bye bye.' She's so advanced in her class that her teachers pull us aside and say she's talking so much. We have to watch what we say because [she'll pick it up]. Yeah, she's at that point where her mind is like a sponge!"
He also spoke about his fellow co-stars. For instance, he said he's "never seen Jenni ["JWoww" Farley] so happy" and said she's a "supporter" of his business. He also spoke about his reunion with Mike "The Situation" Sorrentino, who was released from prison back in September.
"Honestly, when I saw Mike for the first time after he got out, it's like the friend that you don't have to see but the second you see them, its automatic," he said. "It was like he didn't even go away."