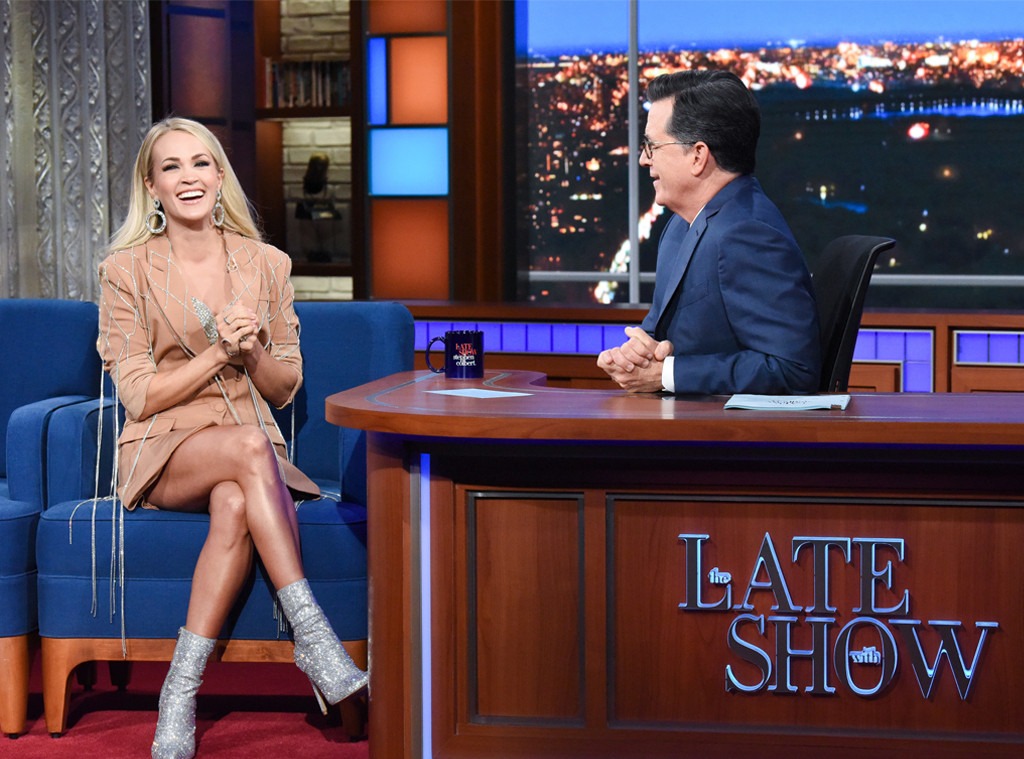 Carrie Underwood's Cry Pretty tour is a family affair!
While traveling the country, the superstar mom has made sure her and husband Mike Fisher's sons Isaiah, 4, and Jacob, 8 months, are there with her every step of the way. "They love it," she explained on Thursday night's The Late Show with Stephen Colbert. "Well, I mean, Jake would be fine no matter where we were."
But it's Isaiah who really thrives on the road. 
"Somebody recently called him 'The Mayor of Catering' because he's just like, 'Hi, everybody!' and loves seeing everyone," the 30-year-old explained. "He's got his little scooter he rides around the venues in. He's such a people guy. So he's living the dream."
And so is she. The Grammy winner recently celebrated the 15th anniversary (yes, really 15th!) of her life-changing American Idol audition. (ICYMI, she won season four of the reality competition back in 2005.)
"I don't really know what I thought was going to come of it," the "Before He Cheats" singer recalled to host Stephen Colbert. "It was just kinda like I saw the auditions on the news happening in other towns, so I thought, 'Why not?' It worked out alright."
In fact, she almost didn't make it to Hollywood! After nailing her audition, Underwood took her first-ever plane ride to compete in the next round—and it's safe to say that it did not go as planned.
"I was by myself and there were a lot of connecting flights to get there," she began. "One plane was late, so I, like, missed the next plane...I'm, like, on the phone with whoever our contact person was, like 'Please don't kick me off the show!' But I made it!"
She certainly did!
Watch her reminisce about Idol and rave about her adorable tots in the video above.