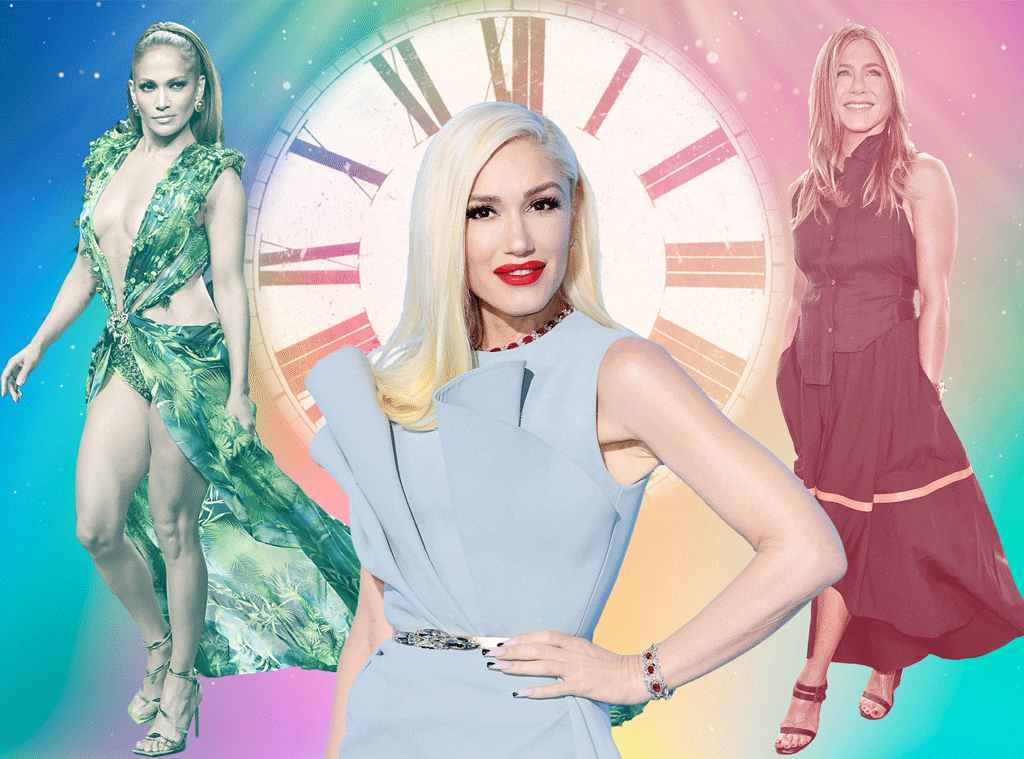 Getty Images; Shutterstock; Melissa Herwitt/E! Illustration
Gwen Stefani has turned 50.
We know, we know—it seems as though the current The Voice coach either hasn't aged a day since bursting onto the scene as the iconic frontwoman of No Doubt some 25 years ago or is somehow aging in reverse, but it's true: On October 3, Gwen Renee Stefani reached the milestone age and is celebrating five decades on this rock. And much like fellow 1969 babies Jennifer Aniston and Jennifer Lopez before her, she's not just surviving, but flat-out thriving at an age that, historically, hasn't elicited much kindness from her chosen industry. And while it's easy to say they look great for their age, the simple truth is that they look great, full stop. With their careers firing on all cylinders and their flawless looks, they are living lives that most people in their 20s and 30s would kill for. 
We're not sure what deals with the devil these ladies have made, but we just have one thing to say: Where can we sign up?
There are few people having better years than Gwen and the Jens. Not only has Gwen returned to The Voice to replace former mainstay Adam Levine, marking her first season back in that iconic red chair on the hit NBC singing competition since 2017, but she's about to begin the final leg of a successful Las Vegas residency that kicked off in June 2018 and remains absolutely loved-up with boo Blake Shelton, whom she's been dating since September 2015 following her divorce from Gavin Rossdale. And though the two are duking it out over talent for their teams on The Voice, things couldn't be better between the couple. 
"I am so obsessed with Blake Shelton that I went back and I watched old interviews between you guys because I'm so fascinated that he was alive back then; I didn't know him," she told Today's Hoda Kotb last month. "I just never thought in my wildest dreams, on paper, a cowboy and a ska-like girl from Anaheim would be hanging out, but it works perfect and we're just having so much fun, and we just feel so blessed to be at this point in our lives."
Todd Stefani and Robb Dipple
It's a sentiment that both Jen and J.Lo, who turned the big 5-0 in February and July of this year, respectively, share. Jen is making his big return to the small screen next month with The Morning Show, a meaty drama about, well, morning shows, debuting when the Apple TV+ streaming service launches on November 1. Serving as executive producer on the project alongside her co-star Reese Witherspoon, Jen is reveling in the sense of power she's only just now discovering.
"Women were never allowed to have power," she told InStyle last month. "Power feels sexy to me today, as does women's intelligence and how capable and creative they are."
While the milestone birthday did give her momentary pause—"Fifty was the first time I thought, 'Well, that number,'" she told the magazine—it was but a moment. "I don't know what it is because I don't feel any different," she added. "Things aren't shutting down in any way. I feel physically incredible. So it's weird that it's all of a sudden getting telegraphed in a way that's like, 'You look amazing for your age.' I think we need to establish some etiquette around that dialogue and verbiage."
And J.Lo—where do we begin? This year alone, the powerhouse has embarked in her first concert tour in seven years to celebrate her birthday, gotten engaged to boyfriend of two years Alex Rodriguez, sparked Oscar chatter with her stunning performance in Hustlers (we'll never again listen to Fiona Apple's "Criminal" and not think of that epic pole dance routine that serves as her introduction in the film), returned to her iconic Versace dress to rock the runaway 20 years after originally blowing our minds with it, and landed a little gig as co-headliners of the Super Bowl LIV halftime show in February 2020 alongside Shakira. No big deal.
"Women get more confident as they get older," she told W Magazine of aging. "Men in their 20s are very confident and cocky, and women are super insecure. And then it flips: Men get super insecure, and women get comfortable in their own skin, in a way that makes them more beautiful."
Naturally, turning 50 didn't faze her one bit.
"I just don't think of myself as an age," she said on the Today show. "I just think of myself as me and I'm still doing what I've always done and this is what I do and I just keep doing it."
It's a motto all three women have put into action during this, their 50th year. But how do they look so good while doing it? Well, aside from a devotion to skin care—each of them swears by SPF, hydration, and minimal time in the sun, so take note—it just might be an inner peace that's doing the work for them.
"Emotionally and mentally, I would say it's just about loving yourself and loving what you've been given — to really appreciate it and take care of it," Jen told Vogue in 2016. "Because this is the only body we're given, we need to be really good and mindful of what we eat and how we take care of our skin — getting a good night's sleep is extremely important, as is hydrating with water, water, water. It's so important to getting that extra glow."
J.Lo seconded that emotion with InStyle in 2016, saying, "I also definitely think beauty comes from within – you have to have keep your mind, soul, body and spirit in sync. I am a firm believer in meditating and when you are happy and feel joy and love, you radiate beauty."
Not surprisingly, Gwen had the same to say when asked about her ageless appearance during a Carpool Karaoke appearance on The Late Late Show with James Corden that same year. "What happened was, my life blew up. After that, I kind of started falling in love," she told the late-night host. "Then I wrote a whole record about that. That's what the face lift is, I think!"
"I'm writing music that's about happiness and truth," she continued. So, there you have it — the secret to youth is falling in love and writing lots of songs about it!"
As a source close to Gwen told HollywoodLife last month, "Gwen has everything she wants in life. She has healthy kids, the love of her life in Blake, an amazing career with The Voice and her returning Vegas tour. Turning fifty in about a month isn't something that is concerning her so much because life is pretty good. "She looks at women like J.Lo and Jennifer Aniston and how they look and feel and how they are enjoying life at fifty and it inspires her."
"It is no way a bad thing, to Gwen it is a beautiful thing," the insider added. "Turning fifty soon is actually quite the gift and she is enjoying it every step of the way."
May we all be so lucky.