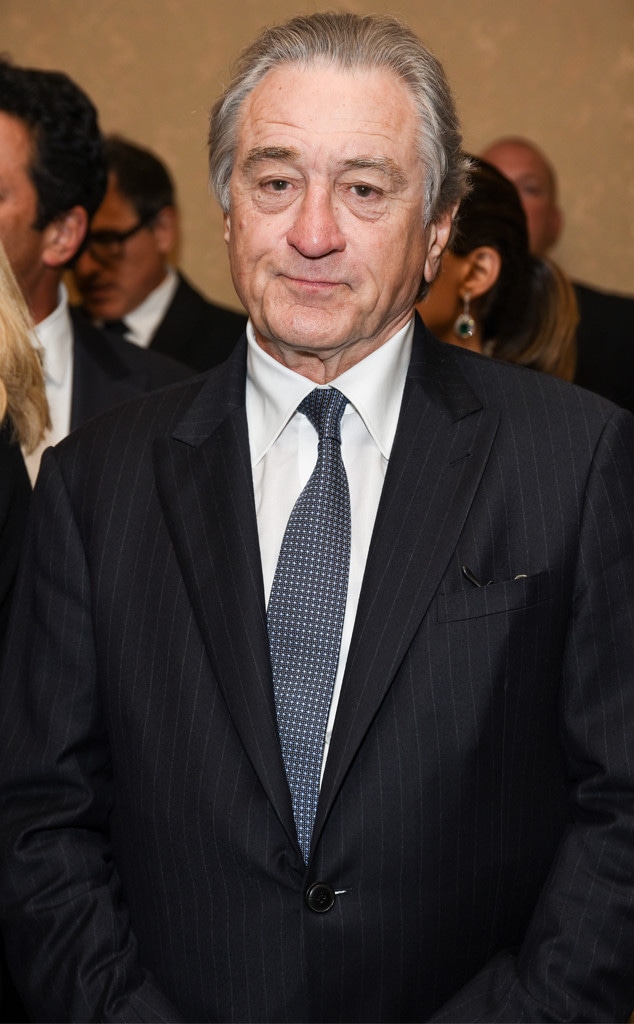 Presley Ann/Getty Images
Robert De Niro's former assistant has sued the actor for alleged gender discrimination and wage violations, two months after he sued her for alleged embezzlement.
In a lawsuit filed in New York on Thursday, Graham Chase Robinson claims that she started working as the star's executive assistant in 2008, when she was 25 years old, and quit her job this past April, a year and a half after she was promoted to his production company's Vice President of Production and Finance. She says that during the course of her job, he always referred to her as his assistant and treated her as such. She accuses De Niro and his company of subjecting her to "years of gender discrimination and harassment" and a "hostile work environment."
De Niro's attorney tells E! News in response, "The allegations made by Graham Chase Robinson against Robert De Niro are beyond absurd."
"De Niro made demands of Ms. Robinson that he never imposed on males," Robinson's lawyer said in a statement to E! News. "De Niro's treatment of Ms. Robinson was inappropriate, demeaning, abusive, and intolerable, and he needs to be held accountable."
Robinson claims that during the course of her job, he called her derogatory names such as "bitch" and "brat," went on drunken tirades in which he "denigrated, berated, bullied, and hurled expletives" at her, and made vulgar and inappropriate comments such as joking about his Viagra prescription, asking her to imagine him on the toilet, asking her to scratch his back or tie his ties, and suggesting she could get pregnant by using sperm from a married male coworker.
She also claims he urinated during his phone calls with her, met with her wearing pajamas or a bathrobe and directed her "to come to his bedroom to wake him up" and "to meet alone with him in empty apartments and hotel suites."
"De Niro subjected Ms. Robinson to gratuitous unwanted physical contact," the lawsuit states. "He made sexually-charged comments to her. He was verbally abusive."
"De Niro required that Ms. Robinson be 'on call' all the time and insisted she drop everything to attend to his purported 'needs,'" the filing continues. "Once when she did not pick up his phone call, De Niro left Ms. Robinson a voicemail filled with expletives in which he called her a "spoiled brat," said "how dare you f--king disrespect me," and threatened her, saying, 'You're f--king history."
Robinson's lawyer's website contains a link to an audio file of what is described as the voicemail in question.
Robinson also accuses De Niro of routinely assigning her job duties that were "stereotypically female," such as putting away his boxer shorts, hanging up his clothes, washing his sheets, vacuuming his apartment, mending his clothes and selecting gifts for his kids.
"He treated Ms. Robinson as his 'office wife,' assigned her stereotypically female duties like housework, and insisted that she be available to him around the clock," the lawsuit states. "He underpaid her because she was not a male breadwinner and denied her overtime pay even though she worked punishingly long hours."
Robinson claims she typically worked 11-hour days with no meal breaks and no overtime pay. She is seeking $12 million in damages, including back pay, front pay, compensatory damages, liquidated damages, and punitive damages.
The lawsuit was filed two months after De Niro sued Robinson for $6 million for alleged embezzlement. He claimed she used a credit card provided by his company to buy expensive lunches and also binge-watched 55 episodes of Friends over the course of four days.
In her filing, Robinson claims that weeks before De Niro sued her, she had communicated through her lawyer that she had "claims of sex discrimination, sexual stereotyping, hostile work environment, and retaliation under, inter alia, the New York Human Rights Law, the New York Labor Law, and the Fair Labor Standards Act" and "made clear that she was willing to pursue these claims through litigation."
She calls De Niro's lawsuit "abusive" and the allegations made against her "false." She says it has "destroyed" her reputation and her career. She claims that her lawyer had warned De Niro and his production company that she was considering filing a discrimination lawsuit and that the actor "was enraged at the prospect" of her bringing a lawsuit "challenging his behavior" and therefore "retaliated and struck first."