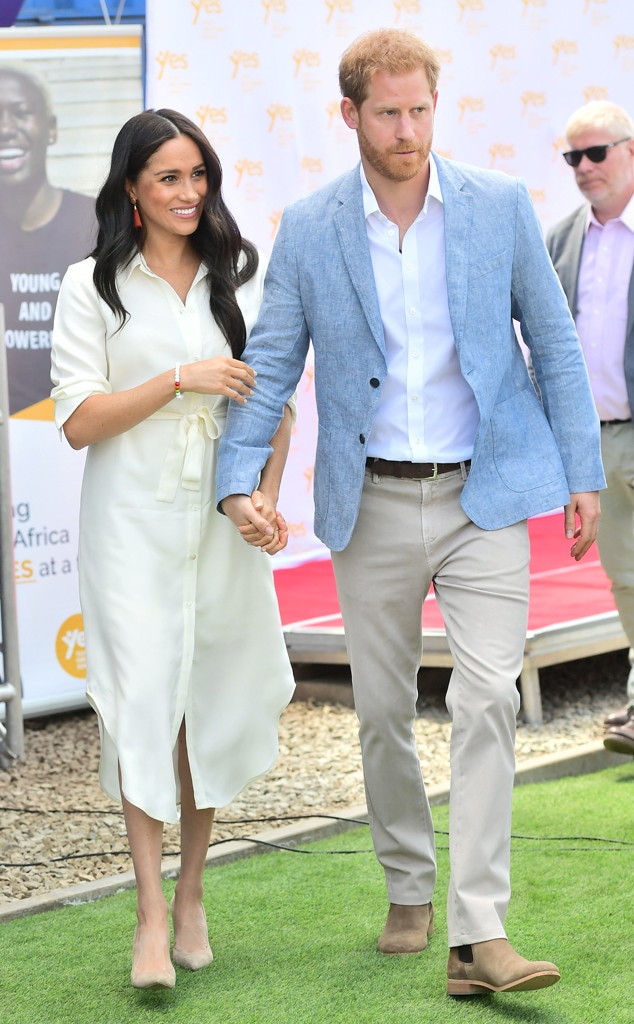 Samir Hussein/WireImage
Prince Harry and Meghan Markle are standing strong. 
Less than 24 hours after the Duke and Duchess of Sussex announced they're taking legal action against the Mail on Sunday, the two made a united appearance for the final day of their royal tour.
The royals visited Tembisa, a township in Johannesburg, on Wednesday and arrived holding hands. They then met with young entrepreneurs and learned about youth employment services in South Africa. For instance, the couple met Chef Mish—a local master chef—who spoke to them about his local catering business and café. They also attended a training session that helps young people acquire new skills and find jobs. In addition, the dynamic duo met with Moss, who grows organic produce in the township, and with the women of Blossom Care Solutions—an organization that creates sanitary pads for women in the community.
At one point, the duke made a short speech in which he spoke about the youth employment services hub and announced the U.K.'s donation of £8 million for a "Skills for Prosperity" program.
He also looked back on his "whirlwind" tour of Africa and why he considers it his "second home."
"Every time I come here; I know that I'm not alone," he said during the speech. "I always feel—whenever I am on this continent—that the community around me provides a life that is enriching, and is rooted in the simplest things—connection, connections with others and the natural environment. And as I raise my own son, I want to make sure that what I've learned here–the value of the natural world, the value of community and friendship–is something that I can pass on to him."
In addition he spoke about the launch of their foundation and how the two have been inspired by the work they've seen this week.
"We will firmly stand up for what we believe," he continued. "We are fortunate enough to have a position that gives us amazing opportunities, and we will do everything that we can to play our part in building a better world. We will always seek to challenge injustice and to speak out for those who may feel unheard. So no matter your background, your nationality, your age or gender, your sexuality, your physical ability, no matter your circumstance or color of your skin–we believe in you, and we intend to spend our entire lives making sure you have the opportunity to succeed and change the world."
Meghan, who wore a crisp white shirtdress for the outing, also echoed her husband's sentiments.
"There's so much ingenuity here, there's so much promise here, that given the right level of support and resources that you need, the potential is astronomical, and you can see that there," she said at one point. "And I think for you women, I'm so proud of you and the business you're creating, and also being able to now control your own purse strings, because when you have that level of independence, my goodness you can do anything. So, thank you for giving us the opportunity to meet with all of you, to be able to feel inspired and for welcoming us so warmly, strongly, beautifully to your country, we've loved it."
Watch:
Prince Harry Blasts British Press for Bullying Meghan Markle
It certainly has been a busy time for the couple. In addition to touring Africa with their son Archie Harrison, the two announced they're taking legal action against the Mail on Sunday and its parent company Associated Newspapers over the allegation that the outlet unlawfully published one of Meghan's private letters. The duke made the announcement in an official statement on Tuesday and accused the British tabloid press of running a "ruthless campaign" against his wife—one that "has escalated over the past year, throughout her pregnancy and while raising our newborn son."
"There is a human cost to this relentless propaganda, specifically when it is knowingly false and malicious, and though we have continued to put on a brave face–as so many of you can relate to–I cannot begin to describe how painful it has been," he stated at one point.
 He also spoke about his fear of "history repeating itself."
"I've seen what happens when someone I love is commoditized to the point that they are no longer treated or seen as a real person," he said, referencing the death of Princess Diana. "I lost my mother and now I watch my wife falling victim to the same powerful forces."
Meanwhile, the Mail on Sunday claimed it "stands by the story it published and will be defending this case vigorously." It also denied accusations that the published letter was edited in "any way that changed its meaning."