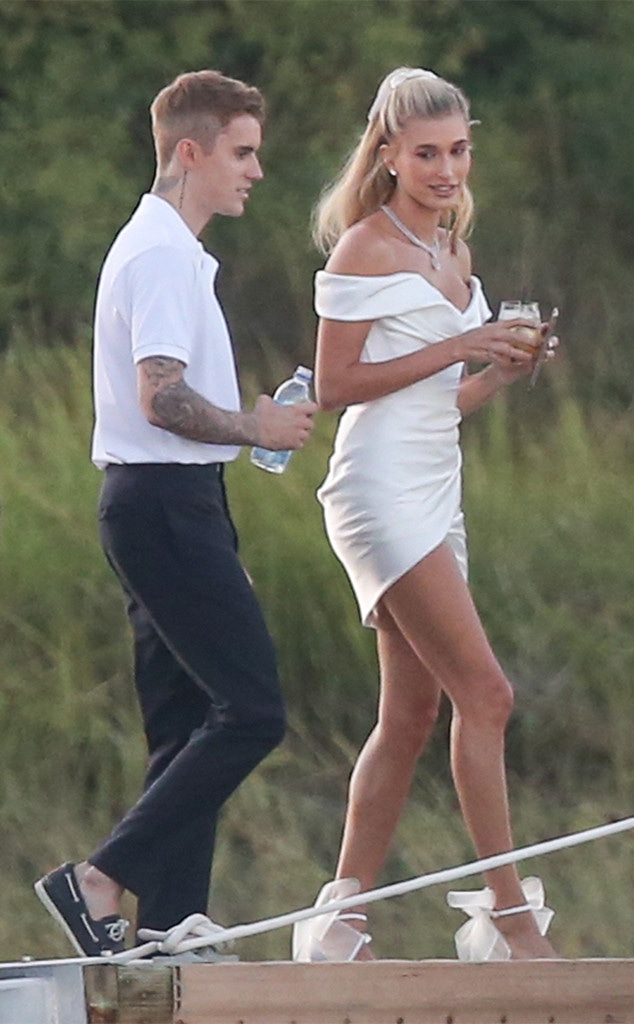 BACKGRID
Hailey Bieber is already making a fashion statement before her wedding day.
As the countdown continues for the model's ceremony with Justin Bieber later today, fans can't stop talking about the bride-to-be's look during her rehearsal dinner.
Hailey sported a custom made dress from Vivienne Westwood's couture collection. According to a press release from the designer, Hailey's dress was "a custom made corseted mini dress in ivory Peace Silk." The mini dress was also designed with an "environmental conscience in an organically produced eco-friendly and cruelty-free Peace Silk." She completed her beautiful look with Jimmy Choo heels that are valued at close to $975 and a Messika necklace.
As for Justin's look, he had Beliebers buzzing with his fresh haircut. As for fashion, he wore a white polo shirt and black pants with a pair of Sperry boat shoes.
"Hailey and Justin wanted the party to be a casual get together to celebrate everyone together under one roof and celebrate their love," a source shared with E! News. "The attire was casual chic."
"Justin and Hailey were greeted with both their families and took many photos together as one big family," our insider continued. "They both looked super happy to see everyone and had big smiles on their face the entire night."
Watch:
Hailey & Justin Bieber's Road to the Altar
After the rehearsal party ended, guests were shuttled back via water shuttle to the Montage in Palmetto Bluffs where guests continued the celebrations with an after-hours party.
In between dancing and singing karaoke, friends of the couple were able to bowl and take advantage of other games at the property.  
"Everyone was having a really fun time. The night went pretty late," our insider shared. "Cocktails were served and there was an after-hours menu where they had fast food such as fried chicken, french fries and sliders."
Our source added, "Hailey was dancing in a circle with her girlfriends at the end of the night and looked really happy and was having a lot of fun."
As fans wait in anticipation for any and all details on their private wedding ceremony this week, it's clear the couple's love is stronger than ever.
And thanks to a special venue and great company, it's going to be a celebration to remember.
"Today I have never loved you more…" Hailey wrote on Instagram when celebrating their anniversary. "Life gets more beautiful everyday because of you, my heart belongs to you forever."
Justin added, "Alone time with you refreshes my soul. You are so out of my league and I'm okay with that! You are mine and I am yours."