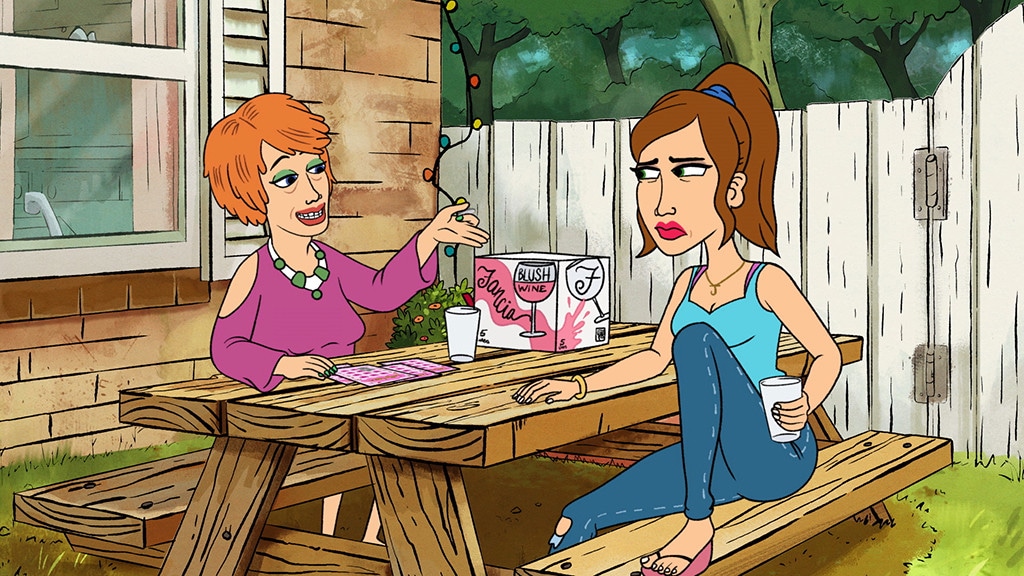 Fox
There's a new animated family on the Fox block. The network, home of the Simpsons, Griffins and Belchers, introduced the Harts in Bless the Harts on Sunday, Sept. 29.
Starring Kristen Wiig, Maya Rudolph, Jillian Bell, Ike Barinholtz and Kumail Nanjiani, Bless the Harts was created by Emily Spivey and follows a poor family living in North Carolina. Spivey, whose credits include Saturday Night Live, Up All Night, Last Man on Earth, Parks and Recreation, King of the Hill, Modern Family and Wine Country, used her upbringing for inspiration.
"Well, this is my hometown and people I grew up with. Everybody on this panel knows that everything I write secretly takes place in North Carolina. So this has been just a passion thing for me forever. But each one of these characters is somebody I knew. For example, the ostriches, I grew up with a guy who did have an ostrich farm, or tried to, and they hated him. All the ostriches hated him. So that's where that comes from," Spivey said at the 2019 Television Critics Association winter press tour. But, really, yeah, these are just all my people that I grew up with in just a small, basically, mill town, you know, called High Point, North Carolina.
In the first episode, the family's water was shut off after Jenny's payment bounced. In an effort to make quick cash, she sells her mother Betty's (Rudolph) collection of discontinued toys…that her mother then buys back unbeknownst to both of them.
Phil Lord, Christopher Miller, Seth Cohen and Andy Bobrow are also executive producers on the animated comedy.
What did you think of Bless the Harts? Vote below and tell us.
Bless the Harts airs Sundays, 8:30 p.m. on Fox.