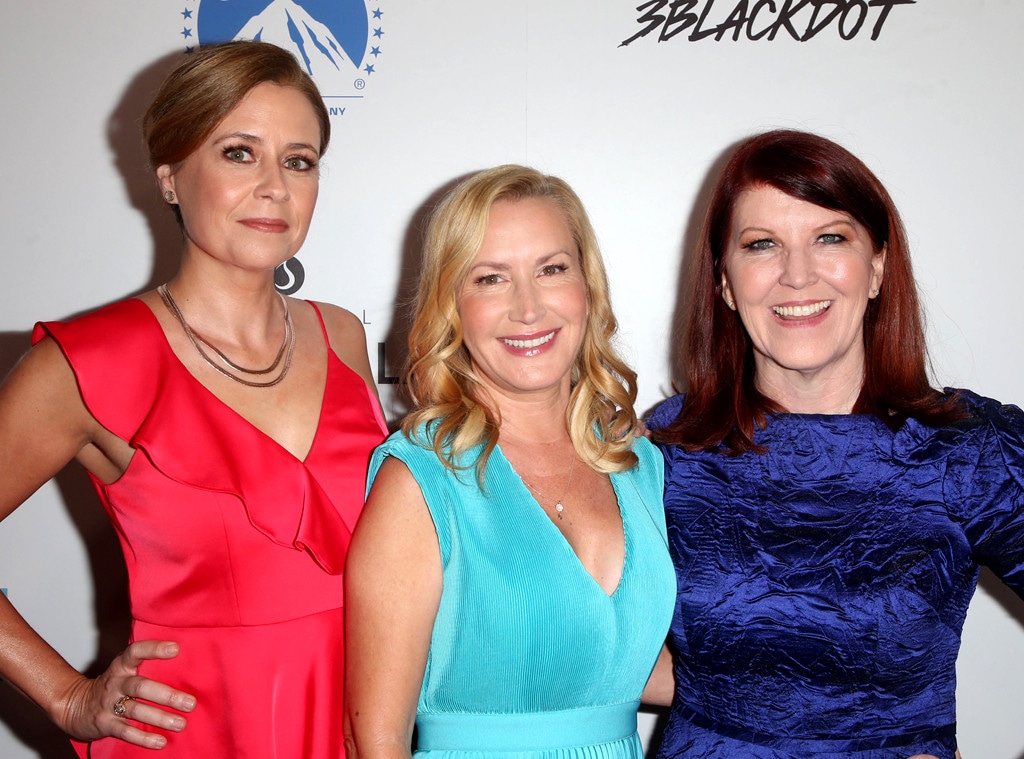 MediaPunch/Shutterstock
The Office ladies might not be back at Dunder Mifflin Paper Company but they're reuniting once more for a good cause. 
On Saturday night, Jenna Fischer, Angela Kinsey, and Kate Flannery took to Instagram to share a series of adorable selfies and photos of the three at the Thirst Project Gala benefit held at The Beverly Hilton Hotel in Beverly Hills. The nonprofit organization works to end the global water crisis by building freshwater wells in developing communities and provides clean water to 13 different countries and over 280,000 people. 
Kinsey shared a selfie of the three actresses, captioning it, "I love these gals! Thx @therealkateflannery & @msjennafischer for coming out to support me tonight! I'm about to host the @thirstproject gala! I'm nervous but seeing these smiling faces is helping me sweat less!"
Their former co-star and creator of the Hulu miniseries Four Weddings and a Funeral Mindy Kaling also commented on their reunion selfie, "Beauties."  
The three Office ladies looked stunning in their gala get-up—with Fischer wearing a ruffled peach silk dress, Flannery donning a royal blue silk gown, and Kinsey wearing an aqua colored pleated dress. 
"A wonderful evening with my Office lovelies @angelakinsey and @therealkateflannery with @sethmaxwell1 in honor of @thirstproject They work to bring clean water to people all over the world. #inspiring #thirstgala," wrote the former Splitting Up Together actress on Instagram.
Last night's reunion isn't the first time we've seen the former cast of The Office hanging out or working together. 
Fischer and Kinsey recently announced an upcoming Office-themed podcast, Office Ladies, with the first episode premiering on Wednesday, October 16.
"Each week we will watch an episode of The Office and tell you all the behind-the-scenes scoop and trivia...the kind of stuff that only two people who were there can know. There might be some tangents about our lives, our friendship, our cats and our Target runs," Fischer wrote on Instagram about the highly anticipated podcast.
The new Office podcast also comes at the heels of the 15th anniversary of the show coming next year. Can fans also expect a special reunion episode? 
Who knows but it's safe to say that former Office stars would totally be game. 
Earlier this month, on an episode of A Little Late With Lilly Singh, Kaling imagined what the show would look like today.
"The thing that I always think about is things that Michael Scott, who just loved trends and was far too old to do any of them, what would he be into?" she said. "And to me, seeing Michael Scott dab would be—cause I feel like he would do it all the time."
Kaling might be ready to bring back Kelly Kapoor for a reboot, but Steve Carell has said in the past that the show wouldn't work as well today. While hosting SNL for the third time, Carell was asked about a possible reboot, to which he answered, "Um, no, actually, I don't think so. It was a great experience, I love all those people but I just don't think it's the best idea. I think maybe we should just leave it alone."
Looks like fans will have to tune into the new podcast, Office Ladies, for their dose of Office content.