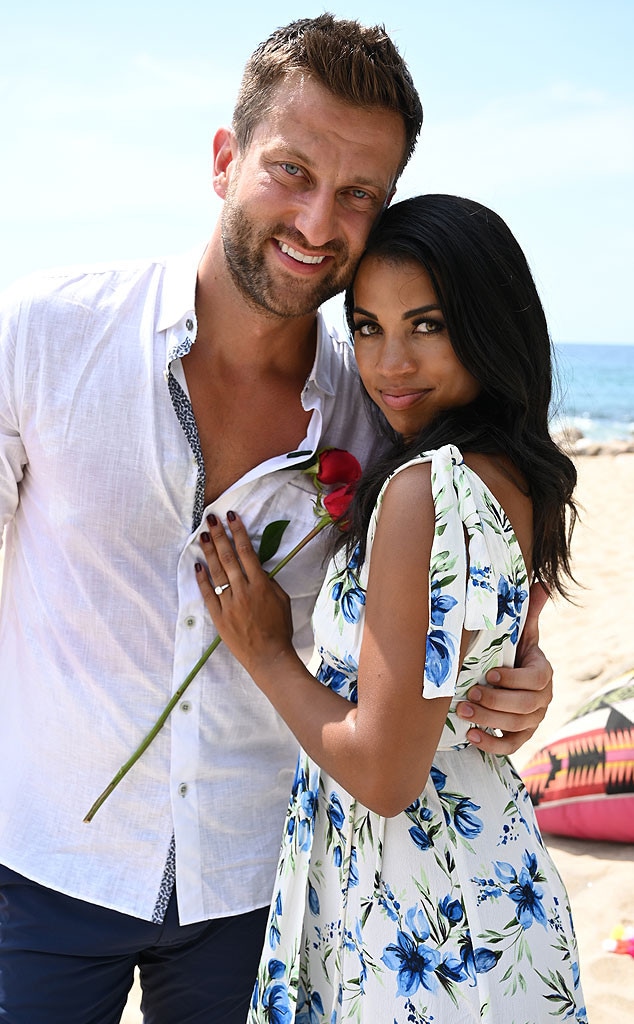 ABC/John Fleenor
After that shocking Bachelor in Paradise season finale ending, Katie Morton and Chris Bukowski are in a much better place.
Speaking to E! News at the Lulu's Pop-Up in Los Angeles, the reality TV personality opened up about her whirlwind romance and the emotional conversation she had with BiP host Chris Harrison during the Season 6 finale. "It was what it was. It was real, it was honest. I have no regrets," she shared. "It's different to see yourself in that environment, but we are doing so great now and so I'm happy. That totally was a growing and turning point for our relationship."
She continued, "We've always been growing. Not just the taping of it but also the showing of [the episode]. We just keep growing through all these things. It's all very real."
Katie explained that she and Chris are "finally back to normalcy and trying to live a normal life."
"I know that that seems unconventional considering we signed up for a reality TV show and it's like, that's not normal," she said. "But you know what, we deserve to have this time to ourselves in private because everything's been so public. So, we're taking things slow and we're finally living things day by day. We're going to find out what's next! That's for you guys to stay tuned [laughs]."
As the reality TV star mention, she and Chris have kept a low-profile on their social media pages, and have only given small glimpses of their relationship. Earlier this month, Chris gushed over his leading lady and gave an update and honest insight into their romance.
"Love is tough. Love is beautiful. Most importantly love is patient. Sometimes you need a shock to the system to put a fire under your ass," he wrote on Instagram, alongside a candid shot of Katie. "What I felt then I feel even more now. I love you @katieemo and can't wait to feed you pizza for the rest of our lives."
However, Katie would totally be down to show her followers some bloopers of her and Chris' most special moments during Bachelor in Paradise. "Of course I would love a forever blooper reel. That would be amazing," she said. "Bloopers are what I live for and we had thousands of opportunities for you guys to see bloopers so I wish that there were more of those."
Same girl, same!