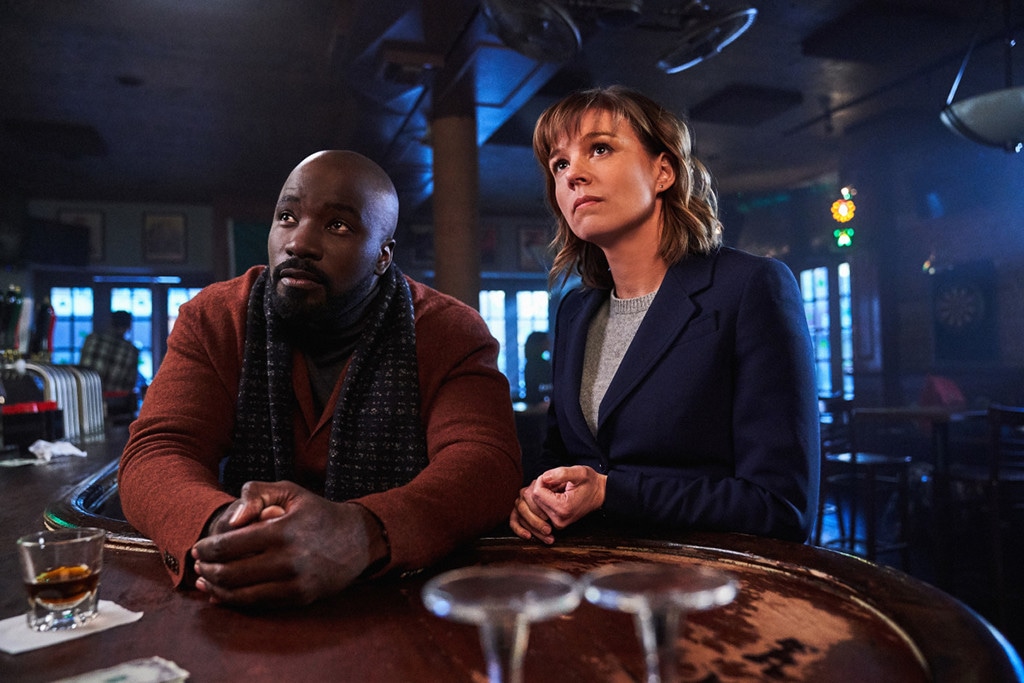 CBS
Is anyone else feeling a little overwhelmed by Thursday TV? 
Not only did a whole bunch of our returning favorites come back tonight—Grey's Anatomy, SVU, The Good Place, Superstore, HTGAWM, Mom, etc etc—but we also now have five new shows to add to our long list of reasons we no longer have time to sleep. 
CBS debuted three new offerings tonight, including two comedies and a spooky new drama, while NBC added two comedies to its Thursday night line-up. We can't say we're all that disappointed with any of the new shows, though they've all got something very, very different to give us. 
We want to know your thoughts, though, so have a little refresher on everything you may or may not have seen tonight and then head to the polls below!
CBS premiered The Unicorn at 8 p.m., starring Walton Goggins as a widower named Wade attempting to move on a year after his wife's death. Apparently widowers are like unicorns in the dating world, especially when they're as charming as this one is. The show also stars Rob Corddry, Michaela Watkins, Omar Benson Miller, and Maya Lynne Robinson, with Ruby Jay and Makenzie Moss as Wade's daughters. 
Also at 8 p.m., NBC debuted Perfect Harmony, a slightly musical comedy starring Bradley Whitford as a former Princeton music professor who's dealing with a bout of depression who stumbles upon a choir in need of assistance. If you like singing and you also like Bradley Whitford being a helpful curmudgeon, this might be the show for you. 
It also stars Anna Camp, Will Greenberg, Tymberlee Hill, Geno Segers, Rizwan Manji, and Spencer Allport.
Carol's Second Act, 9:30 p.m. on CBS, is Patricia Heaton's return to TV after the end of The Middle, and her return to multi-cam comedies on CBS after Everybody Loves Raymond. It's also her turn to be the star of the show. She's playing a retired teacher who's now a medical intern alongside a class of much younger fellow interns without the built in bedside manner. 
Ashley Tisdale plays Carol's daughter, and Carol's fellow interns are played by Jean-Luc Bilodeau and Sabrina Jalees. Ito Aghayere plays chief resident Dr. Jacobs, and Kyle MacLachlan plays Dr. Stephen Frost, the senior attending physician. 
NBC also premiered Sunnyside at 9:30 p.m., its new comedy about a ragtag group of immigrants who need help studying to become citizens. They hire Garrett Modi (Kal Penn, who also co-created the show), a former and disgraced NYC councilman, to help them achieve their citizenship dreams. 
Diana-Maria Riva, Joel Kim Booster, Poppy Liu, Kiran Deol, Moses Storm, and Samba Schutte all star alongside Penn. 
Evil, CBS' 10 p.m. drama, comes from Good Wife creators Robert and Michelle King and is definitely not a show to watch alone in the dark. It stars Katja Herbers as a skeptical psychologist who finds herself working with a priest, played by Mike Colter, to investigate supernatural incidents. The premise doesn't sound all that new, but the spooks feel pretty new. 
Michael Emerson, Aasif Mandvi, Brooklyn Shuck, Skylar Gray, Maddy Crocco, Dalya Knapp, Christine Lahti, and Kurt Fuller also star.  
Vote on all the new shows below!
New Fall Shows 2019: Night 4
E! and NBC are both part of the NBC Universl family.