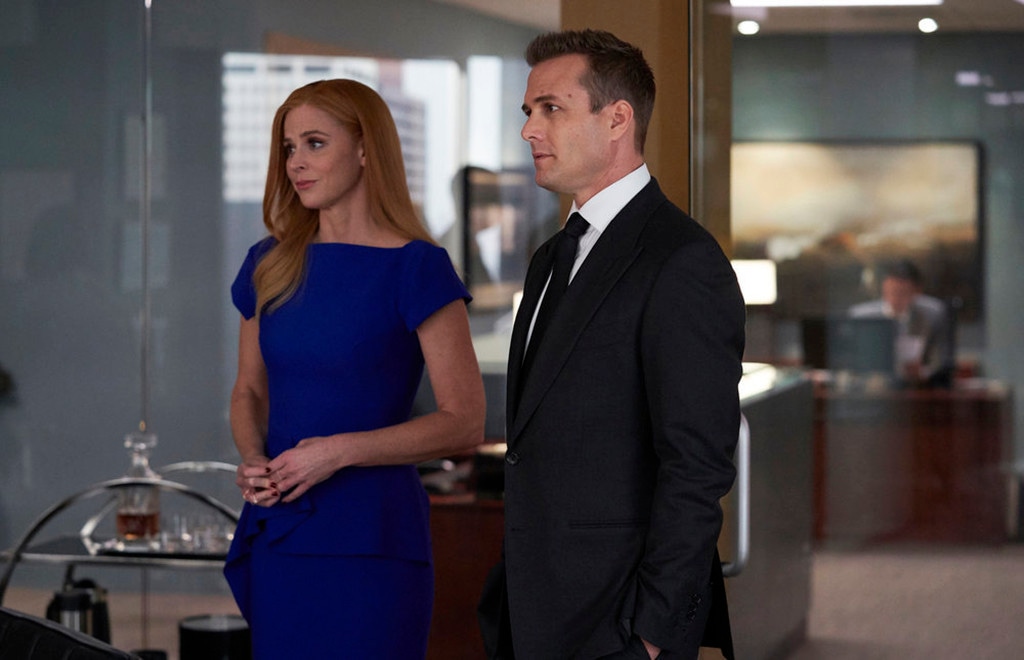 USA
The firm's got another new name. Again. 
By the end of Suits' series finale, which aired on Wednesday night, the wall by the elevators read "Litt, Wheeler, Williams, Bennett," which might be an indication of how much changed in this one episode. 
First there was the matter of Faye to deal with, but after a couple of contentious courtroom scenes and one mysterious talk with Harvey, she was gone, and everybody had their jobs back. Then it was time for Louis' wedding, which had to be a little rushed when his new wife went into labor and had to be rushed to the hospital in the ambulance Louis had standing by. 
That left a wedding venue full of guests with nothing to do, which gave Harvey a questionably good/romantic idea: He and Donna should just get engaged and then married right here right now!
Sure, none of their family was there and Donna didn't have a wedding dress and they only had the engagement ring Harvey was planning to give her and all the guests were Louis' guests and so was the minister and also everything else they had there, but why not take advantage of what at this point was a free wedding? Donna heavily questioned this idea, but went along with it anyway, and so they got married right there, while Louis panicked at the hospital over Sheila having to go in for an emergency c-section. 
Later, when Louis and Sheila had a healthy baby daughter and Sheila was doing fine, Harvey and Donna announced that they were leaving the firm and going to Seattle to work with Mike and Rachel, while Alex, Samantha, and Katrina are now the firm's senior partners. 
Before a montage of some major moments from the show's eight seasons (featuring plenty of Meghan Markle), it was Mike offering Harvey a job, just like Harvey did for Mike back in the pilot. 
It was a finale that featured a whole bunch of beautiful moments, but something about it just felt a little bit rushed. We couldn't just get a flashforward to Harvey and Donna's actual wedding, where they could have pulled a Cristina-at Derek's-funeral and put in a stand-in who looks like Meghan Markle from behind? 
But anyway, that's just us, and we want to know what you thought. Vote below!
Suits aired on USA. 
E! and USA are both parts of the NBC Universal family.