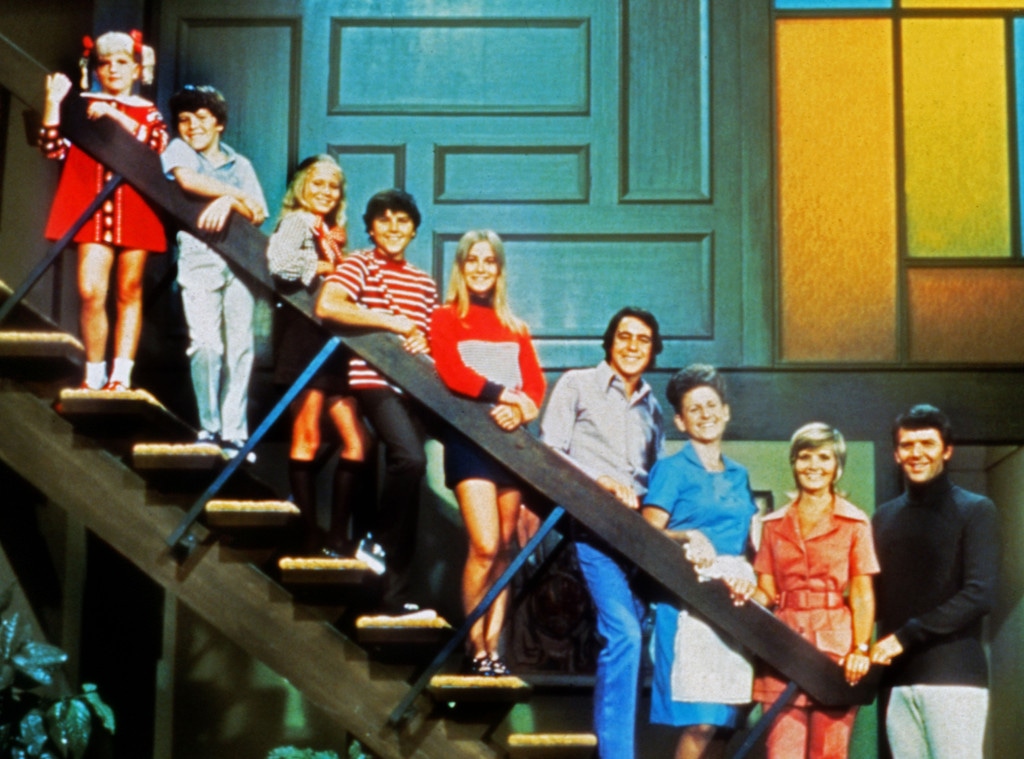 Paramount/Moviestore/Shutterstock
It's an opening credits sequence that's instantly recognizable to generations of TV viewers. Blue squares with smiling faces in them, all looking around at those in the squares above or beneath them. And then, the song begins.
"Here's the story of a lovely lady..."
Admit it, you're singing the rest of it in your head right now, aren't you?
We're talking, of course, about The Brady Bunch, the iconic sitcom about the adventures of a blended family that debuted on ABC exactly 50 years ago on September 26, 1969. From creator Sherwood Schwartz, who'd created another iconic classic TV comedy with an equally iconic theme song (both of which were written by the creator himself), CBS' Gilligan's Island, five years earlier, it was a simple enough premise: Widowed father of three boys Mike Brady marries single mother of three girls Carol Martin, five seasons worth of hijinks ensue.
Inspired in 1966 after reading in The Los Angeles Times that "30% of marriages [in the United States] have a child or children from a previous marriage," he got to work on a pilot script tentatively called Mine and Yours. After shopping the project to the Big Three (CBS, NBC and ABC—aka the only three at the time), he shelved the project when each presented admitted they wouldn't commit to filming without changes. But after Lucille Ball and Henry Fonda's similar feature film Yours, Mine and Ours went on the become the 11th-highest grossing film of 1968, ABC, looking for a project that could capitalize on the film's popularity, gave Sherwood an initial 13-episode order.
Schwartz immediately set out to find the child actors who would make up The Bradley Brood, as the show was called at that point in time, and from 264 interviews in the summer of '68, he made sure he had a total of 12 kids on hold: three blonde boys, three blonde girls, three brunette boys and three brunette girls. The reason being that neither Mike nor Carol had been cast yet and, as it was assumed that the parents would have contrasting hair colors, he needed to be prepared for anything. 
"As a consequence, to this day, there are three dark-haired girls and three blonde boys about 45 to 50 years old somewhere in the world who might have been The Brady Bunch kids," he wrote in his 2010 book Brady, Brady, Brady: The Complete Story as Told by the Father/Son Team Who Really Know, written alongside son Lloyd J. Schwartz. "And they are just finding that out if they're reading this book."
Abc/Paramount/Kobal/Shutterstock
After landing on dark-haired Robert Reed, who was already under contract at Paramount and had previously co-starred on popular legal drama The Defenders, for widowed architect Mike, despite preferring to interview then-unknown Gene Hackman for the role (a decision the studio put the kibosh), and blonde comedic actress Joyce Bulifant for Carol, brunettes Barry Williams, Christopher Knight and Mike Lookinland were cast as Greg, Peter and Mike, respectively, while blondes Maureen McCormick, Eve Plumb and Susan Olsen were tapped for Marcia, Jan and Cindy, respectively. 
(If you're scratching your head at the name Joyce Bulifant, that's because once Ann B. Davis was cast as wacky live-in housekeeper Alice, the role of Carol shifted away from a Lucille Ball-type and more towards a grounded, down-to-earth mother, paving the way for musical theater actress Florence Henderson to become the quintessential mother for generations.)
Even still, the youngest two were forced to endure painful dye jobs to get their hair hues shades close enough to suit the producers. A natural strawberry blonde, Lookinland's hair had to be dyed to appear dark enough under the lights. And despite being a natural blonde, Olsen's hair apparently wasn't light enough for producers and she was forced to endure regular bleachings until, during the show's second season, her hair began falling out in clumps and Sherwood put an end to that particular practice for good.
Though the show aired for five seasons, it was never exactly a hit. Critics weren't especially enamored with its inoffensive charms—expressly avoiding any mention of politics despite airing at the height of the Vietnam War, the show was the visual version of easy listening—and it never cracked the top 30 in the ratings once in any season. So, when it crossed the magic 100-episode mark to be sold into syndication in its fifth season, it was canceled. Though it's not like it ever really went away. 
Just over a year after it ended, it began airing in syndication where it became a mainstay for years, endearing itself to generations of children who wore born decades after it had finished its original run. "It's never really been off the air, in one way or another, but the reason that is is because they don't have to pay as residuals," Plumb recently told E! News about the show's endurance, laughing. "So it's kind of cheap show to air."
Paramount Home Entertainment
Wits its popularity on the rise thanks to its syndicated presence, the show went on to spawn a variety series, a handful of TV movies and more than one spinoff, ending with 1990's The Bradys, which only lasted for six episodes on CBS. Though none managed to match the success or cultural ubiquity of the original.
"It's very safe and friendly and nice. You know, it's a known quantity," Plumb said. "When you go to watch The Brady Bunch, you know that a problem will be solved and people love each other and you can look at the old funny clothes."
And while she's right, with the show becoming synonymous with a wholesomeness that's not long since fallen out of vogue in pop culture, things behind the scenes during the show's five-season run—not to mention the years immediately following—were anything but. 
From the tragic demise of the dog who played family pooch Tiger on the Paramount lot during filming of the only the show's fifth episode, leading to a frantic search for an identical replacement who could only sit still if his collar was nailed to floor, to hormones running wild amongst all the young cast—Olsen admitted years later that she and Lookinland were making out in Tiger's dog house at age nine—the stories that came trickling out of the show's proved to be more fascinating than any of the adventures Schwartz had written for the Bradys.
Williams, who once showed up to set stoned after being called in on what he thought was a day off, prompting the furious producers to reduce his part in the episode after he began tripping over nothing in the driveway as he walked, and McCormick found themselves so smitten with one another (only after Henderson, then happily married, turned down his teenage advances after entertaining his crush with a dinner his older brother had to drive him to) that producers had to work overtime to keep them apart. Same went for Knight and Plumb, who Williams once claimed were caught by LAPD before getting frisky in the back of his pickup.
Reed, who regularly clashed with Schwartz over the show's more childish elements and was actually written out of the show's series finale, was a closeted homosexual who kept his private life firmly under wraps for fear it would adversely impact his career. It wasn't until his death in 1992, initially attributed solely to colon cancer, that the world learned he was also HIV positive. "Here he was, the perfect father of this wonderful little family, a perfect husband," Henderson told ABC News in 2000. "He was an unhappy person...I think had Bob not been forced to live this double life, I think it would have dissipated a lot of that anger and frustration." While his TV wife had compassion for him because she "knew he was suffering," she added that she was certain the show would've never taken of had he been more open about his sexuality. I don't think The Brady Bunch could have existed at that time with the public knowing that Robert Reed was gay. I just don't think they would have bought it."
Adjusting to life after the show wasn't easy for any of the six who got their start as mere children, with all of them facing struggles of some sort. Knight later admitted he'd felt exploited by his parents to make money, Olsen became a marijuana farmer with her now ex-husband and Lookinland battled alcoholism until he found himself on the brink of death and sobered up. But it was McCormick who perhaps fought the hardest battle in the ensuing years. Not only had she developed bulimia while on the show, but she developed a cocaine addiction so severe, there was very little she wouldn't do to feed it. 
"I sought refuge in seemingly glamorous cocaine dens above Hollywood. I thought I would find answers there, while in reality I was simply running farther from myself. From there, I spiraled downward on a path of self-destruction that cost me my career and very nearly my life," she wrote in her 2008 memoir Here's the Story: Surviving Marcia Brady and Finding My True Voice. It was so bad that she began having sex in exchange for drugs. "If there was coke, I had to stay up and do every last flake even if it meant going without sleep for days," she revealed. "Nothing else mattered." At the height of her addiction, she showed up so high for a meeting with Steven Spielberg about a part in Raiders of the Lost Ark that he simply gave her an orange and sent her home.
After marrying husband Michael Cummings in 1985, she sought treatment and is now sober.
Though it had been 15 years since the six surviving cast members were all together—after Reed's death in 1992, Davis died in 2014 after falling in the bathtub, hitting her head, and never regaining consciousness, while Henderson passed on Thanksgiving Day 2016 from heart failure—they recently reunited for HGTV's highly publicized A Very Brady Renovation, which saw them join HGTV talent to recreate the Brady Bunch sets inside the house that served as its exterior on the show. (Fun fact: The house, which can be found in the San Fernando Valley, is the second-most visited residence in the United States just behind the White House.)
"Certainly, we'd seen each other in different groupings over the years for one thing and another, but I think the last time that there was the confluence [Laughs.] of all six was about 15 years," Plumb said of the experience. "The coven!"
As Plumb insisted, once the coven was reassembled, it was "great" reconnecting. "You know, we're all grown-up now, obviously, and we all get along like real people. And HGTV just offered us an extended family reunion," she added. Even when cameras were off, she said they would share stories of times past and correct each other's memories. "Just like any family reunion, having different memories of different events," she said.
Somewhere Mike and Carol Reed and Henderson are smiling at the thought of their TV babies back together again.
A Very Brady Renovation airs Mondays at 9 p.m. on HGTV.