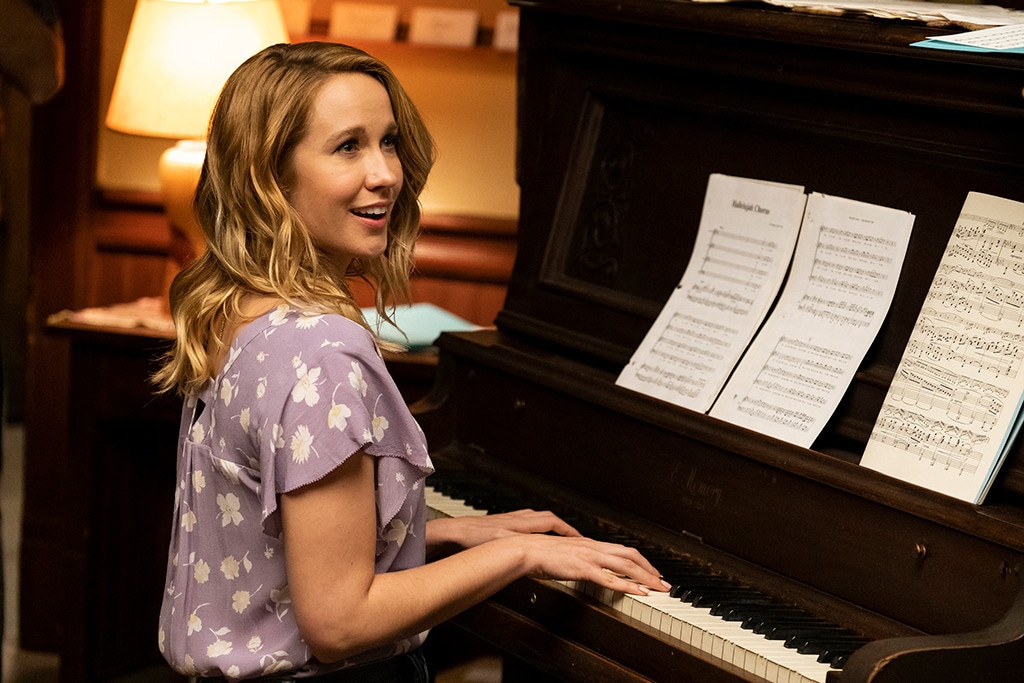 NBC
Anna Camp has quite the resume. You might know her from Pitch Perfect, where you heard her aca-amazing singing chops on the big screen, but Camp previously popped up in some of your favorite TV shows over the years. Ahead of the premiere of her new musical NBC comedy Perfect Harmony, Camp looked back at her key TV work as she gets ready for her next chapter as a sitcom star.
One of Camp's earliest major TV roles was The Office where she played Penny Beesly, sister to Jenna Fischer's Pam, in the big Jim (John Krasinski) and Pam wedding episode. Camp only appeared in the two-part episode, but as an avid Office fan, it was a dream come true for her.
"I was thrilled to be cast as Pam's sister and I got to do some funny scenes. Yeah, it was great," she said. And the role came with quite a few "pinch me" moments. "When I walked onto set and just saw the entire cast and just saw everyone," Camp said. "I love Jenna Fischer and she was just so kind and lovely and awesome to me. And then, obviously, Steve Carell came up and shook my hand wearing his suit. I just was like, 'How am I now part of this world I've been watching on my TV screen?' And that's kind of happened to me a couple of times in my career, which has been really surreal. I've had a lot of surreal moments of getting able to be part of a show that's been part of a very important show to me before I've even gotten there."
Turns out 2009 would be a big year for Camp. Not only did she appear on The Office, but she also started playing Sarah Newlin on True Blood. It's a role she would play off and on until the series ended in 2014.
"I loved so much about her. I think my favorite thing that I loved playing about her is her complete kind of denial that she was doing anything wrong, like the sheer confidence that she had in her choices, how insane they might have been, there was like never kind of a doubt as to what she was doing was wrong. Whether it was she was doing to turn into a Buddhist and change her name, whatever it may be, kill someone with a high heel. She was just diving off the deep end all the time, which is something I loved playing and not really looking back, you know what I mean? Just throwing herself off the cliff in these situations metaphorically and that was something that was so fun to play for me," she said. "To play someone really certifiably crazy was very fun."
While she was doing True Blood, she was offered a role in Glee's pivotal season one "Sectionals" episode. Camp played Candace, one of the judges at the singing competition, and said there was more in store than viewers got to see.
"There was actually a song that I was supposed to sing, but we never ended up shooting it. I think for time constraints they decided to not have me sing. My character was supposed to have a flashback of her at a talent show, I think singing a Funny Girl song, which I was so excited about…It was really cool to be part of the first season of another amazing show," Camp said.
In 2010, Camp auditioned for the role of Bethany on Mad Men. During the process, she had sides with a character named "Dan." She was confused, as a viewer she knew there was no character with that name on the show. Regardless, she went forward and got the part. When she received the actual script she found out she would be playing a love interest for none other than Don Draper (Jon Hamm). The romance was short-lived, Don never called Bethany back. Was she the one that got away?
"No, I mean Anna would like to think that, but if I'm stepping outside of me, looking at the role, I don't think she was. I think that she was a little bit too uptight for Don. She definitely was a little prim, a little proper and who knows where she is now, but I definitely think Don needed somebody a little wilder and a little rougher around the edges, but I think he would have gotten pretty bored," Camp said with a laugh.
On the small screen, Camp has always bounced around between drama and comedy. In 2011 she booked a recurring role on The Good Wife where she said she saw first-hand how to be a leader by watching Julianna Margulies.
"She's No. 1, she's the lead of the show, she's the hardest working woman. She was there the first scene of the day and the last scene of the day. And just her professional cool, calm and collectedness with all these scenes, and how kind she was with all of the crew, I definitely was taking notes that, like, if I ever get to be the lead of a show, that's how I want to act because she is just the ultimate role model when it came to seeing a working actress who also has a family and also has a life and is balancing career and family, which is something I'm always attempting to try and do," Camp said.
Camp stayed in the drama world for 2015's Good Girls Revolt. The acclaimed Amazon series about a group of young female employees at a magazine in 1969 only lasted one season, but Camp said the series, which was pre-Time's Up and #MeToo, came at a pivotal time for her and remains something she's proud of
Colleen Hayes/Amazon/Kobal/Shutterstock
"I look back at the show, so happy to be part of the beginning of those changes. Even if we didn't get a second season, the fact so many people were moved by our show and talking about our show—and it was such a hopeful time. It was before Trump was elected and we were all very excited to possibly have our first female president. It just like such a pivotal time to be making a story like this. As an actor, you don't always get to tell these important stories, so I feel like it was kind of part of a historical moment and time. And during that time, I got to play a woman who was fighting for her right to speak up and for change. So, it's an incredibly pivotal moment for me in my career, even if we didn't get to go on further. I still think that people responded so well to that show and it lives in this time of hope for me in my mind and my heart and I hope that it does for other people who got to see it," she said.
After Good Girls Revolt, Camp bounced back to the world of comedy in Unbreakable Kimmy Schmidt. For three episodes, she played Deirdre Robespierre. "I just die for her," Camp said. Deirdre was a nemesis to Jane Krakowski's Jacqueline White.
"Working with Jane was just heaven on Earth. I mean, I could do those scenes—I didn't want them to call cut because I wanted to keep acting with her and I wanted to keep seeing where these two characters were gonna go together. We always joked about it how if they started making out for real," Camp said with a laugh. "They had so much pent up angst between the two of them, like they both needed some kind of relief. It was just so wonderful. And Tina Fey was, of course, so hysterical and was always yelling out [alternate lines] to do from behind the camera. It was just such a fun, free environment to work on. It was one of my favorite characters I've ever gotten to play."
All of the experiences prepared her for Perfect Harmony. In the NBC comedy, Camp stars as Ginny opposite Bradley Whitford. The show follows Whitford's Arthur, a former Princeton professor who becomes the leader of a small-town church choir.
"I think Perfect Harmony is kind of a combination of all of these [past shows]. It is a comedy, but there are some really serious heartfelt moments, especially between me and Bradley. I mean, our characters are both going through some difficult times. My character is going through a divorce and his character just lost his wife. So, there are moments in this musical world, yes there's singing, yes it's super funny and there are lots of jokes, but there are some really grounded tended moments as well. And I think that all of the jobs that I've had, including Pitch Perfect, have all kind of led me to this moment," Camp said.
Perfect Harmony premieres Thursday, Sept. 26 at 8:30 p.m. on NBC.
(E! and NBC are both part of the NBCUniversal family.)