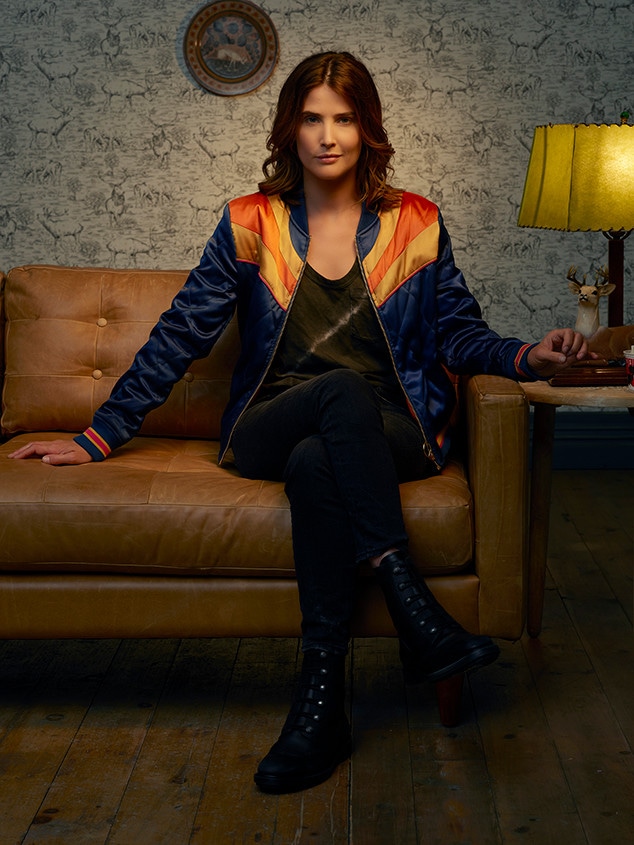 ABC
Detective shows are a tired and true part of the TV landscape. Viewers, for the most part, think they've seen it all. But they haven't seen Stumptown.
Starring Cobie Smulders and based on the comic book of the same name, Stumptown is the latest entry into the detective series pantheon, but Dex Parios isn't your typical gumshoe. Smulders' Dex is not only struggling to make ends meet, she's also caring for her brother, battling PTSD from a tour of duty and grappling with some serious self-destructive behavior. It's a far cry from what TV viewers have come to associate Smulders with.
"The role of Dex in this show—I think when you go into something that could potentially, not to jinx anything, go for multiple seasons, you want to choose something that you're never going to be bored with, that's going to be challenging, that it's a character that you want to live with for a while. And I just fell in love with this character. And there are certainly aspects of [her How I Met Your Mother character] Scherbatsky in there, but it is a departure. Certainly going from a multicam back to now a single cam, that's a very different process. It's a different beast. But it was more about finding something that I think would always be challenging and always interesting and fun to play rather than finding something a polar opposite or a genre that I really loved. I just want to be her for a while," Smulders said at the 2019 Television Critics Association press tour.
Dex is scrappy, she takes her hits. She's got her demons, quirks and vices. All of that is a challenge, Smulders said. "But that's what excites me," she added to a small group of reporters after her panel. "It doesn't make me afraid. I am a little afraid to see how I'm going to do it, physically," she said.
The character instantly appealed to Smulders. "I just like her, I like the way that she rolls however she's feeling, you know? I like playing sort of a sexually ambiguous woman on network television. I like that she's sort of her own boss. I like that she doesn't really—there's no rules for her," she said. "So that excited me."
As in the comics, Dex is bisexual and that will be explored on screen. As will her other potential romantic entanglements with pal and bar owner Grey McConnell (Jake Johnson) and police detective Miles Hoffman (Michael Ealy).
"I don't think she can have one, don't think she can be in a steady relationship," Smulders said, noting with a male or female. "So, she's very much up for whatever the night presents."
Along with Johnson and Ealy, Stumptown also stars Tantoo Cardinal as Sue Lynn Blackbird, a casino order and client of Dex's, Cole Sibus as Ansel, Dex's brother, Adrian Martinez as Tookie, and Carmyn Manheim as Lt. Cosgrove. Each episode features a mystery of the week style story while further exploring Dex's relationships with the other characters. Exploring the layers of Dex week-after-week was a selling point for Smulders.
"And that's what makes me the most excited to play her, because she is you know, she's tough and smart, but she's broken, and she's just trying to get through the day. So, she's a combination of all things, and that's really what I'm excited to have her as in series form," Smulders said, noting her excitement to see the character grow over time. "And, for me, personally, it's a wonderful challenge."
Stumptown premieres Wednesday, Sept. 25 at 10 p.m. on ABC.