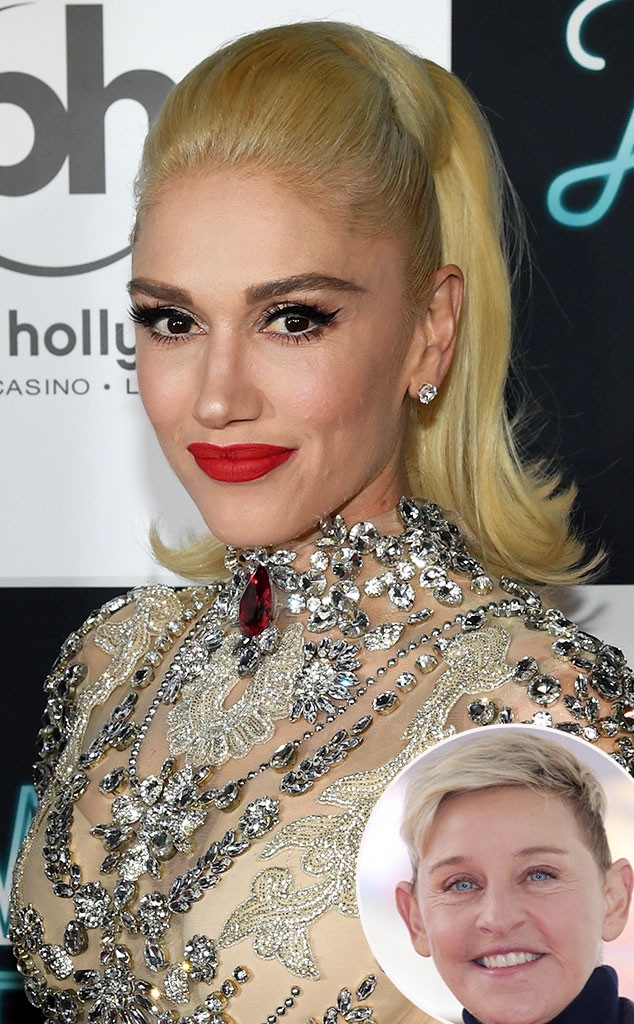 Matt Baron/Shutterstock, Ethan Miller/Getty Images
Everyone wants to be friends with Ellen DeGeneres—even Gwen Stefani's kids!
The singer revealed that her older sons, Kingston, 13, and Zuma, 11, aren't quite into in her music yet, but are more interested in her celebrity connections. Stefani, who is also mom to five-year-old son Apollo, stopped by Late Night With Seth Meyers and explained that her boys have asked her to text DeGeneres in the past.
"They don't really care about me as far as, like, any of that stuff goes," the No Doubt frontwoman told host Seth Meyers when asked if her kids are fans of her music yet. "I feel like unless they have, like, 'Mom, do you have Ellen DeGeneres', like, text? Like, can you text? 'Cause I really want to play Fortnight with Ninja.'"
"And I'm like, 'No, I'm not gonna text Ellen so you can play Fortnight!'" she continued, laughing it off. "They try to use me sometimes."
Meyers joked that her sons were using the wrong approach to get their famous mom's connections, suggesting that they butter her up first before making such a big request. 
"It seems like they're playing it wrong," the late night host said. "They should walk in and be like, 'God, that B-side was awesome. Hey, mom, totally independent of me just jamming out to your D-tracks…"
The Voice judge also opened up about working with Blake Shelton during her Late Night visit. In addition to talking about her plans to beat the country singer and his team this season, Stefani also shared how their different styles compliment each other. 
Meyers mentioned that Shelton once rocked a mullet back in the day, sharing a throwback picture that Stefani posted on her Instagram of the "Honey Bee" crooner with the hairstyle, and Stefani had the best response. 
"I never, never thought that I would get the opportunity to be with someone that has a mullet—or, had a mullet," she said.