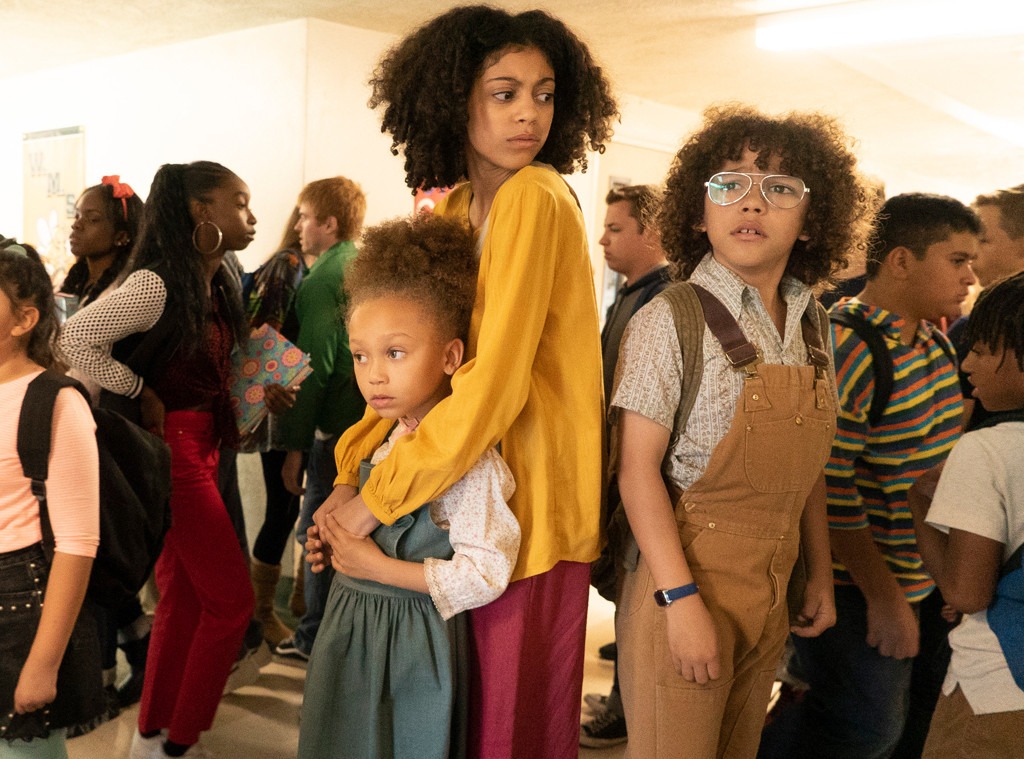 ABC
Fall TV premiere week continues!
ABC got in the game tonight with Mixed-ish and Emergence, two very, very different shows that do at least share a sort of fish-out-of-water story. Sort of. 
Mixed-ish is, of course, a spinoff of Black-ish that's set in the '80s and finds Bow's family leaving their vaguely bad commune and having to adapt to the real world, where being mixed race isn't all that common yet. 
Tracee Ellis Ross narrates the show, with Arica Himmel playing 12 year-old Bow. Mykal-Michelle Harris plays her little sister Santamonica (played as an adult by Rashida Jones), while Ethan William Childress plays Johan (played as an adult by Daveed Diggs). Mark-Paul Gosselaar and Tika Sumpter play their somewhat unprepared parents. 
Emergence stars Allison Tolman as a small-town sheriff who finds a little girl at the scene of a plane crash who has no idea who she is or what she's doing there, and so she takes the little girl in and attempts to figure out who she is. 
It's a mystery and a family drama all rolled into one, Tolman and costar Donald Faison told us, with a little bit of comedy thrown in there (because how could they not, with Tolman and Faison?). After the pilot, it's clear that "Piper" (Alexa Swinton) knows more than she claims she does, and it's also clear that these are some people we'll be happy to hang out with as they try to solve this mystery every week. We'll just be over here waiting for episode two, but what did you think? 
We want to hear how you felt about both new ABC shows, so weigh in below!
And if you missed our poll for last night's new shows (Bluff City Law, Prodigal Son, Bob Hearts Abishola, and All Rise), we got it right here. 
New Fall Shows 2019: Night 2
Mixed-ish airs at 9 p.m. and Emergence at 10 p.m. on ABC.