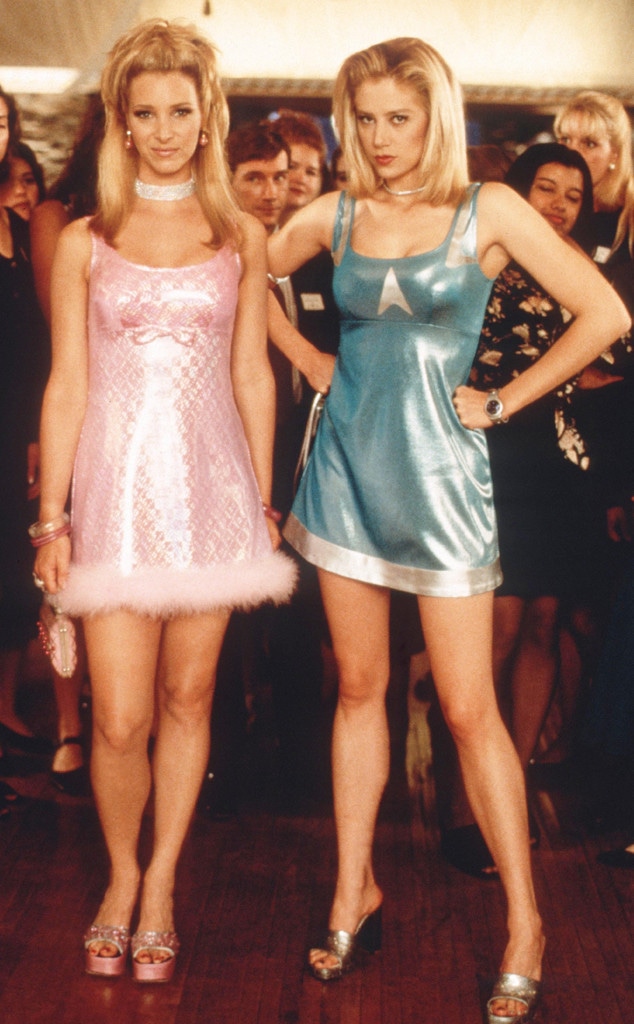 Mark Fellman/Touchstone/Kobal/Shutterstock
Romy and Michele, the "inventors" of Post-Its, have reunited IRL.
It's been over 20 years since Mira Sorvino and Lisa Kudrow delivered iconic performances in Romy and Michele's High School Reunion, and now they've reunited for a truly incredible photo. The duo, who starred as BFFs Romy White (Sorvino) and Michele Weinberger (Kudrow) in the infamous 1997 film, recently bumped into each other at a Netflix party. And, being the delightful people that they are, the actresses decided to share the special moment with their fans on social media.
"Most thrilling moment for me at a party EVER!" Kudrow captioned the reunion photo. "Genuinely GOOD person @mirasorvino see you soon."
Sorvino also shared the picture with Kudrow, writing, "Look who I ran into!! the incomparable @lisakudrow !! And I'm gonna be lucky enough to hang w/her again Friday! Woohoo!! Love this woman!!"
Though it's been years since the film first made its debut, fans have always hoped for a possible Romy and Michele sequel.
"I would be very excited for [a sequel]," Sorvino told E! News back in 2017. "I've wanted one for years! There's been a lot of fan clamor for it—maybe it will finally happen now with all the different venues you can make movies for."
"Well, sure," Kudrow said of doing a possible sequel. "Yeah, why not? I mean...if it makes sense for those two people to be around my age and see what's going on."
The director of the film, David Mirkin, also said at the time that he'd be up for a sequel.
"You know, if it's the right idea and the right tone, I would be there in a second," he shared with E! News. "[Romy and Michele] are probably getting back together and rediscovering themselves—maybe after some troubled relationships with men, and we'd have to see where they are and if there's a story there…We would never want to do anything that wasn't up to the terrific fun we had on the first one."
We'd do anything for another scene of Romy and Michele arguing over who's the Mary and who's the Rhoda!