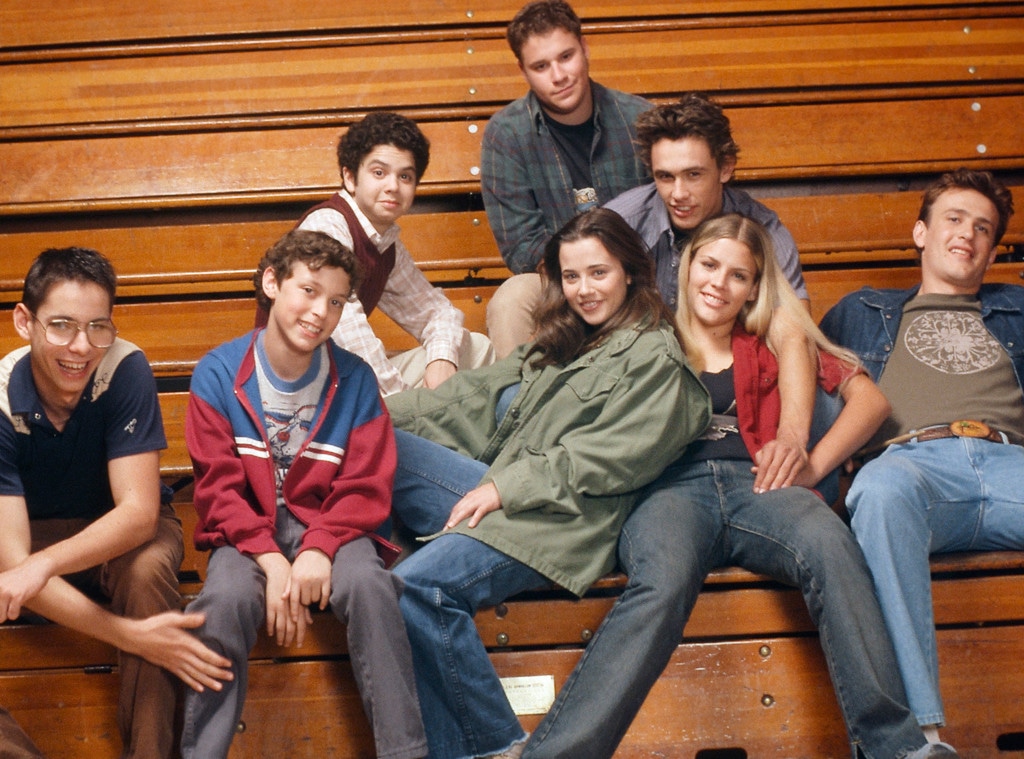 Chris Haston/NBC/NBCU Photo Bank via Getty Images
Freaks and Geeks was unceremoniously canceled after one season. After less than one full 1999-era, broadcast-network season, in fact. But the legacy of the hour-long dramedy about high schoolers existing on the outskirts of fitting in lives on.
For starters, it had a pedigree it didn't even know it had yet: created by Paul Feig, executive produced by Judd Apatow, starring Linda Cardellini, James Franco, Jason Segel, Busy Philipps and Seth Rogen. (And those were just the Freaks!) Basically, the show was a treasure trove of gifted actors and comedic talent cannily gathered in one place. For whatever reason, though, and despite widespread critical praise, it didn't register with a big enough audience to last.
But while it didn't have the opportunity to grow in its day, the blinked-and-you-missed-it (or had no option other than to buy the box set) gem is now streaming for the first time. All 18 episodes, in their appropriate order, can be found on Hulu starting Jan. 25. Better yet, the show arrives with its rich soundtrack fully intact.
"For me, the thought of our show without all the original music intact is like running the series with several of the characters cut out," Feig told The A.V. Club when he heard the good news. "The music is as big a part of this show as the writing and the performances. This is the only way to see our show and I can't thank Hulu enough for putting us back on the air."
Nineteen-eighties setting aside, perhaps Freaks and Geeks was simply ahead of its time when it premiered Sept. 25, 1999. It's still unclear whether it's a frequently funny drama or a comedy studded with touching moments. High school can't help but be simultaneously heartbreaking and hilarious. 
And if it were made today, it would in all likelihood be for a streaming service.
Watch:
Christina Applegate & Linda Cardellini Talk "Unlikely Pairing"
But maybe because of its elusiveness, Freaks and Geeks has long since become a cult classic, regularly named to lists touting the best of the '90s, best teen shows, best high school shows, best one-season shows, etc. It even got its own making-of documentary in 2018.
And, needless to say, the show was a life-changer for all involved.
In honor of this momentous occasion, here are 20 secrets about the making of Freaks and Geeks and its short, beloved run:
Though reunions are now even more the rage than they were four years ago, and Apatow is still being asked about it, the chance of getting the whole motley crew back together doesn't sound likely.
"The ending came out so well, you get afraid to open it up again," the prolific producer said in 2020 on Mix 104.1's Karson & Kennedy. "It's somewhat of a magical ending, it ends with [Lindsay] just disappearing to go follow The Grateful Dead. You don't really want to know how that went."
And, you know, people are busy.
"Everybody was so talented and nobody knew it yet," Cardellini, whose credits since have included ER, Mad Men, Bloodline, the Avengers movies, Green Book and Netflix's Dead to Me, told Vanity Fair in 2012.
Most of the cast—minus Franco and Daley—reunited in April 2015 at the TV Land Awards to accept the 15th Anniversary (of their finale) Award.
Alberto E. Rodriguez/Getty Images
As they took turns saying thanks, Segel reiterated that Freaks and Geeks changed his entire life, and Feig expounded on the show's enduring legacy.
"We spent all of our time concentrating on the human emotions," he told Variety that night. "It wasn't about references to the '70s and the '80s, it was really about the human condition at that time of your life. I think those emotions are the same two thousand years ago as they are two thousand years from now. I think that's why it hasn't gotten dated."
A reunion would probably be impossible, though, Feig added. "I don't think I could afford the cast. They're all too big now."
"I think it's better left in its precious time capsule," Cardellini once told E! News. "It was a really wonderful precious moment in our lives and it's 18 episodes that I think we are all really proud of. And they live on forever."
Freaks and Geeks is streaming on Hulu
(Originally published Sept. 25, 2019, at 3 a.m. PT)