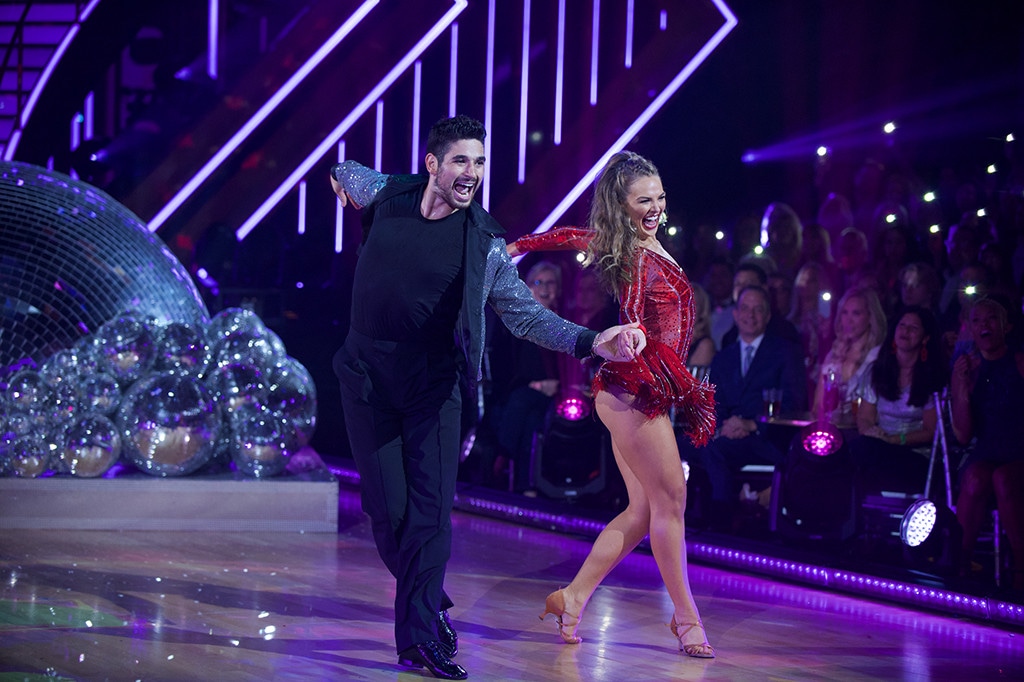 ABC
Hannah Brown is never anything but "blatantly, bluntly honest." 
The former Bachelorette star and current Dancing With the Stars star joined Juliet Litman on the Bachelor Party podcast and opened up about life after a season of The Bachelorette that didn't end anywhere close to how she thought it would end. (In case you forgot, she got engaged to a guy who had been in a relationship before the show, and she rightfully broke it off before the finale even aired.) 
She revealed that right now, her greatest fear is failure, and she's learning that it's OK to fail sometimes. The trick is to learn from it. 
"There's a way you could look at my season [of The Bachelorette] and it's like, oh, well she did win, but there's a way to look at it and it failed in the typical way," she said. "So it's like, OK, it failed, but what did I learn? I think that's the way that I look at it now." 
She says she still wouldn't have changed anything because "the way that it happened was how it was supposed to happen," but the question is what she can take away from what she went through, and that's still something she's trying to figure out. 
"What I expected life to be is not. It's better in a lot of ways, but that is overwhelming, and so I get overwhelmed, so I have my breakdowns. I will stare at a well, yes I will. I will lay on the ground." 
Brown says she has a lot of emotional breakdowns and has had to get used to living a life with paparazzi and the most Instagram followers of anyone in Bachelor Nation, but she's got big plans for her future. 
As a big fan of Ellen DeGeneres and Oprah Winfrey, she'd love a career as a talk show host, and she looks up to Lauren Conrad and Chrissy Teigen for career inspiration. She'd also like to write books, and not just a memoir, but a YA series for young women. 
She also has a passion for interior design and home decor, which is something she dabbled in before her Bachelor journey began, and she now has plenty of connections to at least get some advice on how to make some of her dreams come true.
She's also, obviously, busy dancing on Dancing With the Stars. 
"That's the thing that's so hard right now. All these things are coming at me, like oh you should talk to this person, you need to talk to this person, hey you have a phone call with this person, and I'm like damn, I'm just trying to learn a cha cha right now." 
That may not sound relatable to most of us, but this is: 
"I just stare at my emails and think...I don't know what to do with all these," she says. "But the thing that happens if I put my phone away I'm like, there's 15 emails on there that I still don't know what to do with!" 
Brown may know better than anybody in this franchise that there will always be haters, especially at the beginning, but she thinks Peter Weber will make a great Bachelor. 
"I think how he was with me is the reason that he is the Bachelor, and he's going to be ready, because he can give love to somebody, and I think he should do that," she said as her advice to him. 
"There's a lot more to Peter than just like, he is a really sweet guy," she continued later. I'm excited to see probably more sides than I got to see of him...I'm excited for everybody to get to know him." 
Peter's season is filming right now and will premiere in January, and Hannah is currently dancing on Dancing With the Stars, which airs Monday nights at 8 p.m. on ABC.
Listen to the full Bachelor Party podcast for a fascinating peek into what Brown has been through over the past few months!