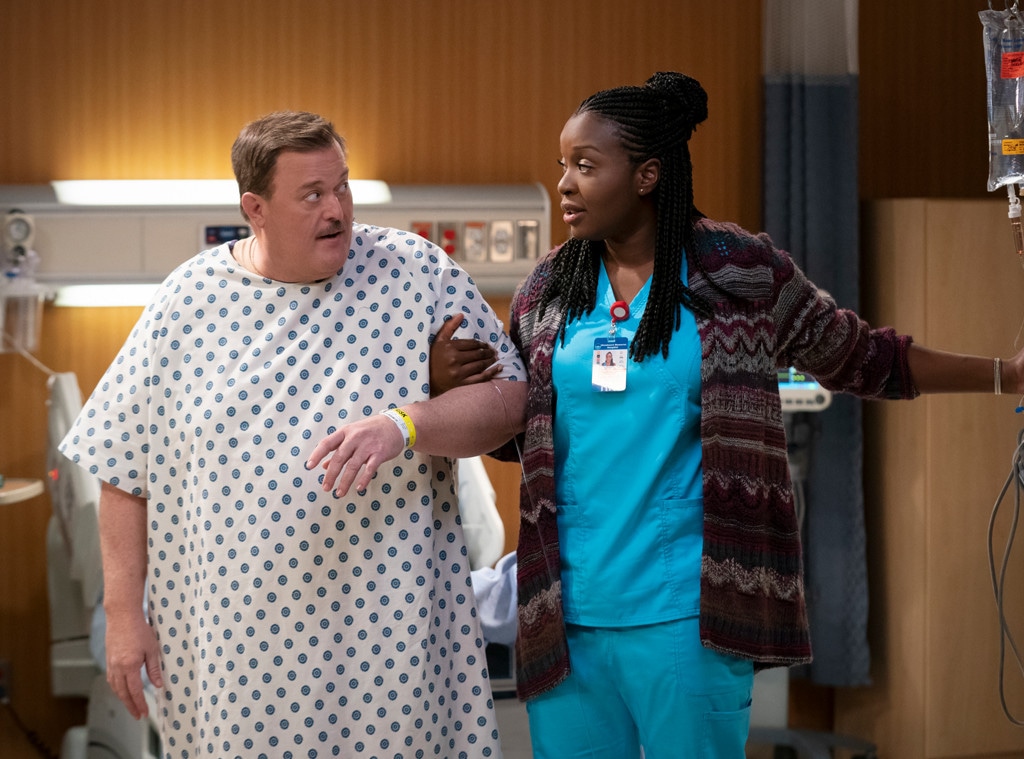 CBS
Chuck Lorre's new show is framed as a romantic comedy, the series is called Bob Hearts Abishola after all, but that's just to get viewers in the door. Yes, TV is tricking you! And for good reason.
"This show, on the surface, I think probably looks like a romantic comedy. I just want to start off by telling you guys I've done that, and I didn't want to do it again, but it is our entrance point to the series, these two very different people meeting, and finding somewhere along the line, over a very slow process, a relationship," Lorre told press at the 2019 Television Critics Association summer press tour.
The series stars Mike & Molly (that is the series Lorre is referring to as his past rom com) grad Billy Gardell and Transparent veteran Folake Olowofoyeku as Bob and Abishola. Bob is a compression-sock salesman who suffers a heart attack and then falls for his cardiac nurse, Abishola, who is also a Nigerian immigrant.
"The story I wanted to tell is about the greatness of first generation immigrants, about the focus and discipline, the hard work, rigorous, rigorous honesty that goes with coming here and grabbing ahold of the American dream. So, the premise of the series is immigrants make America great," Lorre said.
"That was a story I felt worth telling. Yes, there is a romance here that will take a long time to play out. We're in no hurry to do that part. The story here [is] people come to this country and work their asses off to make a life for themselves and their family. That's a story worth telling. That's what Bob (Hearts) Abishola is about."
After his cardiac episode, Bob is smitten with Abishola and is determined to convince her to give him a chance. The two couldn't be more different. Abishola came to America to give her son, Dele, a better life. Now, she lives in a small apartment with her very protective relatives, Auntie Olu and Uncle Tunde, and keeps tight with her close friends Gloria and Kemi. The cast includes Christine Ebersole, Matt Jones, Maribeth Monroe, Vernee Watson, Shola Adewusi, Barry Shabaka Henley, Travis Wolfe Jr. and Gina Yashere.
To tell the story of Abishola and her family, Lorre and Al Higgins knew they needed help. Enter Yashere, whom they found via her stand-up. Her parents immigrated from Nigeria to England. "My parents came from quite well to do backgrounds in Nigeria. But coming to England where nobody knew them, their qualifications didn't matter; they had to start from scratch, go back to being poor and just work their way up and just struggle," she said. "And they just wanted to do that to create opportunities for us, and that's basically what the story is, is just people going to different places and just working and trying to build lives for themselves and hopefully success for their kids."
Yashere, who is also a writer on the series, said they pulled from her life for stories. "A lot of the stories that you see in the show are basically incidents from my life and a lot of other immigrant lives. It's not about anybody Nigerian. It's about anybody coming from anywhere. You could be Indian, Pakistani, German. It doesn't matter. It's just you're going somewhere else and starting a new life," she said.
Bob Hearts Abishola premieres Monday, Sept. 23 at 8:30 p.m. on CBS.