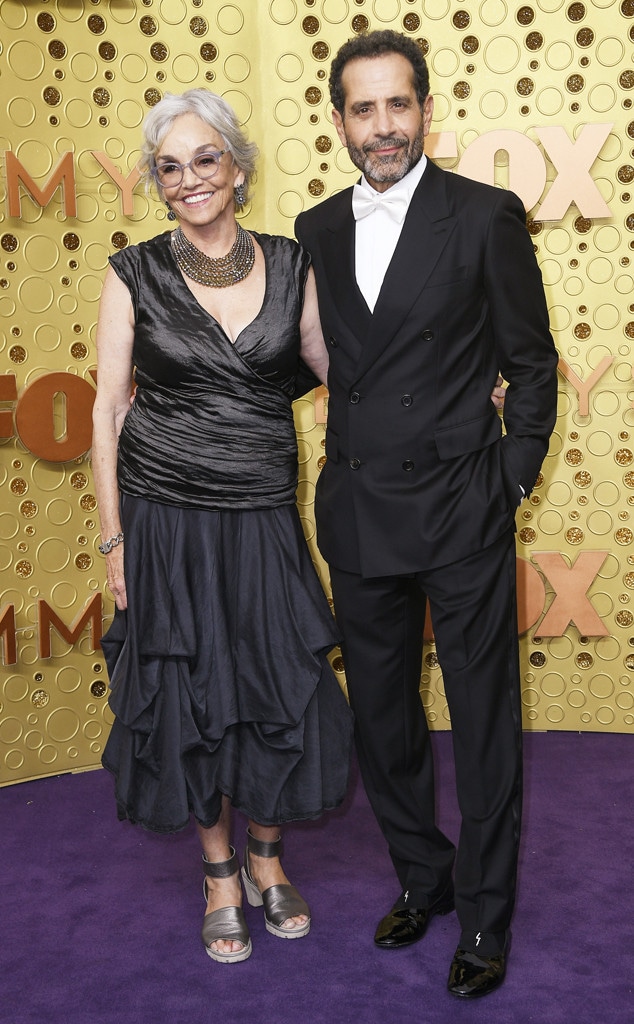 Frazer Harrison/Getty Images
Abe Weissman, come on down! Tony Shalhoub took home his first Emmy for The Marvelous Mrs. Maisel at the 2019 award show. Shalhoub, who has three Emmys for playing the title role on USA Network's Monk, took home the statue for his supporting role as Midge Maisel's father on the Amazon comedy.
He was previously nominated in 2018, but lost to Henry Winkler.
Shalhoub's category also included Veep's Tony Hale, Barry stars Winkler, Stephen Root and Anthony Carrigan and The Kominsky Method's Alan Arkin.
Shalhoub also has a Golden Globe for his work on Monk, a comedy series about a detective with obsessive compulsive disorder. The USA series lasted for eight seasons.
Ben Stiller and Bob Newhart handed Shalhoub the Emmy at the 2019 ceremony.
"Thanks, this is great. Truth be told, I'm in a bit of a quandary. Like many of you, I am not a fan of those endless lists that award recipients drag out with the names and the thanks and the names. In the case of Maisel, there's no help for it. It truly does, it takes a village," Shalhoub said. "Just deal with it."
He went on to thank executive producers, writers and directors Amy Sherman-Palladino and Daniel Palladino...many times.
"Yikes, I hope I'm pronouncing that correctly," he joked. "And on a personal note, a special shoutout to my dear friends Amy and Dan for their love and support. Thank you."
Watch E! News tonight at 7 p.m. for a recap of the biggest moments from the 2019 Emmy Awards!