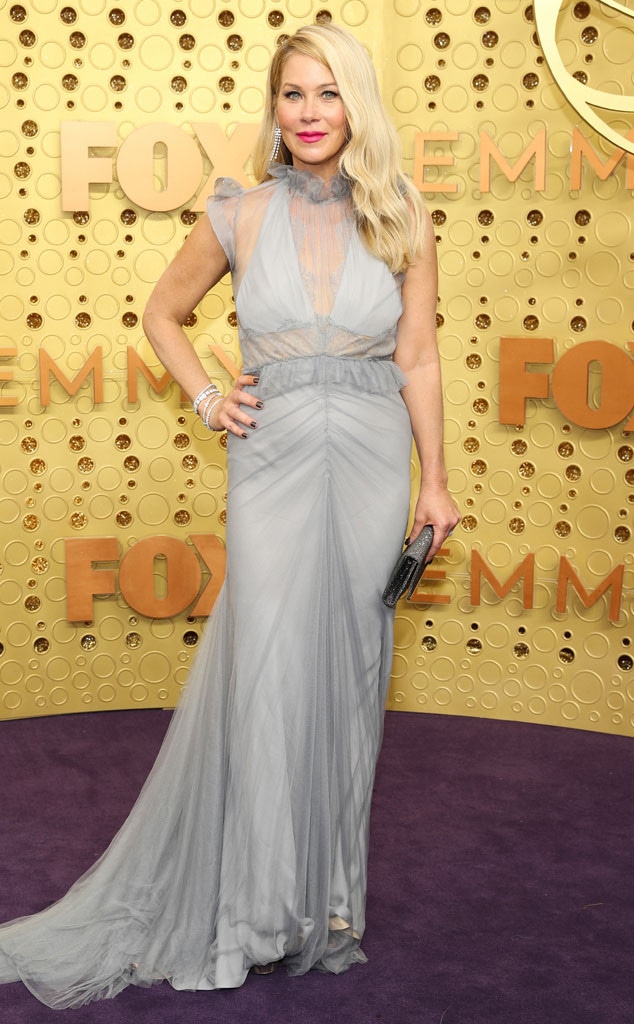 Christopher Polk/Variety/Shutterstock
It didn't quite compute at first.
"I'm going to wear this to drop-off every day for the rest of my child's life," Christina Applegate quipped to Giuliana Rancic on E! Live From the Red Carpet at the 2019 Emmys, referring to the ruffle-accented Vera Wang gown she chose for the night.
Applegate's first-ever custom-made gown, that is.
"I've never had that done," said the veteran actress, a nominee for Outstanding Lead Actress in a Comedy Series for Netflix's Dead to Me. "So it's been a process—so here we are!"
And you never forget your first.
Applegate was an Emmy winner on her first try in 2003, when she scooped up Outstanding Guest Actress in a Comedy for playing one of Rachel's snooty sisters on Friends and has been nominated for five overall, including tonight.
But, her nod for Dead to Me was her first in 10 years, so no wonder it was high time to get some custom couture in the works.
"My phone was off, TV was off—I didn't think I was going to be nominated," Applegate shared. 
"The sound was off [on my phone] and I saw someone calling me, and I'm like, 'Who the heck calls someone at 8:45 in the morning?!' I was so upset, and then I called and they were screaming, and I was like, "ohhhh...crap!"
Her daughter Sadie Grace, 8, was so excited she even looked up from her phone for a second to agree "that's so cool," Applegate recalled.
The actress also shared that she's getting back to work literally tomorrow on season two—"and it's cray-town," she promised.
Watch E! News tonight at 7 p.m. for a recap of the biggest moments from the 2019 Emmy Awards!