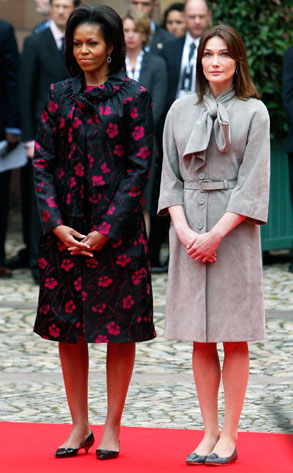 REUTERS/Jim Young
Michelle Obama finally met French first lady Carla Bruni-Sarkozy, which is a serious deal for all of us following European summit fashion (yeah, we never thought we'd say that).
As a former model with a closet full of custom Dior, Carla should be able to win this first-lady fashion face-off just by showing up. But Michelle O. put up a good fight in her trusty Thakoon. The vibrant floral print is a bit much, but then Carla's somber gray suede is quite the downer. Both ladies left the high heels at home and opted for conservative neckties in some attempt to downplay this epic meeting of the fashionistas and bring the attention back to their husbands—as if that's even possible.
Later, Michelle removed her coat to reveal even more florals with her stunning sheath dress also by Thakoon, but we're still wondering what Carla had on under that coat.
But now for the most pressing question: Who wins in this battle of first-lady fashion?