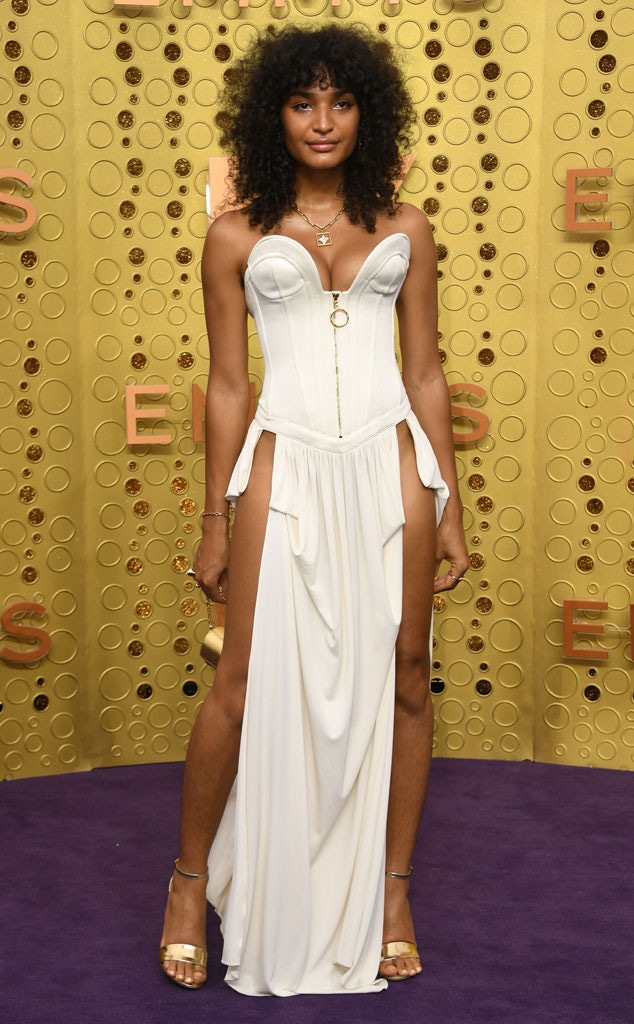 VALERIE MACON/AFP/Getty Images
Ready, set, glam!
Pose star Indya Moore brings fearless fashion to the 2019 Emmys with their risqué custom Louis Vuitton gown. From the daring thigh-high slits to that corset top, the 24-year-old beauty wasn't afraid to push the style boundaries on Sunday night. Moreover, their gold accessories, heels and clutch were a chef's kiss.
Complementing Moore's daring outfit was their fresh-faced makeup, which was all courtesy of Pat McGrath Labs—from the glimmering eyeshadow to the foundation and lip gloss. If anything, since they didn't go too dramatic or over-the-top in the beauty department, all eyes were on their white-hot dress. 
What's more? After seeing a sea of blue, yellow and black ensembles at the Emmy Awards, Indya's angelic number stood out from the crowd.
Speaking to E! News, Moore was proud to use their platform to spread a powerful message. "When I was growing up, I wanted to be a doctor, a natural healer and I think in order to be an effective healer, you have to heal yourself, but it's just really important that I'm still able to act as my dream," they said. "Through my art now and I'm just so grateful that I've been able to leverage my access to having a healing impact on others and to share my story and affirm that, you know, people who are going through what I went through aren't alone because that's how I felt."
They continued, "I felt often isolated. And yes, we all feel alone."
While the Pose star sadly didn't nab any Emmys this year, the hit FX television series did for Outstanding Drama Series. Additionally, their co-star Billy Porter, earned an Emmy nomination for Lead Actor in a Drama Series. Earlier this year, Porter spoke to E! News about the show's significance.
Watch:
Indya Moore: "It's More Tricky to Exist Than It Is to Walk in This Dress"
He explained he and his co-stars are part of a TV series "that's new, that's fresh, that's never been done before."
Porter added that being on Pose has taught him so much. "As a gay man, you know, I had to come to terms with the fact that the T in LGBTQ was largely absent from my knowledge."
MJ Rodriguez, who also stars on the show, shared, "There's not one trans woman on this show whose of color, there's five trans women and they are leading women."
While the Emmys have yet to start, it's only a matter of time before fans of the hit series find out who is going home a winner.
Watch E! News tonight at 7 p.m. for a recap of the biggest moments from the 2019 Emmy Awards!