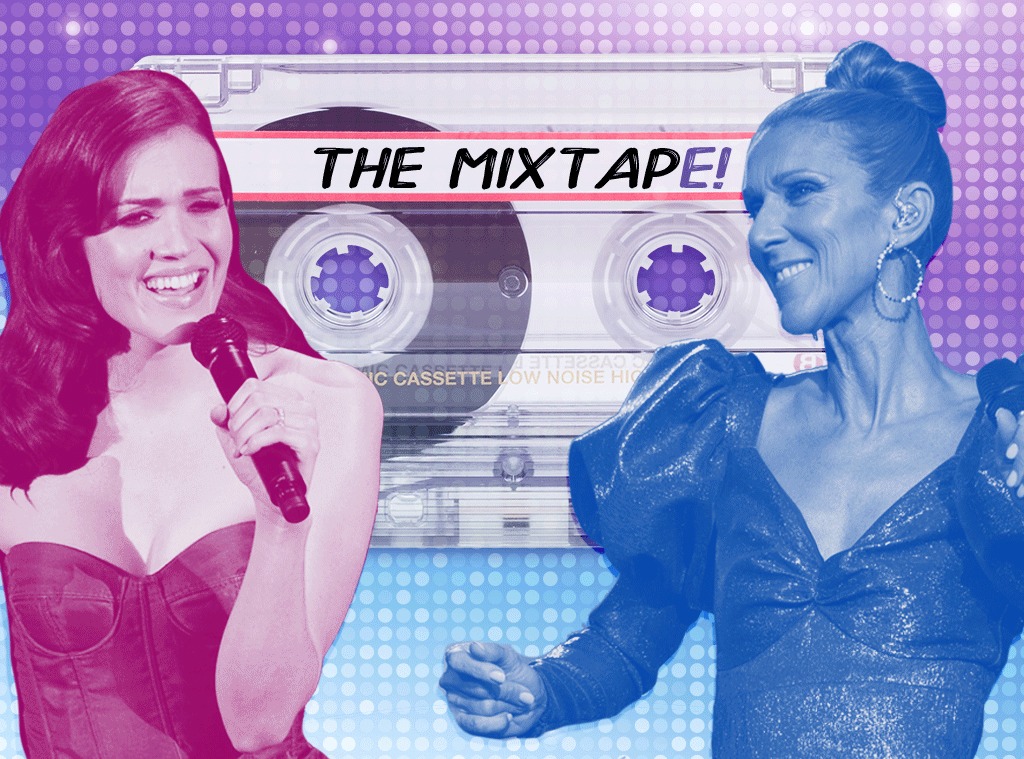 Getty Images/E! Illustration
New music Fridays are a thrilling, yet daunting prospect for any music lover. 
It's essentially a weekly holiday where fan-favorite artists and fresh faces alike drop their latest offerings for all the world to hear, flooding streaming services and digital retailers with an onslaught of aural goodies. But who has the time to sit there and listen to everything before updating their playlists? There's just too much good stuff! (And, if we're being honest, usually a few stinkers, too.)
As it turns out, we do. Welcome to The MixtapE!
It's another stacked week, music fans. And while you've probably already given Mandy Moore's new track "When I Wasn't Watching" a listen—Sidenote: Is there anyone having a better week than the This Is Us star, who's also heading into the 2019 Emmys this weekend with a long-overdue Outstanding Lead Actress in a Drama Series for her reliably stellar work on the hit NBC series?—there's so much more good stuff out there just waiting to be discovered. From the first few tracks to be released from Celine Dion's forthcoming album Courage, her first in English since the death of her husband Rene Angelil in 2016, to the long-awaited arrival of Tove Lo's fourth studio album, Sunshine Kitty, we've listened to practically all of it, weeding out the clunkers. Here are our picks for the best of the best. You're welcome.
Celine Dion — "Imperfections"
Of the three songs the French-Canadian treasure released this week—"Lying Down," "Courage" and "Imperfections"—it's this one that absolutely slaps. Don't get us wrong, they're all great, but there's something about this track, which finds Celine telling a lover that they've got to accept her, flaws and all, that just connects so immediately. It should come as no surprise that Lauv, the new king of the sad banger, had a hand in writing this track. His DNA is all over it—and that's a very good thing.
Mandy Moore — "When I Wasn't Watching"
It's been 10 years since Mandy last shared her folk-pop sensibilities with the world on her sixth studio album Amanda Leigh. It's not as though she hasn't been busy in the ensuing years, but we're so glad she's back with this little slice of '70s California pop, written alongside her new husband Taylor Goldsmith, among others. Even better? It's just the start of a new era, with another single due before the end of the year and an album on the way in 2020!
Tove Lo — "Shifted"
With each new single released by our favorite sex-positive Swede in anticipation of her fourth studio album, our excitement over Sunshine Kitty, out now, only grew and grew. While there isn't a single bum note or false step on the entire album, our early favorite is this track, a slinky little number that finds our girl Tove telling a lover that she's done putting in work and getting nothing in return. 
Princess Nokia — "Sugar Honey Iced Tea (S.H.I.T.)"
The minute the horns kick in on this funky new single from the New York rapper born Destiny Nicole Frasqueri, her first bit of new material in 2019, it's clear this one is something special. As she spits bars calling out all her haters, all we could think is: "When can we have more of this?" She's one to watch heading into fall.
Sofi Tukker — "Ringless"
Our favorite dance duo, made up of Sophie Hawley-Weld and Tucker Halpern, are finally back with a stellar new EP, Dancing on the People. And while the majority of the six tracks find the two delivering the high-energy playfulness we've come to know and love since they dropped their debut EP, Soft Animals, three years ago, it's the bit of somber introspection on this track, about leaving an ill-advised affair behind, that stands out. "I'm more than the worst thing I've ever done/I'm less than the best thing I've ever won," Sophie sings over the atmospheric loops, reminiscent of something the XX might produce. "So what?" Who says you can't dance and cry at the same time?
FINNEAS — "I Don't Miss You At All"
Perhaps most well-known as brother and songwriting partner to wunderkind Billie Eilish, Finneas O'Connell has also been releasing music on his own since 2016. On his latest single, he takes his strongest step out from under his younger sister's shadow yet. If only he was as convincing about actually having forgotten about the former lover he's singing about in this moody track, off his upcoming EP Blood Harmony, due October 4.
Sabrina Claudio — "Truth Is"
A few weeks back, Sabrina wowed us here at The MixtapE! with her stellar collaboration with Gallant, "Compromise." Now, one of the most exciting new voices in R&B is back. And this time she's all on her own with this gorgeous title track off her forthcoming second studio album, due on October 4. Co-written by pop powerhouse Julia Michaels, the song finds Sabrina baring her soul over lush production. "Truth is I'm dishonest/'Cause I'm always scared to get too deep," she admits. "Truth is that I want this/'Cause I always see you in my sleep/Truth is that I love you, mm/Even when I'm trying not to." Truth is we can't get enough.
Labrinth — "Something's Got To Give"
Fresh off a summer spent composing original music for new hit HBO drama Euphoria's first season, the London-born singer is back with a euphoric track all his own. Over a rousing and inventive bit of production that's come to be something of a hallmark of his sound, Labrinth delivers an impassioned vocal about never giving up. It'll take you to church if you let it.
Caroline Polachek —"So Hot You're Hurting My Feelings"
This song off Pang, the forthcoming debut album from the woman who wrote and produced Beyonce's "No Angel," just might be the best HAIM song that HAIM never recorded. Trust us when we tell you that's a compliment of the highest order. Can we have the album now? Please?
Ryan Hurd — "Platonic"
This country songwriter, whose penned No. 1 hits for Blake Shelton ("Lonely Tonight") and Luke Bryan ("Sunrise, Sunburn, Sunset"), may have been most well-known for being Maren Morris' husband. But with the release of his new EP Platonic ought to change that right quick. The collection's title track, about a pair of friends who are having a hard time being, you know, platonic, is an easy favorite. Making the leap from in-demand songwriter to solo artist is never easy, but Ryan makes it look effortless here.
Ambar Lucid — "Mar De Llanto"
The Mexican-Dominican musician from New Jersey, only 18 years old, feels poised to break big within the next few years. On this bilingual R&B track, she effortlessly sings in both English and Spanish about her "constant emotions," as she described it to i-D. (The title translates to "sea of tears.") Whether you speak either language or not, the groove itself needs no translation. Get lost in this one. It won't be hard.
EVAN GIIA — "Encore"
A recent signee to Astralwerks, an electronic and dance music label owned by Universal Music Group, Evan makes one of the most self-assured debuts in recent memory with this absolute banger. "Voices in my head but I'm in control/Beating on my chest cuz I want it all/I want it all/and Imma keep it runnin till the lights go," she sings in the pre-chorus as the menacing production builds to its killer drop. "ENCORE IS YOURS!!" she tweeted upon the song's release. "Dance, sing, workout, rage to this!!" Trust us, you'll find it hard not to.
Bonus Tracks:
Liam Payne feat. A Boogie Wit Da Hoodie — "Stack It Up": The former One Direction member teams up with the rapper on this new Ed Sheeran-penned track that's every bit as sexy as those photos of Liam that keep getting passed around. You know the ones.
OVERSTREET — "MY EX": This new single from former Glee star Chord Overstreet's band will take you back to the '80s in the best way possible. 
Todrick Hall feat. Ciara — "Nails, Hair, Hips, Heels - Remix": If you weren't lucky enough to catch CiCi and Toddy join forces for a remix of this delightful track off recent EP, Haus Party, Pt. 1, during their performance at the WorldPride opening ceremony in NYC in June, you're in luck because it's now featured on his latest EP, Haus Party, Pt. 2. (Now where's the new music video to go with it?!) While you're at it, check out each of the new collection's nine songs because each one are worth your time and attention.
Fitz and the Tantrums — "OCD": The band responsible for some of the most catchy indie pop songs of the last few years ("MoneyGrabber," "HandClap," "Out of My League") are back with their fourth studio album, All the Feels. And this track, about wanting to party all night long to your old CDs, will have you listening to it both obsessively and compulsively. That's a guarantee.
Girl Ultra — "Ruleta": Mariana de Miguel, a singer from Mexico City, describes herself as "Mexico's R&B babygirl" in her Twitter profile. One listen to this deliciously smooth throwback track and you'll know why.