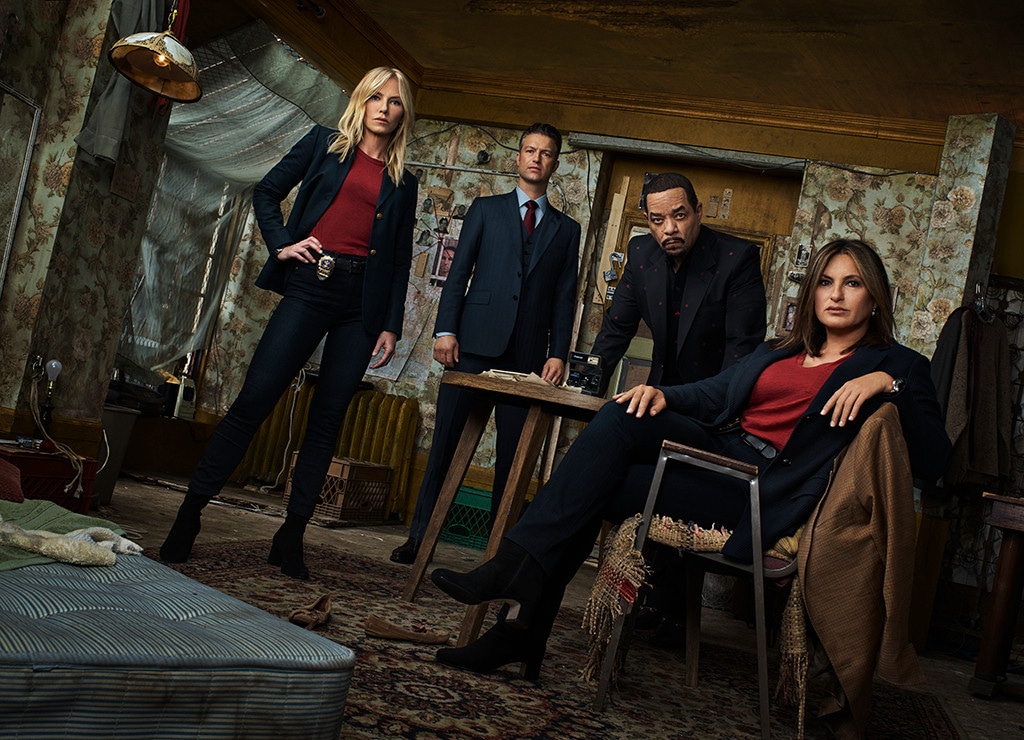 NBC
For more than 20 years, viewers have watched Mariska Hargitay as Olivia Benson. They've watched as she nailed the bad guy, they watched as she comforted a survivor and they watched as she fiercely protected her own. Now, Law & Order: SVU is making TV history with season 21 as it becomes the longest-running primetime scripted drama.
It's a big year for SVU, and there are even bigger plans afoot, according to returning executive producer and showrunner Warren Leight.
Leight, who served as showrunner from seasons 13-17, said there's always pressure to deliver, not just because it's a history-making season.
"I feel like this is cool…We are aware of this has never been done before. And you don't want it to be just a regular season, you want it to be special. You want the stories to not feel like they could've happened any time in the last—it could've been episode 330 or 387, you want it to feel like, 'That was one of the season 21 episodes,'" Leight said about the landmark season. "We're looking for stories that allow as full a range of emotion as possible. And also, we can go out to actors and say to Ian McShane or Ariel Winter, which is, 'Do you want to come and be here for the 21st season?' And that's a pretty good pick-up line."
Aside from making the season as special as possible, Leight said he plans to tackle the changes that have happened on and off the show while he was away, like the #MeToo movement and the backlash to it. "All of that occurred after I left the show and that's fascinating to me, to write about how that's changed the way people behave and how that's changed the way people perceive things. Or has it changed? Aren't most of these guys still walking around out there? I'm interested in that," he said.
Expect SVU to also tackle the new developments in understanding about how the human brain handles trauma.
"Thematically, it's a year about passages and changes. I don't think anybody at the start of the season will be in the same place at the end of the season. People's titles will change, people's roles in the squad room will change, people's domestic life—turning 21 is a major passage in life, so it should be for the show as well," Leight said. "With any luck, the special victims unit will still be up and running by the end of the season, but people will go through a lot of personal and professional changes, I think."
While this season is special and history-making, it's certainly not the plan to have it be the last. Don't expect a greatest hits type of rotation of guest stars. However, Leight said he's well aware of the fan-favorite characters viewers hope to see return to the fold, including Christopher Meloni's Elliot Stabler. Leight previously said not being able to give fans closure with Stabler was one of his regrets and said he feels like "someday, I would hope to see him again."
"I don't know how, I don't know when, but, yeah, that's kind of, I think the fans and Benson and Stabler are owed that," Leight said.
As for other characters, it's a balancing act of paying homage to the past and looking forward, Leight said. "I don't want it to be just sort of…in basketball, you get a guy and it's his last season and he has a farewell tour. I don't want this to feel like the last season and this feel like a farewell tour. I will grab people when I can, when the episode is right for them and when there's a nice story to tell," he said, noting characters like Cassidy (Dean Winters), Tucker (Robert Burke) and Warner (Tamara Tunie) as people he hopes to revisit. "There's people I'd like to see rejoin us at some point in the year, but I don't want the whole year to be, 'This was your life Olivia Benson,'" he said.
Leight's also aware of the threads he needs to pick back up and handle, like "the memo," and Benson's conversation with Rollins (Kelli Giddish) about abortion.
"We will try at some point, very early in the season, to revisit the abortion controversy," he said. But fans should know that smaller, personal scenes are sometimes the first to get cut to get the show down to its appropriate running time. There's always the internet for a deleted scene drop.
"I haven't spent a lot of time worrying about the memo, I am aware that that's hanging out there. I am aware that the Rollins-Benson relationship, there's still something there that needs to be discussed," Leight said, noting there's also some familial revelations with Fin (Ice-T) they need to revisit.
"Some of the things that happened while I was away…some of them I want to address, and some of them I have to address," Leight laughed.
One thing that didn't necessarily happen while he was away was a change in the show's diversity. Leight said expect to see some LGBTQ representation, and not just a character who is a victim, in the first third of the season, but plans are still in development.
"Look, New York is a pretty diverse city in terms of everything and the show needs to better reflect that. We have a relatively small cast of regulars now, so there may be people who are with the squad for a few episodes," he said. "A lot of times, SVU will team up with vice or SVU will team up with another unit and that allows us to fold people in. It's very hard for me to take a character we've known for 20 years and have that character discover that they're pansexual or something."
"You also have to think about with our show, we don't have a lot of…we get relationship stories in tincture drops anyway. When we do start to reflect a little bit more diversity, it will still be in tincture drops…I'm aware that the show needs to reflect the reality of New York," Leight said.
Law & Order: SVU season 21 premieres Thursday, Sept. 26 at 10 p.m. on NBC.
(E! and NBC are both part of the NBCUniversal family.)