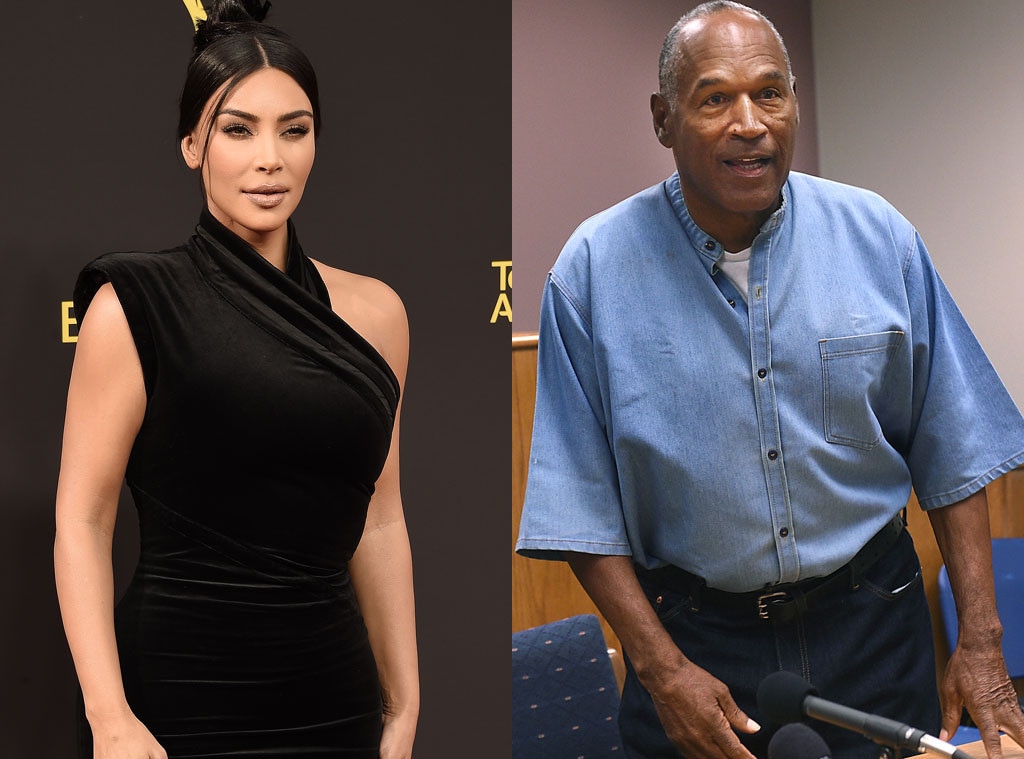 Scott Kirkland/Picturegroup/Shutterstock; Jason Bean-Pool/Getty Images
Kim Kardashian is revealing the "emotional" moment that she and sisters Khloe and Kourtney ran into O.J. Simpson at a Miami Club.
As most of the world knows, the Kardashian family used to have close ties to the former football player in the years leading up to Nicole Simpson's death. But after he was accused of murdering her and Ron Goldman, everyone from the Kardashian family, excluding her father Robert Kardashian, who represented Simpson in the trial, distanced themselves from O.J. 
But in the years following the deaths, Kim, Kourtney and Khloe rarely, if ever, spoke about their former family friend. On the latest episode of Foodgod: OMFG, Kim explains, "His kids are all so amazing and Nicole's kids, and I'm still somewhat friendly with his children. I don't really talk to them, but I did connect with his son a few years back and I just have respect for them and their lives must be extremely hard to really go through that. So, I always try to keep to myself on that issue and not bring anything up for them."
That's why no one ever heard about her and her sister's run-in with the star a few years back. "I think the last time I saw him was in Miami. It was before he had gone to jail last situation, and Khloé and, I think me Kourtney and Khloé were in Miami in a club, and we ran into him in the VIP section... We all, I think, all started crying. It was emotional," she shares. 
Watch:
Is Kim Kardashian Going to Law School?--So True / So False
The mother-of-four adds that she knows it's "super traumatic" when issues like this are brought back up, especially as someone who grew up in the limelight. Kim says, "There's nothing worse than someone you knew from your childhood just starts talking about your life. I've seen that happen with people that have been close to us, and they start talking about us as kids and they really don't know us now. It gets so frustrating. So I always try to be super respectful and keep to myself on issues and this subject."
Kim didn't touch on her father's involvement in the case, but shared that she thinks the host, Jonathan Cheban, would've gotten along with him. 
Since his death in 2003, Kim continues to carry on Robert Sr.'s legacy, especially with her recent decision to pursue a career in the field of law.