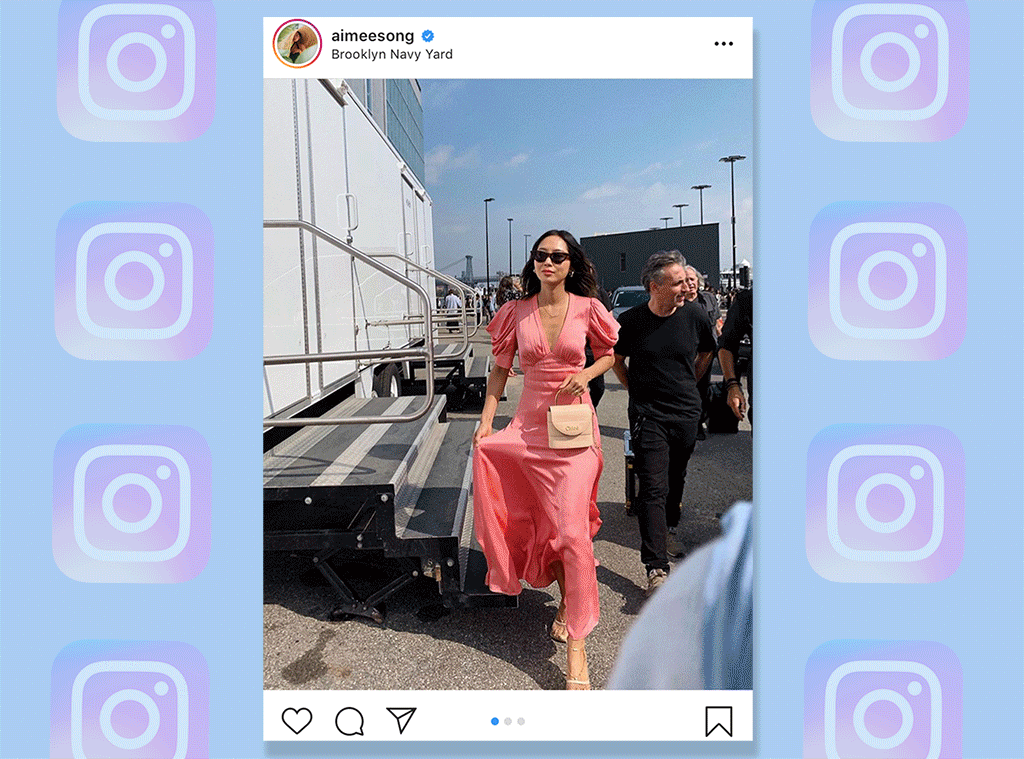 Instagram; Melissa Herwitt/E! Illustration
A little over a decade ago, while studying interior architecture in college, Aimee Song started a little fashion blog as a mere hobby. An outlet to explore her passion while she followed the traditional path out of college and into the work force.
And now, 11 years, 5.4 million Instagram followers, and one spot on Forbes' 2016 30 Under 30 list later, Song of Style has proven to be the impetus that would launch Aimee—rhymes with mommy—into the upper echelons of the influencer world. From the blog came a YouTube channel, a jewelry line, ambassadorships with Chloé, Giorgio Armani Beauty and Dior, and two books, the first of which, Capture Your Style, was on The New York Times best-seller list. And now, she's undertaken her biggest endeavor yet: a long-term, in-house collection of ready-to-wear clothing for Revolve. Named (naturally) Song of Style, the collection, her first full turn in a design role, launched in May, with Revolve dropping new pieces each month to ensure there was always something fresh for Aimee's followers to freak over.
Here, Aimee exclusively answers all our questions about what it takes to become a mega-influencer, stay a mega-influencer, and stay sane in the process. And bless her, because we had a lot of them.
E! News: Tell us exactly how you got started in the influencing and designing world. 
Aimee: I started when I was 19 and 20. I was in college, freshman out in college, and I started a blog of style that was supposed to be an interior design blog and it turned into a fashion blog when I posted an outfit photo of mine that I wore to a job interview, and I got the job because of my outfit, which I think that's how it started. I was able to share what I love and that's what I love most about my page, that I genuinely if I find some kind of healthy snack that I love, I just love sharing or a skin care product that I am absolutely obsessed with that helps my eczema, I want to share with my readers. It goes the same with fashion and everything else.
Your collection with Revolve, Song of Style, what influenced the collection and your label?
The biggest influence was definitely my career and the women that I have met and the women that I want to become. And my audience. Throughout my career I have always looked for things that were so easy to wear to meetings but you still look super dressy and you're not sacrificing your style and you just wearing a boring suit. To vacation. The Song of Style girl is a smart woman, she's a career woman, she goes on vacation, she travels, she's super educated, she loves art. She loves going to museums on her free time, she knows about different concerts, different artists, different exhibitions, she loves to read books, and she loves to eat and be comfortable at the same time. What is the Song of Style woman wearing whenever she is doing these things? That is who I designed for.
If you had to describe your style in a word, or two, how would you describe it?
How would I describe my own personal style?
Yeah, and the style of the collection.
I think that is hard, because the Song of Style girl doesn't like to be put in a box.
When someone wears your clothes, what do you hope they embody? How do you envision they feel wearing your clothes?
Obviously empowered, I know that's a word that everybody uses, but I want her to feel so powerful because that is what clothing is for me. It's kind of like an armor—sometimes when I'm having a really bad day I like to wear bright colors because it acts like an armor or a shield for me. It's also first impression without having to say who you are or speak too much. I just want the women to feel so good that they feel confident so that they want to share with their friends, they want to take the photos, they want to tell me. "Hey, I feel so good today, I wanna share my look, I feel beautiful today." That's how I want the woman to feel.
For your followers that don't get to see the behind the scenes of how your content is created, what is one thing that you wish they knew?
I think that even though I make it look effortless and I only share, well I try to share a lot, but I want people to know that it is not super clean cut and easy and so achievable. Everything is achievable but it doesn't take just one day to achieve either. That's what I want people to know. 
If you had to give a piece of advice to someone that was maybe seeking out to do something that you're doing or starting out, wanting to have a platform, what would it be?
I think ourselves could be our worst critics. I think it's tough because we are constantly thinking about other people and we become people pleasers so then we forget to go after what we want to do really. We are probably thinking, "Are people going to judge me?" Because that is how I felt very much in the beginning. But if I was worried about that, I wouldn't have the career that I have because in the beginning people were judging me. They were like, "What is she doing?" This is 10-11 years ago, people were not sharing their outfit photos on sites, on the web, out in the open. I did it in such a secretive way so none of my friends knew and random people saw that but my school friends, none of them knew. But if I was always constantly worried about what other people were going to think about me, on top of what I think about myself, then I don't think that I would have this career. So, it's about just going after what you want without pleasing everybody because you can't.
When you say secretive, were you just not sharing out your blog back in the day with your friends because you didn't want their opinion? What do you mean by that?
Well, first of all, I didn't have a lot of friends anyways, but I think I wasn't as self-promoting as I am now. If you think about influencers, all of us have become our own personal brands and we are constantly self-promoting to an extreme narcissistic way, but that's how the world has become. We are our best promoters. We are our best PR person. But before, I wouldn't talk about it. It's not like I went around telling everyone "Hey go check out Song of Style." Whereas now, every time I wear my clothes and someone makes a comment, I say, "Thank you it's from Song of Style, you should go check it out." But, I didn't do that, so I think that is the biggest difference.
Was there any moment where you were like "Oh my gosh, I am Insta famous" or "I am famous"? And what happened in that moment?
I think it became gradual. So, before I started Instagram, because I had a blog, I was already kinda getting recognized on the streets, especially when I went to fashion shows. I think the biggest thing when I thought "Wow" was when I went to Morocco, I wanna say seven or eight years ago and this is when Instagram had first come out. Instagram was only around for about a year or a year and a half. And, I had traveled to other countries before, but Morocco seemed so foreign because you're in Africa, it just seemed like such a foreign place, compared to Europe or anywhere else. And I had never met anybody from Morocco or anything. I went to Morocco and I was getting recognized a lot and that time Rihanna happened to be there and she left a comment on my sister's and my Instagram page. Saying like "Hey, what are you guys doing later?" or something like that. So, I think that is when I was like, "Wow, this is crazy stuff from Instagram." Now, it is so much easier for people to discover people, but Instagram was still such a new concept. I think that's when I was like, "Wow the power of social media is crazy."
How many years ago was this?
Six and a half years ago, in 2013.
What would you say is the biggest difference between you, the influencer, and yourself in the real world, if there is any difference?
I think for the most part I am very transparent, but obviously there are some things that I don't share that are super private. You know, like moments with my boyfriend. I try to share some moments but then again, he's much more private than I am, so I respect that. So I don't share everything about him. 
That leads me into my next question. How do you decide what you are going to share with your followers and what you want to keep to yourself? Do you have certain categories that you think, "OK,  I am sharing this, but I will never share this" and why? 
There were things that I used to think I would never share, like something about my eczema. I was so insecure about it because I have really bad eczema, like they go through, like obviously I get eczema outbreaks when I get super tired, stressed. But for the most part my skin is really clean. But that is something that I wouldn't share since I was little. I was always insecure about my skin. Like very insecure. I would always wear long sleeves whenever I was having an eczema breakout or try to cover it as much. So, that was something that I felt like I would never share with the world. Especially 5.4 million people. But, as I have gotten older, sometimes like. It was also because I was bullied about it from another fashion blogger a long time ago. Cause she made a nasty remark publicly on Twitter which she later deleted, and apologized for but, I think when I realize when you own up to your weaknesses, not that eczema is a weakness, but to me it was. But nobody can use that against you. When you are owning up to your flaws and you accept your own flaws, really nobody can use that against you so then I think that was a turning point where I was like I think I'm just going to own up to it because if I own up to it and I have such a large reach, maybe I am able to help somebody else.
I wanna be vulnerable, and honest about my struggles. It's not just that, even the mental health thing, I always was kind of ashamed that sometimes I would feel so down or depressed that it was something that I would not talk about like openly ever. Even with friends, it was always something I would think. "Why am I like this?" And then, those type of things now I am able to share openly, which I don't think I saw myself doing 6-7 years ago. So, I think it depends. But also, when you say "sharing", I share a lot about my life, but then again I have learned to be extremely present. I used to share everything, like every hour. I'd share what I was eating for breakfast, what I am doing after breakfast, where I go to the gym, where I'm going for lunch, who I'm meeting, what outfit I am wearing. Almost to like hey, here's what I'm doing. It was almost daily and I think I forgot to be present because I was constantly looking, and living reality through my screen. I stopped doing that, and I am so much more present nowadays. Sometimes I forget to have my phone out, and I think, "Oh, I want to take a photo of this so I can share it later." I am more mindful now.
Besides your boyfriend, or your relationship, is there anything else that is off the table when it comes to what you share with your followers?
I think it's like anything that's not my story. If somebody is going through something and that person is like a very big person in my life, but it's not my story to tell, but it's still affecting me, those are things that I can't share. It's not my story to tell. 
When you get to unplug and catch your breath, what is your favorite form of self-care? And when do you really get downtime?
I try to do a lot of self care. Obviously when I am traveling it's really hard, especially when I am travelling for work, like Fashion Week or like shoots because I am constantly surrounded by people so I don't take any moment where I am all alone unless I am literally, cause people will be there even inside my hotel room. My only alone time is sometimes when I fall asleep in bed. Those are kind of hard but I try to work out if I can and always find that working out is something that I am doing for myself, which is kinda nice, where I am all by myself. And then, when I am in LA, I love just being home walking my dogs, that is one of my biggest self-care, where I am just walking them and sometimes I listen to anything and I am just like mindlessly walking them, and I am just like literally alone by myself with the dogs and my thoughts.
What is your advice on balancing everything? Are you working seven days a week? Do you feel like you need to pump out content seven days a week? What is your work life balance situation?
Had you had asked me this 6-7 months ago I would say, yes I was pumping out content almost every single day and my mind was thinking about content, what to produce but not just content but like work stuff. But now, no, I realize that I am not saving lives. I am sort of saving lives but it's not like I am really saving lives. The only life I really need to save is my life, so I do what makes me really happy and really passionate. So, there are a lot of times where there are deadlines involved, especially because I work in fashion and then I have other thoughts within the fashion realm. But, I try to block out times for it. I think, "OK, for however many hours, I am going to work on emails, for however many hours, I will focus on designing and getting all my inspirations for my next collection," like today. I'll try to block out time and then also have a time where I am just going to watch dumb TV and not think too much and eat junk food, like healthy junk food because I always try to eat healthy junk food. This is a moment for myself and nobody will take this moment away from me. So I have those moments. And also another thing that goes back to self-care, I try to get massages at least once or twice a month so when I am getting those massages for minimum one hour—usually my massages are like two hours—that is literally, I don't have a phone, nothing, nobody can reach me. It's amazing.
One last thing, what are those healthy snacks you mentioned?
I am obsessed with snacks. So anything from Erewhon usually, but right now I am really obsessed with this brand called Orga Foods 'cause it's like no grains and they are all like a super seed. Lots of fiber, lots of protein and I always eat those with Chipotle guac or sometimes I make the guac myself, if I have time, and then also MoonJuice has amazing snacks. Like seeds. I like seeded snacks because you are getting a lot of fiber and protein. Even though you are getting in a lot of carbs, they are complex carbs, so they are much healthier. So they keep you fuller and a lot of times, they aren't oversized bags. Also, I love regular chips. I am obsessed with this brand called Siete. I will down the entire bag that is three or four servings in one sitting.